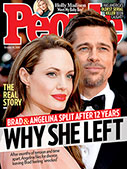 This Week's Issue!
People Top 5
LAST UPDATE: Tuesday February 10, 2015 01:10PM EST
PEOPLE Top 5 are the most-viewed stories on the site over the past three days, updated every 60 minutes
Picks and Pans Main: Song
Mayday
There aren't many pop groups that can sing an ode to their mothers and actually appear to be sincere. Such is the gift of Boyz II Men, who have managed, despite the temptations of multiplatinum success, to retain their wholesome, nice-guy persona. On their two prior CDs, armed with exquisite, chart-topping songs like "On Bended Knee" and "I'll Make Love to You," Boyz II Men became the leading lights of polite soul. On Evolution, the same team that gave the Philly quartet its biggest hits is back. But this time, Babyface (who wrote the aforementioned "A Song for Mama"), Jimmy Jam and Terry Lewis have let the Boyz down. The best those consummate writers and producers can cook up is "Human II (Don't Turn Your Back on Me)," a weak retread of their 1986 hit "Human." Yes, the Boyz are still as likable as ever, but tight harmony can only go so far when there's not much to sing about. (Motown)
LeAnn Rimes
Some kids have it; others don't. When 13-year-old Tanya Tucker sang her 1972 breakthrough hit "Delta Dawn," she already sounded like a wise old bird. Fifteen-year-old superstar LeAnn Rimes, on the other hand, belts out the songs on her third album like a naive talent-show queen. Although she puts some unscripted sass into "God Bless America," Rimes sounds clueless on the other covers of classic songs, bringing none of Bette Midler's hard-won valor to "The Rose" or Paul Simon's somber resoluteness to "Bridge over Troubled Water." These Inspirational Songs have little to do with keeping your chin up. They're all about Rimes's booming voice; and frankly, after three albums in the last 14 months, it's high time to give it a rest. (Curb)
Olive
Through the decades, love and devotion have always had a central place in pop. At first listen, the British trio Olive, who topped the U.K. singles chart last May with "You're Not Alone," seems squarely in that tradition. But the song is not quite what it seems: Its soothing lyrics are punctuated by rumblings of tense, stuttering drum and bass, hinting at some darker obsession.
The same subversive blending of elements suffuses Olive's debut album. Ruth-Ann Boyle's warmed-honey vocals offset the iciness of titles like "Killing" and "Blood Red Tears"; her voice caresses arrangements at once gentle and unsettled. The intriguing combination makes Extra Virgin a bittersweet delight. (RCA)
Solas
Although several members of this talented young quintet were born in the U.S., Solas, which means "light" in Gaelic, is simply one of the best Celtic music bands around. The sunny jigs and reels on their second lively, well-wrought album will likely lift your spirits, even as its sadder numbers, sung to mournful flute and stringed accompaniment, wrench your heart.
Solas's leader, Seamus Egan, is a native of suburban Philadelphia who composed The Brothers McMullen's soundtrack and, as a teenager, won the All-Ireland championships one year on four separate instruments (tin whistle, tenor banjo, mandolin and flute); he shines throughout, whether he's soloing or playing backup. His spirited bandmates—John Williams on accordion and concertina, Winifred Horan on fiddle and John Doyle on acoustic guitar—mesh seamlessly. And the Irish-born Karan Casey adds her classically trained voice to six of the 13 tracks—ranging from "The Wind That Shakes the Barley," an uptempo ditty about a 1798 Irish uprising, to the somber "Vanished like the Snow," a contemporary song about the disappearance of women from history.
With a grounding in traditional Irish music and tasteful hints of jazz chording to update their sound, Solas will warm the cockles of your heart, rain or shine. (Shanachie)
Kami Lyle
Stick a trumpet in Lyle Lovett's guitar-strumming mitts, tune his voice to a baby-doll pitch, and you'll have morphed him into lounge-pop princess Kami Lyle. The horn-fueled, bluesy, Lovett-like groove heard on her major-label debut, Blue Cinderella, is no accident. In fact the album's most soulful tune, "Mr. Trouble," is a percussive paean to the 28-year-old Kami Lyle's elder inspiration.
But the Minneapolis native, a graduate of Boston's esteemed Berklee College of Music, is at her best when she affects a sexier, more personal sound, as she does on "Midnight Club"—which features Kami Lyle's sweet but edgy voice, supported by a dancing bass line and her own muted trumpet—one of 11 songs she wrote for the date.
A little less might have been more, however. Too often her music loses its lounge-lizard allure and falls into trite patterns—as in the overly maudlin "Love Me" and "The Grocery Song," both little more than schoolgirl poetry set to sentimental ivory tinkling. Still, Kami Lyle's amalgam of sophisticated styles generally lends Blue Cinderella a retro charm. She is to jazzy pop what Jewel is to folk rock: a refreshing young voice in a graying genre. (MCA)
Matthew Ryan
Like Steve Earle and Bruce Springsteen before him, Matthew Ryan is that rare breed of singer-song-writer who can sound barroom tough yet still perform with beauty and intelligence. The Pennsylvania-born bard displays both a poet's sense of detail and the rough-hewn voice of a coal miner in these roots-rock songs of loss, longing and melancholy. Full of passion and injured pride, Ryan writes songs that sound like they come not from the music industry but from the heart. On "Comfort," he even worries that his livelihood's in jeopardy: "Rock 'n' roll is dead!" he growls. But given his ability to turn even the saddest personal predicaments into jubilant musical events, Ryan helps guarantee that his brand of rock is indeed here to stay. (A&M)
Contributors:
Amy Linden,
Jeremy Helligar,
Lyndon Stambler,
Ken Baker,
Bob Gulla.
Boyz II Men
Advertisement
Treat Yourself! 4 Preview Issues
The most buzzed about stars this minute!