People Top 5
LAST UPDATE: Tuesday February 10, 2015 01:10PM EST
PEOPLE Top 5 are the most-viewed stories on the site over the past three days, updated every 60 minutes
Daniel's Choice
A Teenager Gives Up a Kidney—and Football—to Save His Grandmother
As a freshman trainer at this perennial football powerhouse, maybe. But he has nothing whatsoever to prove as a human being. At 6'2" and 275 lbs., Huffman, who was cocaptain and a star defensive tackle on his Rossville, Ill., high school team, dreamed of becoming a Saturday hero at Florida State. "That kid lived for football," was how his grandfather Danny Allison, 55, put it. But it turned out that something else came ahead of football in his affections—his grandmother Shirlee, 61. "We have been very close all my life," says Daniel. "I love my grandma to death."
And so in the spring of 1996, when it became clear that Shirlee, who suffers from diabetes, had as little as six months to live if she couldn't find a new kidney, Daniel didn't hesitate. He gave her one of his, even though doctors told him he could never risk playing football again. "I was stunned, absolutely stunned," says Shirlee.
Daniel has always had a special feeling for his grandmother—and with good reason. When he was 5 his parents divorced, and he lived with his father in Rossville. But seven years later, after his father had remarried, he moved in with his paternal grandparents. He and Shirlee soon discovered an affinity: Both love to read and write, and both are strong-willed and hard-headed. "There's a bond there," he says. So in November 1995, when Shirlee's diabetes worsened and she was forced to go on dialysis, Daniel took it personally. "She wasn't herself," says Daniel. "She'd come home from dialysis and have to sleep for 10 hours. There was hardly any personality there. That's what hurt the most."
Daniel would often drive his grandmother to her thrice-weekly dialysis sessions and would read the literature on her disease as he waited. "The more I read," he says, "the more I knew what I wanted to do." He talked it over with the doctors and learned that he would never again be able to play contact sports because of the risk of injury to his one remaining kidney. He also learned that eight to 10 Americans a day die waiting for an organ.
Two weeks later, Huffman informed Shirlee of his intentions. Her response: "Absolutely not! I told him I would not dream of it." But Daniel was relentless, and as the weeks ticked by and Shirlee grew weaker, her grandson began winning her over. "He rolls right over you," she says. "He's been that way since he was little. I used to pay him to be quiet." Eventually, he persuaded her. Tests showed they were a good match for a transplant.
There was one other hurdle: The University of Illinois Medical Center refused to perform the transplant until Huffman, 17½ at the time, turned 18. But Daniel, fearing his grandmother might die before then, switched to Chicago's Rush-Presbyterian-St. Luke's Medical Center, which takes donors as young as 16. He admits to a surge of fear on that day in July 1996 when he was rolled into the operating room. But, he says, "if you live your life in fear, you don't live your life."
Following the transplant, Shirlee was almost instantly Shirlee again. "The nurse in the ICU told me to shut up," says Shirlee. "She said, 'Go back to sleep.' I said, 'I can't.' I was absolutely hyper." She recalls seeing Daniel for the first time after the operation. "He walked down to my room," she says. "He was kind of woozy. He went through a lot of pain. I had no pain at all. We didn't say too much. We just held hands."
Now, 15 months after receiving her new kidney, Shirlee says, "I haven't felt this good in 20 years." Daniel feels pretty good himself. He has no special diet, no special regimen. "Right now, the only way I know I had the surgery is the scar," he says of the 16-inch zipper on his left side.
There is another way, of course: He can no longer play football. But in a way, his dream of becoming a Saturday hero has come true. He had always fantasized about being part of coach Bobby Bowden's famous Florida State team—and now he is. Last December, as he was receiving an award at Walt Disney World for most courageous student athlete of the year, Huffman mentioned that he was a huge Seminoles fan. Moved by this, Bowden, who was at the ceremony, arranged to find Daniel a full scholarship and gave him a position on the team as a trainer.
They haven't regretted it. "We got a gem," says FSU head trainer Randy Oravetz. "I feel lucky the kid's working for me." And the kid feels the same way. "I tell people I feel like Forrest Gump," says Daniel. "I've gotten to work for Bobby Bowden and travel and meet all these people. It's like a fairy tale."
WILLIAM PLUMMER
DON SIDER in Tallahassee
TALK ABOUT EAGER. THE WORD was invented for Daniel Huffman. Watch him race along the Florida State University football team's bench, tripping in his hurry to take care of the players, gouging his finger as he tries to fix a sideline fan—the mechanical kind—during a 50-7 blowout of Maryland. "I've got a whole lot to learn," explains Huffman, 18, a great big teddy bear with a blond buzz cut and a perpetual smile. "So there's not a whole lot I can do but hustle. I do my best because I've got a lot to prove."
Advertisement
Today's Photos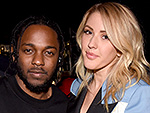 Treat Yourself! 4 Preview Issues
The most buzzed about stars this minute!