People Top 5
LAST UPDATE: Tuesday February 10, 2015 01:10PM EST
PEOPLE Top 5 are the most-viewed stories on the site over the past three days, updated every 60 minutes
Sexiest Men Alive
A Hardy Breed with Perennial Appeal, Our Anointed Hunks Look as Good Today as Yesterday
Sigourney Weaver called her costar in 1983's
The Year of Living Dangerously
"the most gorgeous man I've ever met." Noooo argument there. After that, the mischievous actor, now 41, zoomed into a string of mega-hits, including three
Lethal Weapons
(the fourth begins shooting next year), and picked up two Oscars for directing and producing 1995's
Braveheart
. Once a peckish bad boy, Gibson—father, with wife Robyn, of six—has adjusted to Hollywood's thin air, at $20 million per picture. Says
Ransom
coproducer Brian Grazer: "The moon and the stars aligned correctly for Mel."
MARK HARMON 1986
When the former UCLA quarterback took the title, he was nearing the end of a three-year run as
St. Elsewhere
's libidinous plastic surgeon Robert Caldwell, one of TV's first heterosexual victims of AIDS. Though his acting prognosis looked good, he stumbled in feature films such as
Stealing Home
and
Worth Winning
. In 1987 he married
Mork & Mindy
's Pam Dawber and had two children, now 9 and 5. Harmon, 46, became a hero in 1996, when he saved a teenager's life by pounding a sledgehammer through a window of a burning Jeep that had crashed into a neighbor's fence. Then he resuscitated his career by checking into CBS's
Chicago Hope
. To play surgeon Jack McNeil, Harmon took the bold step of letting his hair go gray. "He's always been handsome," co-executive producer John Tinker told PEOPLE in 1996, "but in the last 10 years he's mellowed and matured."
HARRY HAMLIN 1987
Who better to make the case that TV lawyers need not look like
Matlock
? From 1986 to 1991, Hamlin, now 46, played
L.A.. Law
's Michael Kuzak, the suave attorney whose lips were often found locked with those of Deputy DA Susan Dey. "He was blushing for days" after being named PEOPLE'S Sexiest Man, recalls costar Susan Ruttan. Then married to
Falcon Crest
's Laura Johnson, Hamlin (father of a 17-year-old son with actress Ursula Andress) has since made four TV movies and two more trips to the altar. A 10-month marriage to
Knots Landing
star Nicollette Sheridan ended in 1993, and last March he wed
Melrose Place
's Lisa Rinna.
JOHN F. KENNEDY JR. 1988
On Sept. 20, 1996, the publisher of
George
magazine tweaked his reputation. Raising a glass, he thanked Carolyn Bessette, a former Calvin Klein publicist, for making him "the happiest man alive." The following evening, after a private ceremony on Cumberland Island, Ga., the world's most eligible bachelor was officially off the market. A 27-year-old law student at New York University when named Sexiest Man, the former Manhattan assistant district attorney dispelled rumors that he sought public office by cofounding
George
in 1995. "I find myself rooting for the guy," says
New Yorker
media critic Ken Auletta. The rest of us can just keep drooling.
SEAN CONNERY 1989
"For once, I'm speechless," said a 59-year-old Connery upon hearing of his Sexiest Man status. "It'll all be downhill from here!" Downhill? The next year he played Michelle Pfeiffer's lover in
The Russia House
. In the 35 years since he introduced James Bond in Dr. No, through 52 films (including 1987's
The Untouchables
, which won him an Oscar, and last year's hit thriller
The Rock
), Connery has remained a man's man of action who still leaves women as shaken as any of Bond's martinis. In his next role he shakes up Mother Nature. In the remake of the TV spy series
The Avengers
, Connery plays a supervillain meteorologist out to control the world's weather.
TOM CRUISE
1990
When does a cutie pie become a stud muffin? We gave Cruise, now 35, the crown after he'd lost the
Cocktail
shaker, learned
The Color of Money
and had just shifted gears for
Days of Thunder
. Cruise wed his
Thunder
costar
Nicole Kidman
(they have two children) and has been on the fast track ever since. As a down-on-his-luck sports agent in 1996's
Jerry Maguire
, he earned reviews (and an Oscar nomination) to match his $20 million paycheck. That year he also came to the aid of eight people as a good Samaritan. "He's the boy next door with a billion-dollar smile," says
Risky Business
coproducer Steve Tisch. "
Tom Cruise
represents great safe sex."
PATRICK SWAYZE 1991
It was a dirty summer job, but somebody had to teach Jennifer Grey the not-so-subtleties of
Dirty Dancing
. Three years later,
Ghost
's erotic potter's wheel scene with
Demi Moore
cinched him the Sexiest Man title. That "pedestal...is a strangely wonderful and confusing place to go," recalls Swayze, who made several box office flops before crossing back to success as a sweet-hearted drag queen in 1995's
To Wong Foo, Thanks for Everything! Julie Newmar
. With Lisa Niemi, his wife of 22 years, Swayze, 45, currently has three dance-oriented movies in development and last summer attended the 10th-anniversary festivities marking the rerelease of
Dirty Dancing
.
NICK NOLTE 1992
He arrived in his own time, and if we didn't like it we could go hug a drum. We liked it. Now 57 and recently seen in
U-Turn
, Nolte had just played Tom Wingo, the troubled teacher in
The Prince of Tides
, when PEOPLE honored him. Nolte (who split in 1994 from Rebecca Linger, with whom he has an 11-year-old son, actor Brawley) keeps a framed copy of his Sexiest Man cover above his desk, says actor buddy Bill Cross. "When people mention it, he's likely to thrust out his gut and say, There. Is that sexy?' " Or he may recall the time that he ran into Sean Connery at Cannes. Nolte said, "Here we are, two old men, and we're the sexiest men alive?"
RICHARD GERE AND CINDY CRAWFORD 1993
Were they a picture perfect, two-for-one bargain or what? He was defining modern sexiness in
American Gigolo
before she ever wielded a lip liner. By the time he had refined the concept in
Pretty Woman
, she was Cindy Inc., model and host of MTV's
House of Style
. Married in 1991 (he was 43, she 25), they split up the year after PEOPLE—breaking our Sexiest Man tradition—crowned them the Sexiest Couple Alive. But Crawford still carries a torch for her ex, who this month appears in
The Jackal
and
Red Corner
. She told
Redbook
that she doesn't speak with him because "I don't want to fall back in love with him"
BRRAD PITT 1995
Like Thanksgiving and Pauly Shore jokes, there are certain rites that unite us as a people: Proclaiming Pitt to be devastatingly handsome is one of them. The young hunk of 1991's
Thelma and Louise
, now 33, spent 1995 roping in raves for
Legends of the Fall
and
Interview with the Vampire
. Two years and five films later, he stars in the adventure saga
Seven Years in Tibet
, but off screen he has no leading lady. Whoever replaces actress
Gwyneth Paltrow
in his affections will be lucky. "Success hasn't spoiled Brad," says costume designer Bernie Pollack, who worked with the low-key actor on this year's
The Devil's Own
. "If anything, he's nicer."
DENZEL WASHINGTON
1996
Sure, was like high-fiving Henry Kissinger. But a man who brings innate gravitas to such varied projects as
Malcolm X
,
Courage Under Fire
and
Philadelphia
, and who refuses to suffer the indignities of explicit love scenes, needed a reminder: Down here in the trenches, the very married (15 years) father of four, 42, who will next play a detective in January's
Fallen
, makes thinking women stammer. PEOPLE'S accolade "solidified his position as a sex symbol, not just an African-American sex symbol," says Debra Martin Chase, former head of Washington's production company. "It's a sign of the times that we can say you don't have to look like
Brad Pitt
to be the sexiest man. It expands the idea of what's beautiful."
Advertisement
Today's Photos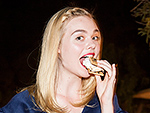 Treat Yourself! 4 Preview Issues
The most buzzed about stars this minute!