People Top 5
LAST UPDATE: Tuesday February 10, 2015 01:10PM EST
PEOPLE Top 5 are the most-viewed stories on the site over the past three days, updated every 60 minutes
Reversal of Fortune
Just Days After Being Convicted of Murder and Facing a Life Sentence, British Au Pair Louise Woodward Walked Out of Court a Free Woman as the Controversy Around Her Raged on
Three days later, however, an elated Woodward hopped into a waiting Ford Expedition sport-utility vehicle and rolled out of the garage of the Middlesex County Courthouse in Cambridge, Mass., a free if not entirely vindicated young woman. That night she stayed with her parents, Gary and Sue Woodward, at a local hotel, gorging on chocolates with nuts in celebration. "She was so excited. She told me she could do anything she wanted now—anything," says her sister Vicky, 18, who talked to her by phone from her hometown of Elton, Cheshire, that evening. "But she didn't know what she wanted to do."
With a stroke of his pen, Judge Hiller Zobel had taken Woodward's conviction on charges of second-degree murder and reduced it to manslaughter, exercising his power to avoid what he regarded as a miscarriage of justice because he was convinced, he wrote, that she had injured baby Matthew out of "confusion" and "immaturity" rather than malice. Then, in the name of compassion, he sentenced her to the time she had already served while awaiting trial—279 days. "We all could have fallen off our chairs," says Matthew's maternal grandmother, Wilma Spellman, of Park Ridge, Ill., who watched the televised proceedings. "We thought the truth would be brought forward and justice would be served, but that just didn't happen here."
In Elton, Woodward's supporters at the Rigger pub, their headquarters, erupted in joy, popping champagne corks and tooting horns as if England had just won the World Cup. But in the U.S. reaction was decidedly mixed. Edward Welch, a member of the jury that had found Woodward guilty of murder after a 17-day trial, expressed the view of more than one juror when he said he could go along with the reduction to manslaughter but not the lightness of the sentence. "I'm flabbergasted," he told The Boston Globe. "This is unbelievable. This is a complete injustice to that child's life."
Middlesex District Attorney Thomas Reilly proclaimed himself "sickened and saddened" by Zobel's decision, and prosecutor Gerard Leone Jr. angrily vowed to appeal it. But, understandably, the bitterest of all were Matthew's parents, Sunil and Deborah Eappen, who stayed away from the courtroom for Zobel's ruling. "What does [the sentence] say about justice?" Deborah, 32, an ophthalmologist, asked in The Globe. "Does it say you can kill a baby, and that your youth and inexperience with cranky babies counts for more than a child's life?" Added Sunil, 31, an anesthesiologist: "Doesn't he get it? Someone killed Matthew."
Actually, Zobel, in a carefully crafted 16-page opinion, took pains to explain that he did believe Woodward's actions had precipitated little Matthew's death, but he found the evidence that she had maliciously killed or gravely injured him unconvincing. "Frustrated by her inability to quiet the crying child, she was a 'little rough with him,' " wrote Zobel, quoting Woodward's testimony, "under circumstances where another, perhaps wiser, person would have sought to restrain the physical impulse." The judge's reasoning placed some credence in the defense theory that Matthew's death was the result of an earlier, unexplained skull fracture that began to rebleed after what could have been relatively minor jostling.
In explaining his decision to let Woodward off with no further jail time, Zobel suggested she would be punished for the rest of her life by bearing the stigma of a convicted felon. But on that point he seemed somewhat naive. The reality was that back in Britain, Woodward had been widely regarded as a martyr, an innocent railroaded by a capricious U.S. legal system more likely to provide TV entertainment than justice. In fact since her case became a national cause, she has received numerous offers for employment in Britain. She could also profit handsomely from her notoriety. "The 19-year-old from Elton could be a millionaire within months," declared Britain's sober Daily Telegraph.
Though the United Kingdom does have media guidelines against payments to criminals for their stories, there is an ample loophole—namely that such stories can be sold if their publication is deemed in the public interest. Woodward, however, released a statement on Nov. 11 denying that she was marketing herself to the tabloids. "I have been deeply saddened by Matthew Eappen's death," she noted—something she had neglected to say explicitly in court. "I have heard rumors that I have sold my story...to the news media.... I have done no such thing."
Woodward's supporters vowed to keep fighting for her vindication by producing proof of her innocence. But meanwhile they were happy to savor her freedom. At the Rigger there was singing, drinking and hugging, a sharp contrast to the scene there earlier when the jury's murder verdict had left many stunned and anguished. Still, even one of Woodward's key backers, Jean Jones, head of the Louise Woodward Campaign for Justice, found some of the rejoicing a bit unseemly. "I tend to keep feeling for the Eappens," she says, surveying the boisterousness. "They are somewhere in America, and they obviously don't agree with what's happened."
The Eappens were not alone. Many armchair legalists questioned Zobel's decision, particularly since he had earlier granted the defense's request that the jury not be allowed to consider a manslaughter charge—a "noose or loose" gambit grounded in the risky belief that the jury would acquit altogether rather than convict the fresh-faced young defendant of murder. After the jury did find her guilty, it struck many as unfair for Zobel to liberate the defense from the consequences of its own choice. But as Professor Paul Rothstein of Georgetown University law school points out, legal precedent in Massachusetts gives the edge to the defense in such matters. "And a judge usually insulates himself from criticism on appeal," says Rothstein, "by doing what the defendant and the defense team want in most cases."
The prosecution is appealing Zobel's reduction of the conviction, but most experts see little chance that the ruling will be overturned. A respected jurist, Zobel is likely to get the benefit of the doubt from any higher court that reviews the case. (For their part, Woodward's high-powered defense team, including the inescapable Barry Scheck, has vowed to seek her complete exoneration by appealing the manslaughter conviction. But many legal observers assume that the defense will do no such thing, since a successful appeal could lead to a new trial, another conviction and imprisonment.)
As things stand now, during the appeals process, which could take anywhere from a few months to more than a year. Woodward will be required to remain in Massachusetts. Her supporters in England have raised $500,000 on her behalf, which she will be able to use in part for living expenses. There is talk that any money left over will fund a child-abuse charity.
For a time, at least, the Eappens too are sure to remain in a sort of limbo. In an interview with Larry King shortly before Woodward was freed, Deborah and Sunil spoke of wanting someday to have more children—brothers or sisters for their remaining child, 3-year-old Brendan. "I really do," said Sunil. "I want to have lots of kids." For now, though, the Eappens can only hope that justice as they see it will eventually be served. "We believe in God, and so we think that there is another judgment Louise will face one day," Deborah told The Boston Globe. "One day, if not in court, she will have to admit what she did to Matty."
BILL HEWITT
BRYAN ALEXANDER in Elton, PETE NORMAN in London, NANCY DAY and ERIC FRANCIS in Boston, ANTHONY DUIGNAN-CABRERA in New York City and CINDY DAMPIER in Chicago
Contributors:
Bryan Alexander,
Pete Norman,
Nancy Day,
Eric Francis,
Anthony Duignan-Cabrera,
Cindy Dampier.
Advertisement
Today's Photos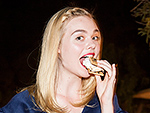 Treat Yourself! 4 Preview Issues
The most buzzed about stars this minute!