Archive Page - 12/1/12 39 years, 2,080 covers and 53,257 stories from PEOPLE magazine's history for you to enjoy
On Newsstands Now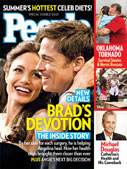 Brad's Devotion: The Inside Story

Oklahoma Tornado: Heroic Rescues

Michael Douglas on Catherine's Health
Pick up your copy on newsstands
Click here for instant access to the Digital Magazine
People Top 5
LAST UPDATE: Wednesday May 22, 2013 02:10PM EDT
PEOPLE Top 5 are the most-viewed stories on the site over the past three days, updated every 60 minutes
Missing Mummy
With Help from Prince Charles and Courage Beyond Their Years, Diana's Boys Are Carrying on
Prince Harry
will have to mark without his mother came quickly: He turned 13 on Sept. 15, just 16 days after her death. But if Diana could not be there to celebrate her youngest's nominal departure from childhood, her sister Lady Sarah McCorquodale could. On the morning of Harry's birthday McCorquodale, 42, arrived at Ludgrove, Harry's Berkshire prep school, and presented him with a computer play station, the gift Diana had planned to give him. The visit was no isolated act. "I've been told," says one royal insider, "that Sarah and her sister Jane are speaking to the boys on the phone nearly every day."
Say what you will about the respective dysfunctions of the Spencer and Windsor families, in the 12 weeks since Diana's tragic car crash, William and Harry's relatives have had no trouble focusing on what, or rather who, matters most. At the end of October, Prince Charles combined business with pleasure by taking Harry to southern Africa to mingle with Zulus and, more importantly, the Spice Girls. Diana's sister Lady Jane Fellowes, 40, whose marriage to the Queen's private secretary made for strained relations, has dropped in on Harry at Ludgrove at least six times. And making good on his promise to have a hand in raising his nephews, Earl Spencer, Diana's South Africa-based brother, took William, 15, to Sunday lunch on Nov. 2 during a business trip to Britain.
What's more, the two families are presenting a united front. At a state dinner in Cape Town earlier this month, Earl Spencer joined in a standing ovation for guest-of-honor Charles, chatted amiably with him afterward and told reporters, "I have an understanding relationship with the Prince of Wales." Says one observer: "They have the well-being of William and Harry in mind. They know that public feuding—or private animosity—would harm the children."
But how their efforts will pay off remains to be seen. So far, insiders say, Harry and William are handling their loss with the "enormous courage" Charles applauded in a recent speech. "Both boys are coping extremely well—perhaps better than anyone expected," says a friend of Diana's. "That tells you a lot about the royal blood. They have been taught from an early age that they have to present a certain facade."
How much sadness lies behind their brave front is harder to determine. What is known is that William—who was scheduled, alongside Harry, to make his first public appearance since Diana's funeral at the 50th wedding anniversary celebrations of the Queen and Prince Philip on Nov. 20—is lagging somewhat in his studies at Eton. The more sensitive and studious of Diana's sons, he is thought to be taking her death especially hard. But the routine at Eton, where, since his mother's death, he has spent most days—save for a seven-day break at Highgrove with Charles in October—is helping. Andrew Gailey, his empathetic Eton housemaster, and Gailey's wife, Shauna, "aren't handling him with kid gloves," says royal biographer Brian Hoey, and Wills has remained popular, with a flair for art, French and rugby. It helps that the British press has honored its post-Diana promise not to photograph the boys in private situations.
As for Harry, the perpetual grin he wore in Africa looked like the real thing. The trip, which fell during Ludgrove's half-term break (and which William missed because of Eton's schedule), was a boy's dream: After a safari in Botswana with school pal Charlie Henderson, 13, and companion Tiggy Legge-Bourke, 32, Harry hooked up with his father in Johannesburg and beamed as he held hands with the Spice Girls backstage at a concert. Composed and happy, he laughed and chatted with his dad in a way that made it clear Diana wasn't the only parent her sons adored.
Charles, for his part, seemed comfortable as a proud, public papa. He told one audience of his "particular pleasure in being here with my younger son Harry" and spoke of his sadness at "William's disappointment that he could not come along"—feelings he would have been unlikely to admit openly before Diana's death. Though he no doubt wanted to help shed his image as the dour dad ("I am popular, aren't I?" he jokingly asked a crowd in Durban, South Africa), his delight in Harry's company was unmistakable. Shaking hands outside Durban's city hall, he looked up to see his son snapping pictures of him from the balcony of the Royal Hotel. In response to the crowd's shouts of "Harry, Harry!" Charles smiled, pointed upward and told his audience, "He's right there—under the letter H."
"Charles is now coming across as somebody far warmer than the newspapers would have had us believe," says psychiatrist Dennis Friedman, author of A Psychological History of the Royal Family. "It's quite possible that he was so much in the shadow of the princess that no one was able to see him clearly."
It's also possible—even likely—that Diana's death has changed him. Already he has canceled engagements to be with his sons, and he may take William to Nepal in February. He has also put his relationship with Camilla Parker Bowles (with whom, word has it, he quietly spent part of his 49th birthday on Nov. 14) back under wraps. Says a Palace insider: "Charles's No. 1 priority right now is the boys."
Though he may never match Diana in public displays of affection, Charles does have much in common with his sons. Both boys are avid huntsmen who love the country life Charles favors. And for publicity-shy Wills especially, the more time at Balmoral and High-grove the better. "William craves privacy," says Richard Kay, a writer for Britain's
Daily Mail
and a former confidant of Diana's. "He is not a great lover of London life. Harry is growing that way too. When the boys were with their mother [in London], they were hassled because of the paparazzi, but with their father, they're on the royal estates, they're undisturbed, and they find that blissful." (Diana's career prospects would hardly have improved the paparazzi problem: In the January Premiere, Kevin Costner reveals that she had talked with him about starring in a sequel to
The Bodyguard
.)
Another comfort is Tiggy. Though she left Charles's employ in March, she was visiting Balmoral when Diana died and since then has made herself available. In addition to chaperoning Harry in Africa (where he bought her a Zulu bracelet), she has spent time with both princes at Highgrove since the funeral. "They tease her," says writer Judy Wade. "They hide, they do naughty things. She's like a cousin or a young auntie." Adds pal Santa Palmer-Tomkinson: "She's a country person, which the boys love. She's one of the only women I know that can skin a rabbit or gut a stag."
One thing Charles hasn't provided, however, is his ex-wife's common touch. Diana took the boys to hostels for the homeless and spoke of exposing them to "people's insecurities"; Charles is not expected to involve them in charity work until they are 18, when royals begin official duties. And forget about fast food and amusement parks. "I can't see the Prince of Wales going into McDonald's," says Richard Kay.
Still, William and Harry are, by all accounts, as normal as circumstances allow. "Especially at the moment, it's important not to put any pressure on William," says Peter Archer, who, as royal correspondent for the British Press Association, is the journalist closest to the Palace. "I think the family is very much sheltering him from the full reality of being king." When William takes tea with the Queen—an event that has happened more frequently since he enrolled at Eton—it's simply "having tea with his grandmother," says Richard Kay, though she might sneak in a history lesson or two. "She's not a hugging, motherly figure," says her biographer Ben Pimlott, "but she gets on very well with her grandchildren."
For the immediate future the princes' lives will contain few surprises. They will spend 38 weeks a year at school, see their father for vacations and, in Harry's case, for most of the eight off-campus weekends Ludgrove allows. (At Eton, boys remain on campus for the weekends.) Home is Highgrove and, starting next year, the five-bedroom York House, which Charles is having refurbished by interior decorator Robert Kime—complete with computer, pool table and a room for Tiggy—at St. James's Palace in London. The boys' residence at Kensington Palace—Diana's home—will be closed down.
But wherever they are, there is no dearth of compassion. Since their mother's death, the boys and Charles have received 90,000 letters (and the young princes are responding to those from people they know). At Ludgrove, where Harry is due to remain until graduation this summer, housemaster Gerald Barber and his wife, Janet, are always at the ready, and school friend Charlie Henderson has been a source of comfort. William has housemaster Gailey, and both boys are getting support even from their protection officers. "You'll see them put a fatherly arm round William or Harry," says Peter Archer.
Of course, comfort can only ease, not erase, the pain. How much the boys can talk about their grief remains in question. (It was Diana, not Charles, after all, who reportedly had an alternative practitioner put a skin patch on Harry to help him externalize his feelings after the divorce.) "The main thing adolescents do is try not to show their feelings about loss," says Benjamin Garber, a Chicago psychiatrist specializing in children's bereavement. Adds Dennis Friedman: "As time goes on, they will be comforted to know that the country is grieving with them. It's not a huge comfort, but it helps."
Yet in the end their loss cannot be fully analyzed—or understood—even by their intimates. "I'm sure they are going through a lot of pain and sadness," says friend Alexander Burrell, 12, the son of Diana's devoted butler Paul Burrell. "Your mum cares for you and looks after you. It's really sad for William and Harry that they won't have that. No one can replace her."
KIM HUBBARD
SIMON PERRY, NINA BIDDLE and PETE NORMAN in London
Contributors:
Simon Perry,
Nina Biddle,
Pete Norman.
Advertisement
Treat Yourself! 4 Preview Issues
The most buzzed about stars this minute!