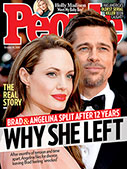 This Week's Issue!
People Top 5
LAST UPDATE: Tuesday February 10, 2015 01:10PM EST
PEOPLE Top 5 are the most-viewed stories on the site over the past three days, updated every 60 minutes
Picks and Pans: Pages
Before They Were Stars
by Stan Jorstad
A picture is probably worth 2,000 words by now, if you invested wisely. Stan Jorstad, a former cinematographer for Mutual of Omaha's Wild Kingdom, accordingly keeps the text to a minimum in this stunning photographic tour of sites both famous (Yellowstone, the Grand Canyon) and less well-known (Denali National Park in Alaska, Utah's Capitol Reef). Crisp, concise introductory essays by Robert Redford and poet Mark Strand put the priceless value of our national treasures in proper perspective. (Simon & Schuster, $40)
edited by Horst Faas and Tim Page
The lingering emotional power of the war in Southeast Asia is evident in the 198 photographs in this gripping, grim book, shrewdly edited by two of the war's best photographers. All the photographs are the work of the 135 men and women from both sides who died covering the war. Many of the shots were the last ones snapped by the photographers. (Random House, $65)
Rhythm, improvisation and conversational call-and-response provide the main themes for this joyful celebration of the jazz spirit, in an artistic jam session skillfully emceed by Columbia University scholar Robert O'Meally. Even a casual stroll through this lovely Smithsonian Institution assemblage of paintings, writings, sculptures and photographs—by artists from Matisse to Toni Morrison—bears out the truth of famed trumpeter Clark Terry's observation: "One splash of a Chagall can sound like Bird." (Chronicle, $22.95)
by Jan Karon
Mitford is the literary equivalent of Bedford Falls, the small town of It's a Wonderful Life. A boxed three-book set of Jan Karon's bestselling chronicle of life in the kinder, gentler hamlet invites readers to a satisfying amble along Main Street and a chance to meet Mitford's friendly people. The series centers on Father Tim, a middle-aged bachelor and Episcopal priest who finds joy and sorrow so entwined that he can scarcely tell where one leaves off and the other begins. Firmly settled down with a large dog, he is surprised and ultimately delighted by love. Readers will be too. (Penguin, $35.95)
by Hans Silvester
Asleep in the Sun is photographer Hans Silvester's latest hommage to the siesta as it is practiced so perfectly in the Aegean Islands. But it's not the local fisherfolk and farmers he's interested in; it's the island cats—black, white, tiger-striped, fat, thin, old and young. Mad dogs and Englishmen go out in the midday sun, but Greek cats know better. They stretch, yawn or find a whitewashed stoop and sack out while the rest of the world goes about its business. Asleep in the Sun inspires the reader—to travel to Greece, to get a cat or, most important, to take a nap. (Chronicle, $29.95)
edited by Jalaja Bonheim
Do goddesses have coffee tables? If so, this handsome volume makes for a perfect offering. Goddess draws its text from sources as diverse as Zulu, Hawaiian and Navajo goddess myths, Jewish legends, Egyptian hymns, Homeric epic and contemporary fiction. But its gorgeous reproductions of paintings by Botticelli and Ingres, its Mexican masks and Mayan pottery and its African, Asian and Western sculptures of female deities are what make this book divine. (Stewart, Tabori & Chang, $50)
by Navin Chawla, photographs by Raghu Rai
This paean to Mother Teresa matches gracefully subdued images with a reverential text. The black-and-white portraits of the nun's etched face and weathered hands—whether clutching a child, bent in prayer or engaged in her mission to serve the poor—offer a respectful commemorative tribute. (Element, $30)
by Robert D. Ballard and Rick Archbold, paintings by Ken Marschall
At last a handsome picture book devoted to the most alluring of ocean liners—those that languish silently on the ocean's floor. Noted oceanographer Ballard and painter Marschall return from submarine dives to the wrecks of the Lusitania, the Andrea Doria and the Titanic, among others, with marvelously eerie pictures and haunting tales. A magical introduction to the world of gracious sailing, even if established buffs will find much of the material familiar from the authors' previous outings. (Hyperion, $60)
edited by Maria Hamburg Kennedy and Susan Martin
Endearing images of children by photographers such as Henri Cartier Bresson, Nan Goldin and Ernst Haas enliven the pages of this two-volume collection. But the snuggly, winsome tykes of Little Angels are simply out-done in attitude by the likes of Goldin's toddler with a scorpion tattoo. Each frame of Little Devils echoes the lines of Tom Patchett's opening essay: "We did it. We admit it." (Picture This, $14.95 each)
photographed by R. Valentine Atkinson
As the title implies, Distant Waters intends to transport the reader. And that it will, if the reader is a fly fisher at heart. The book offers 12 essays about exotic flyfishing destinations that remain no more than remote fantasies for most of us: superb English chalkstreams filled with finicky brown trout, brawling Russian rivers alive with huge salmon, the flats on Christmas Island haunted by ghostly schools of bone-fish. Our pleasure is enhanced by lush photos and first-rate fishing writers, including Nick Lyons and John Gierach. (Random House, $35)
by William Bryant Logan
Let others settle for visions of sugarplums dancing in their wee heads: The serious gardener dreams of the Cape Cod weeder, the Dutch hoe and the long-handled Slingo spade. They are among the hundreds of instruments of earthy delight purveyed by the Smith & Hawken gardening company and elegantly displayed here. For every task, there is a proper tool—18 hand pruners are pictured—and arborist Logan supplies crisp explanations of the history and purpose of each. Dig it. (Workman, $40)
[BOX]
Calendar Whirl
NOW THAT EVERY SELF-RESPECTING supermodel and sexy fireman has one, it has become awfully hard to choose just the right calendar to get you through 12 long months at home or work. To help out, here's a roundup of some of the niftiest options for 1998:
The Surgeon General may object to this sumptuously photographed salute to stogies. You can practically taste September's Havana.
Dazzling flora, from the leafy aster to the great spurred violet—and photos so vivid they'll probably jack up your neighborhood's pollen count.
Put some chrome in your home with these oversize, slick photos of some classic, butt-kickin' bikes. Hog heaven.
Dewy damsels and beefy dudes ripped straight from romance novel covers. Don't any of these guys own shirts?
Computer-manipulated fantasies, like a par 4 that curls around a Yosemite waterfall. Un-fore-gettable.
Vibrantly colored monthly masterpieces from painter Frida Kahlo and others. Plus, you'll know when Ecuador celebrates Independence Day.
Touching photos inspired by the bestseller. Hearts will be warmed.
A pre-X-Files David Duchovny, a pre-Friends
Courteney Cox Arquette
. And
Brad Pitt
makes eyes at you for a month.
Contributors:
Alec Foege,
Ralph Novak,
Jamie Katz,
Emily Mitchell,
Michael Neill,
Francine Prose,
Louisa Ermelino,
Patrick Rogers,
Nick Charles,
Jack Friedman.
We hope PEOPLE'S holiday picks—there's not a pan in the batch—help guide you to a book worth giving.
Advertisement
Treat Yourself! 4 Preview Issues
The most buzzed about stars this minute!