People Top 5
LAST UPDATE: Tuesday February 10, 2015 01:10PM EST
PEOPLE Top 5 are the most-viewed stories on the site over the past three days, updated every 60 minutes
O, Lucky McMahon
Julian, the Son of An Aussie PM, Pops Up in Prime Time
IF ONE WENT LOOKING FOR AN AUSTRALIAN JFK Jr., Sydney-born actor Julian McMahon might fit the profile. Azure-eyed and handsome, he's the son of a prime minister, ex-husband of a pop star. But on a recent afternoon at his three-bedroom Hollywood aerie, McMahon seems closer to Austin Powers. Poolside, there's a cabana bar and a bronze lamp in the shape of a nude woman; in the kitchen, Dom Pérignon. Ceilings are mirrored. A Mercedes 560SEL awaits in the garage. And a floor-to-ceiling aquarium is on the drawing boards. "I could charge at the door," says McMahon, with a hint of self-mockery. "I like to entertain."
In fact he has made a career of it. In 1993, when he was cast as earnest but sexy gardener Ian Rain on NBC's Another World, a fan club reportedly 6,000 strong sprang up in weeks. Now, on Profiler, the creepy climax to NBC's Saturday night "Thrillogy" lineup, McMahon, 29, plays John Grant, a hard-boiled detective in an FBI unit that pursues serial killers. But those who know the 6'2", 182-lb. actor describe him more in terms of Cary Grant. "He's a beautiful man, a great dresser," says the series' star Ally Walker. "He finds life amusing." Adds World's Amy Carlson, a friend of McMahon's since his days on the soap: "Julian is chivalrous, has wonderful etiquette and style in his soul. You can tell he was raised proper."
And prominent. The actor's father, Sir William McMahon, was prime minister of Australia from 1971 to 1972, after holding top posts, including foreign minister. Julian's mother, Lady Sonia, 65, remains a leading society figure. But although his was an upbringing privileged enough that McMahon, brother to Melinda, 30, and Debbie, 24, got to hobnob with Britain's royals, "he wasn't spoiled," says Andrew Holt, an old Sydney friend, now a mining executive. At age 6, McMahon recalls, he insisted on going to school by bus instead of chauffeur. "I had a paper route at 9. I took the trash out," he says. "I don't want people to think I've had it so easy. That's not the path I chose."
By the time he was 20, McMahon had given up on education, after a desultory year as an economics student at the University of Wollongong. "How boring," he says. But modeling promised a whole other world. Signed by an agent for a Pepsi ad, "I made a lot of money and met a lot of chicks," says McMahon. "I thought, 'This is the way to go.' " His parents disagreed. The scion's decision to study acting, says Holt, "caused a rift with Lady Sonia." His father, more surprised than angry, "thought it was funky," says McMahon, "like giving him disco pants."
Sir William died of cancer in 1988 at age 80. By then, all was forgiven. The two "had a tight bond," says Holt. "Julian got a lot of his drive from him." And that drive had begun to pay off. A Levi's ad with McMahon's squeezing into blue jeans did for his career what cola later did for Lucky Vanous and led to the role of a medical student on a short-lived Australian soap, The Power, the Passion, in 1989.
After that, McMahon moved to a second soap. Home and Away, costarring Dannii Minogue. By the summer of '92, he recalls, he was "madly in love" with the singer-actress, the 26-year-old sister of another pop sensation, Kylie Minogue. The media chased the couple right up to the altar. When they wed in Sydney in 1994, "there were helicopters flying around," he says. "We were both going, 'What the hell is going on here?' "
Unfortunately their careers forced the duo to become bicontinental. Minogue was based in London, while McMahon sought bigger roles in New York City. At first, he says, "no one gave a flying wahoo about me." But after he made his debut on Another World wearing a swimsuit slightly smaller than a cocktail napkin, that began to change. As did his marriage. "We hardly saw each other," he says, "and grew apart." They divorced earlier this year.
The split, he says, "taught me about responsibility" and the importance of "growing up the way you want." For McMahon that includes collecting art (portraits of women by Polish artist Joanna Zjawinska), skimping on sleep ("waste of time")—but not sports (running, biking, swimming)—and having 50 people over for pot roast. "The last thing my dad told me was, 'Make sure you're happy,' " says McMahon. "I make that my rule."
TOM GLIATTO
JOHN GRIFFITHS in Los Angeles
Contributors:
John Griffiths.
A star from Down Under rises on Profiler
Advertisement
Today's Photos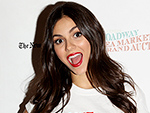 Treat Yourself! 4 Preview Issues
The most buzzed about stars this minute!