Archive Page - 12/1/12 39 years, 2,080 covers and 53,257 stories from PEOPLE magazine's history for you to enjoy
On Newsstands Now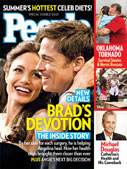 Brad's Devotion: The Inside Story

Oklahoma Tornado: Heroic Rescues

Michael Douglas on Catherine's Health
Pick up your copy on newsstands
Click here for instant access to the Digital Magazine
People Top 5
LAST UPDATE: Friday May 24, 2013 05:10AM EDT
PEOPLE Top 5 are the most-viewed stories on the site over the past three days, updated every 60 minutes
Angels in America
After Experiencing Dramatic Rescues, Medical Miracles and Other Life-Changing Events, These Ordinary People Have No Doubt That We Share Our World with Heavenly Spirits
Nor is she alone. In just a few years a spiritual fad has become a cultural phenomenon. According to recent surveys nearly 75 percent of Americans believe in angels. For Kahn-Langer, her celestial visitor came in the form of "a huge golden being." Others tell of lightsome spirits bestowing inner peace, or heaven-sent humans sweeping them from harm. Hollywood continues to take note: shows such as ABC's Soul Man and the WB's
7th Heaven
hope to follow CBS's
Touched by an Angel
into Nielsen nirvana. Seventh Avenue, too, longs to ride on angels' wings: Victoria's Secret has launched Angels' lingerie.
On these pages, Kahn-Langer and others tell how their lives were altered by divine intervention. Some dismiss their stories as wishful thinking. Yet for someone like Gary Forner, who swears he was touched by something when he fell off a cliff toward a rocky beach, angels are "the only explanation."
A Drowning Averted
Hilary Russell and her parents, Susan and Richard, were on a mission of mercy that blustery winter day in 1978 as they drove from their Miami home to the deserted stretch of Miami Beach. Their English springer spaniel Siddhartha had a bad case of fleas. "We had tried powders and baths but nothing worked," says Susan. "So we asked people, and they said, 'Take him to the beach, and get him in the salt water.' "
But before Richard, a poet and English professor, and Susan, a photographer and onetime lifeguard, could unpack their blankets, Hilary, then 6 and an enthusiastic swimmer, had made a beeline for the roiling surf and waded into trouble. Her parents yelled for her to come in, but it was too late. Hilary was caught in a riptide. "There was nothing I could do," says Susan, now 58. "I couldn't make any headway. I wasn't strong enough. I thought, 'This child is going to drown because we can't get to her,' and there was no one else around."
She was wrong. Richard suddenly noticed a dark-haired man of about 30 standing about eight feet beyond Hilary. When the stranger saw she was in trouble, Richard says, he "just plucked her out of the water and held her in his arms." Hilary, now 25, remembers little of her savior. "He was tan," she says, "and the hair on his arms was dark, and it glistened, even though it was cloudy out." What astonished Susan was the "effortless" way the man strode through the waves, which reached only to his chest although he seemed to be in deeper.
Back on shore, the man put Hilary in Susan's arms. "I said, 'Thank you. Thank God,' " recalls Susan. Adds Richard: "I remember him saying, 'That's okay,' and he was smiling." The Russells then embraced—but when they looked back, the man was gone. Back home, Susan, who was raised Catholic, named him Hilary's Angel. Later, she says, "it occurred to me that maybe he really was an angel." Richard, now 76 and a practicing Catholic, is convinced of it. As for Hilary, "I'm not real sure if there are higher powers," says the University of North Carolina junior. "But I think things happen for a reason, and there's a reason I was saved that day. It wasn't my time to go, I guess."
Saved by 'Hand of God'
As he plunged through the darkness down the sheer face of a coastal cliff at Cape Disappointment, Wash., on Aug. 30, 1994, Gary Forner fixated on one thought: "No fatalities in 16 years on the cliff rescue team, and now I'm going to be the first." Instead, about 30 or 40 feet down the 90-foot drop, the veteran Fort Canby State Park ranger's near-vertical slide was suddenly halted as he felt something pushing him against the rock face. "It was definitely the hand of God or an angel," says Forner, now 50, who had set out with three fellow volunteers to save a stranded 15-year-old climber. As Forner was looking for a place to tie the anchor straps for the rescue lines, the cliff edge crumbled beneath him. "There was nothing there to stop me from falling, nothing," he says. "Then, right on my sternum, I could feel this tremendous force pushing me back. Suddenly I felt this incredible warmth right over my heart. Like when you're a kid, and you get hurt, and your mom or dad pick you up and cuddle you. All I could think was, 'Sweet Jesus, thank you.' "
Unscathed, Forner used a network of tree roots to climb back up. His partners, who had been busy rescuing the teenager and had not seen his fall, were initially skeptical of his story. But a daytime glimpse of the cliff changed their minds. "Divine intervention is really the only explanation," says rescuer Rodger Morrison, 47.
Forner's wife, Barb Kachel, is also convinced. Kachel, 36, was at home in Ilwaco, Wash., that evening when, she says, she "heard a small voice in my brain say, 'Gary fell, but he's okay' Then, when he came home and told me he'd fallen, I knew that something extraordinary had happened." Forner says his close call has strengthened his faith—raised Lutheran, he attends church infrequently but prays nightly—and his commitment to his work. "Maybe that's what my calling in life is, to go out, put my life on the line and save people," he says. "I think that God wants me here."
A Pair of Miracles
Scheduled for brain surgery that would implant a radioactive seed in an otherwise untreatable tumor, Barbara Kahn-Langer desperately wanted to beat the enormous odds against recovery. "I didn't have a life to lose," says the feisty Kahn-Langer, 59, a since-divorced mother of four who at the time—June 1984—was mayor of Scotts Valley (pop. 7,000) in Northern California. "I had a life to keep."
But as she waited on a gurney outside the operating room, she was sustained by the memory of a strange yet reassuring experience three months before, following exploratory surgery that confirmed her malignancy: When Kahn-Langer had regained consciousness, "my entire vision was full of this huge, golden being," she recalls. "I was being held in the arms of this being. I was swathed head to foot, like a baby, in a golden cloth. My mind is saying, 'Of course there's wrapping—your head's wrapped in gauze! That's what this is about.' But it wasn't."
Kahn-Langer never had the second operation. Her astonished doctor arrived with the results of her presurgical CAT scan and told her: "Barbara, you cheated me out of $4,000—the tumor is gone!" Kahn-Langer, screaming with joy, felt she now knew the identity of her golden visitor. "I can't believe that I, this little person, this nobody, was in the hands of God," she says. "I'd been given the gift of life."
Kahn-Langer says she was left with one more blessing: the ability to see angels. "I'm not talking about angel collections in boutiques or ones you hang on a tree," says Kahn-Langer, whose visions follow no particular pattern. "Angel angels." She has even seen a winged spirit hovering over her partner, David Sandler, 59, a clinical psychologist. Sandler, says Kahn-Langer, "has one massive angel."
He believes it—and has his own miraculous tale. "I've always wondered what was protecting and guiding me," he says. In 1974, Sandler was diagnosed with lymphoma and given three years to live. Indeed, by 1977, he lay in the hospital, close to death. But then Sandler heard a loud voice singing a Hebrew song he'd known as a child: "Hear Israel, the Lord my God, the Lord is One." At that moment, he recalls, "I moved out of my body up to the ceiling. I felt that love I had for God when I was a child. The word ecstasy comes to mind—I was as happy as I could be. Then," says Sandler, "I started sinking back, and it was a shock—the body I left is not the one I came back to." Later, tests proved him right—Sandler was cancer-free.
Almost as amazing, when the couple met in 1993, it wasn't after sharing their tales in some angelic support group, but while out running errands in Scotts Valley.
Art of the Matter
When the raging storm hit the wooden 53-foot motor yacht that Donna Terody and her husband, Peter, were sailing from Palm Beach, Fla., to the Bahamas in July 1992, she was sure she was going to die. In fact, even before the bad weather moved in, that was her plan. Beset by excruciating kidney problems she had suffered since age 4, when her father began sexually molesting her, Terody, a successful painter and a former New York City art-gallery owner, had by age 30 become virtually bedridden. She was ready for her life to end, she recalls, and a few months of living aboard, she felt, was better than a few years in a hospital. "I felt I'd leave it in God's hands," she recalls. "Either I'll recover on my own, or I won't."
For six hours, as the boat pitched about in the 10-foot swells, Terody was thrown around her cabin belowdecks. "It was hell," she says. Finally, strapping herself to a bed, she prayed: "God, just make it quick and painless."
That's when she felt a pull upward." "There was a brilliant white light," she says. "Entering it, I was overwhelmed with a feeling of peace and tranquility. Several angels emerged and floated toward me, filling me with their healing light." Suddenly she felt herself falling back toward her body. "I'm dead," she thought. But then a voice told her, "You still have work to do. You have to go back."
When Terody woke up, she was facing a gigantic angel. "I begged him, 'Please take me back,' " she says. He vanished but left Terody with a strange sensation—well-being. "The angels healed me," she says. "They sent me back to paint angels."
Leaving her husband behind (her marriage had been bad for years, she says), Terody moved to Santa Monica, where she began creating ethereal pastel images, works that now fetch up to $10,000. Often, she says, her art enables others to have their own angel encounters. Says Terody, 35: "People were being comforted."
None so much as her boyfriend, software developer Rama Arya, 33. In 1995 the couple were strolling on Venice Beach when Arya was felled by a stray bullet to his upper back. Sensing he was gravely injured, Terody put one hand on his heart, the other on his wound. "I had 100 percent faith," she says, "that when I took my hand off, there was going to be no more bleeding." And there wasn't. Called Miracle Boy at UCLA Medical Center, where he was taken, Arya was fully recovered when he left the hospital the next day. "It really was a miracle," says Terody, who lives with Arya in a Malibu ranch-style house. "That incident showed me that all my pain and suffering was worth it."
Peace of Mind Before Dying
On Jan. 3, 1982, for the first time since her husband was admitted to the hospital for acute lymphocytic leukemia, Melissa Deal fell into a sound sleep on the cot at his hospital bedside. But at 3 a.m., she was awakened by a frantic nurse who noticed that Chris was missing. Though weakened by months of chemotherapy treatments that had failed to cure him, Chris, a 29-year-old songwriter from Nashville, had somehow managed to maneuver his two portable IV poles and walk unnoticed from his room at the University of Texas's M.D. Anderson Cancer Center in Houston. "I thought, 'God, where can he be?' " recalls Melissa, now 44. "He couldn't walk without help." As she searched the hospital, Melissa spotted him sitting calmly in the chapel, talking to a young man dressed in a flannel shirt and jeans whom she had never seen before. She approached the two and asked Chris why he was out of bed. Gently, he told her he was fine and to go back to the room. But Melissa persisted until the stranger looked up at her. He said nothing, she recalls, but "he had the most incredible eyes I've ever seen—ice white-blue eyes like [Siberian] husky dogs. They almost had a light coming from them."
A half-hour later, Chris returned: "He was beaming," recalls Melissa, becoming tearful at the memory. She asked Chris who the man was, and he said he was his guardian angel who had been sent to help him. And, by Melissa's account, he did. Chris, she says, was suddenly full of energy. He began eating, visiting other patients and laughing. "Before he saw the angel, he was so depressed," says Melissa, who had married Chris in 1978. "After he saw the angel, he knew his life wasn't coming to an end. Maybe his physical body was going to die, but he wasn't going to die." Three days later, Chris died. "He was at peace," says Melissa.
The experience changed her life too. A subsequent five-year marriage to Atlanta real-estate appraiser William Randolph Forth ended in 1992. Two years later, while working as an associate producer for a film company, she helped produce
Angels: The Mysterious Messengers
, a two-hour special that aired on NBC. That same year she returned to Nashville and began writing books about angels for children. Now living with her boyfriend in Darien, Conn., where she continues to write while working part-time as a temp, Melissa recalls Chris's encounter and the good feelings that have come of it. "It gave me a sense that I'm part of something wonderful and that there's help out there," she says. "All we have to do is ask for it."
PETER CASTRO, TOM GLIATTO and SAMANTHA MILLER
with reporting by CATHY FREE, JENNIFER LONGLEY, COLLEEN O'CONNOR, FANNIE WEINSTEIN and STANLEY YOUNG
Contributors:
Cathy Free,
Jennifer Longley,
Colleen O'Connor,
Fannie Weinstein,
Stanley Young.
Advertisement
Treat Yourself! 4 Preview Issues
The most buzzed about stars this minute!