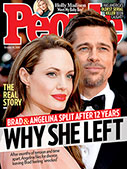 This Week's Issue!
People Top 5
LAST UPDATE: Tuesday February 10, 2015 01:10PM EST
PEOPLE Top 5 are the most-viewed stories on the site over the past three days, updated every 60 minutes
Okay, okay. So your hubby, novelist Jay McInerney, flirts with
Julia Roberts
. It doesn't mean you have to book a trip to nip-and-tuckville. This yuppie's graphic account of her makeover just doesn't make the cut. (Doubleday)
Without a Doubt MARCIA CLARK With TERESA CARPENTER
Don't blame me, Clark seems to be saying in her self-pitying take on Ito, Kato, O.J. and the Trial of the Century. (Viking)
Book WHOOPI GOLDBERG
Despite a $6 million advance and the chance to write whatever she wanted, the widely admired actress and comedian delivers little more than recycled stand-up material about sex and bodily functions. (Rob Weisbach Books/Morrow)
Been There, Haven't Done That TARA FITZGERALD
The gimmick: An attractive, intelligent, twentysomething writer explores her virginity. The catch: She's self-centered, uninteresting and a pretty awful writer. (Warner)
The Kiss KATHRYN HARRISON
A memoir of the author's four-year consensual affair with her father. He's a minister, she's enrolled in a graduate writing program. He's manipulative, she's a complicit victim. Her artsy style, both precious and pretentious, manages to make the last taboo a big bore. (Random House)
Toward the End of Time JOHN UPDIKE
The prolific novelist's latest is set in the year 2020, following a devastating nuclear war between the United States and China. Otherwise not much has changed for Updike's suburban protagonist, who would rather think about his sex life and his golf game. (Knopf)
Timequake KURT VONNEGUT
In this grumpy and disappointing novel, a narrative "timequake" sets back the universe 10 years—but that's not far enough to reclaim the good old days when Vonnegut's insights were fresh and funny. (Putnam)
Promiscuities NAOMI WOLF
The author breaks the red-hot news that teenage girls have sexual feelings, and that society wishes they didn't. Her combination of memoir, sociology and advice reaches new heights of flaky self-involvement. (Random House)
The Bible Code MICHAEL DROSNIN
A former Wall Street Journal reporter, Drosnin claims that predictions of 20th-century calamities—though unfortunately not stock market prices—are hidden in an impenetrable biblical version of word search. Critics shoot back that any large book can serve up encoded messages, and that all Drosnin has discovered is a gullible public. (Simon & Schuster)
Welcome to Your Facelift HELEN BRANSFORD
Advertisement
Treat Yourself! 4 Preview Issues
The most buzzed about stars this minute!