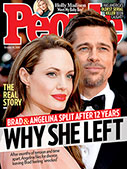 This Week's Issue!
People Top 5
LAST UPDATE: Tuesday February 10, 2015 01:10PM EST
PEOPLE Top 5 are the most-viewed stories on the site over the past three days, updated every 60 minutes
Tributes '97
Their Journeys Ended, These Remarkable Individuals Are Remembered for Their Wisdom and Wit, Their Art and Their Magic

"On Bandolero! it was early in my career, and I was shy. I thought I could avoid having to sign autographs. I wasn't going to come out of my trailer But Jimmy took me aside and said,'N-n-now Raquel, ju-ju-just a minute here. They got some folks here waiting to see ya. They're the people who buy the tickets. The least you can do is go over there, smile and say hello,' I never forgot that. A real, straight-ahead, good guy."
—actress Raquel Welch

ROY LICHTENSTEIN, 73 ARTIST
"I was in his studio many times, and we'd talk about our paintings. He was extremely honest. We could always have a nice open conversation about a work in a very frank way without any defense. He made paintings that people never saw before. His Black Flowers and Composition 1—they were real iconic paintings. He had his own voice."
—artist Julian Schnabel

BRIAN KEITH, 75 ACTOR
"Brian [with, clockwise from top, Family Affair's Kathy Garver, Johnny Whitaker and Anissa Jones] was excellent at making things look easy and relaxed, but he was the hardest working actor I've known. He loved the work for the pure joy of acting, but he didn't like the hoopla or the publicity. He was his own man. He wouldn't take any guff."
—actress Kathy Garver

NOTORIOUS B.I.G., 24 RAPPER
"He had a lot of personality. You could tell he was a star. I loved the melody in his voice, the poetry and the vibe that he gave me. He was a genius, very meticulous, very serious. He never wrote anything down. He just sorted it all out in his head and then went into the booth and recorded from memory. He remembered everything—it was great."
—producer Sean "puffy" Combs

PAMELA HARRIMAN, 76 AMBASSADDR
"She was a remarkable combination of class with a human touch. She was very clever but warm, astute yet generous. keenly in sightful but tolerant of buman frailly."
—former U.S. Sen. Gary Hart

JACQUES COUSTEAU, 87 OCEANOGRAPHER
"He opened up the miracle and mystery of the oceans. I remember sitting around the TV and watching him. He touched all who watched those shows. I sometimes go to Washington and do public service announcements and narrate films about the ocean, l am more on the political-advocate side of the issue than Jacques Cousteau wanted to be. He just tried to stick to the miracle."
—actor Ted Danson

JAMES DICKEY, 73 POET
"James led a big, glorious, expansive life. Letting his hair down wasn't something he feared. I loved the Soutnernness of his poetry. I can still remember him sitting on the balcony of my campaign headquarters in an old depot in Plains, talking politics and literature with the local farmers. He had a rapport with folks who were all but ignored by the more elite in our culture and felt at home with those who raised hogs and cotton and hunted quail."
—former President Jimmy Carter

DENNIS JAMES, 79 GAME SHOW HOST
"He was a television pioneer in every sense of the word. He certainly ereated the yardstick for professionalism that many emcees, including myself, tried to imitate. He was the godfather of game shows. He was a good human being. He gave of himself and his wealth to others. He did so much for United Cerebral Palsy, no matter how busy he got. Just to watch him on those telethons, you can tell what kind of person he was."
—game show host Wink Martindaie

WILLIAM BRENNAN, 91 SUPREME COURT JUSTICE
"He was my father's closest and dearest partner at the Court. Zillions of people visited him. and he always remembered the milestones in their lives, There was always a twinkle in his eye. I only needed to see that twinkle to feel recharged."
—assistant to the President and Cabinet secretary Thurgood Marshall Jr.

BETTY SHABAZZ, 63 HUMAN RIGHTS ACTIVIST
"Like a phoenix arising out of the ashes, Betty Shabazz is an example of strength arising out of tragedy. Her husband was harassed and hounded and finally assassinated in front of her and her children. She could have gone into permanent mourning and the world would have understood. But she returned to school, received her Ph.D., educated her children and picked up her husband's mantle."
—Rep. Charles Rangel (D-N.Y.)

ROBERT MITCHUM, 79 ACTOR
"Mitch was totally irascible and one of the great raconteurs. He also was the most damnably attractive man in the whole world. He had a pantherlike quality. He just glided everywhere. He was a tremendously sexy guy. I worked with him on Cape Fear. The luckiest thing that ever happened to me was, No. 1, I was married, and No. 2, I adored his wife."
—actress Polly Bergen

LAURA NYRO, 49 SINGER-SONGWRITER
"She wore a smear of red lipstick and a black full-length gown way before Courtney Love did the smeared lips and slightly debauched look. She would get onstage with just a piano and entrance an audience. At the piano she was a hero, but offstage she was tongue-tied. She wasn't good at expressing herself in words, and I think that's why she made such brilliant music."
—singer Janis Ian

GEORGE FENNEMAN, 79 GROUCHO MARX'S SIDEKICK
"George was the Glassic second banana. A straight man should lay out a line as if carved in granite so the comic can stick his joke on it, and George was the master, Groueho was unpredictable and loved to put George on the spot and watch him try to bail himself out. But he always handled himself."
—former Tonight Show sidekick Ed McMahon

MILLIE THE WHITE HOUSE ENGLISH SPRINGER SPANIEL, 11 COMPANION
"If Mom was puttering around the house. Millie [with former First Couple George and Barbara Bush] would be right there with her. Spot is the best memory of Millie that I have. Spot is Millie's daughter and lives here in the governor's mansion with me. It was hard for us to break the news to Spot. She misses her mother, and the rest of us do as well."
—Texas Gov. George W. Bush

ALLEN GINSBERG, 70 POET
"He was the greatest poet of his generation. He had an enormous influence on the youth and the counterculture of the world. He had an extraordinary voice, very gentle. Anyone who heard him read would always remember it."
—poet Lawrence Ferlinghetti

DAVID DOYLE, 67 ACTOR
"David [with, from left, 1977 Charlie's Angels Jaclyn Smith, Cheryl Ladd and Kate Jacksorr] relished everything about life. He was one of those seasoned pros who never forgot a line, never left the set a minute early and was the first to step up and help another person. He always seemed to be smiling and laughing. He had the most wonderful laugh with that gravelly voice."
—actress Kate Jackson

RED SKELTON, 84 COMEDIAN
"I was raised on Red Skelton. He was one step beyond the others who were working on TV at the time. There wasn't a show that went by where he wasn't taking amazing pratfalls. When I was 12, 1 used to have my mother drive me to Beverly Hills, and I would walk in front of his house hoping I'd meet him. I never did until four years ago. I was asked to induct him into the Comedy Hall of Fame. I was dwarfed by his grace, his charm, his heart."
—actor Michael Richards

AUDRA LINDLEY, 79 ACTOR
"She was my first choice to play my mother on Cybill, I'd followed her work for years. She was so terrific in the 1985 movie Desert Hearts. Audra [with actor Norman Fell] always had an extremely good sense of humor, but she was also one of the most underrated dramatic actresses I ever saw If I'd ruled the world that year, she'd have won the Oscar."
—actress Cybill Shepherd

BURGESS MEREDITH, 89 ACTOR
"He was witty somewhat of a curmudgeon and someone who loved the nicer things in life. He was the definitive Penguin. He brought a certain elegance and class to the villain I loved to hate. At first he kind of resented, after his rich body of work, being suddenly known as the Penguin. But then I noticed he was somewhat satisfied to be a pop-culture icon."
—actor Adam West

CHARLES KURALT, 62 JOURNALIST
"He loved life and knew a Sot about cuisine and wines. He smoked too much and drank too much. But he had a great time. He loved getting away from the crowds. He hated stories where you had to get press credentials. During spring training. I once interviewed a pitcher for the Cardinals. The guy said the town he lived in was so small that Charles Kuralt had been there twice."
—journalist William Geist

JEFF BUCKLEY, 30 SINGER
"Jeff was music. He was the real thing, undiluted, ferocious. He was in direct communication with a spiritual place that a lot of artists can only theorize about. No one came away from him unmoved. He was always loving, always the giver of hugs. He gave amazing back rubs. He would get down and roll around with anybody's dog. He would play music anywhere, at any time, with anyone. He would call you at 3 a.m. to tell you he loved you, or to sing whatever was on his mind, or to talk like Colonel Klink from Hogan's Heroes."
—Shudder to Think guitarist Nathan Larson

PAUL TSONGAS, 55 SENATOR
"Tenacity was this guy's middle name, He was deeply committed to what he believed and worked as hard as anybody I know to try to achieve it. He would go out to a neighborhood park and pick up litter—and he was running for the Presidency. He wasn't doing this for the cameras—there were no cameras around. Paul was kind of the conscience of Massachusetts politics."
—former Massachusetts Governor Michael Dukakis

JAMES MICHENER, 90 WRITER
"He lived to the hilt and picked up so many interests along the way. After he finished writing Chesapeake, I went sailing with him on the Chesapeake. A squall hit. Michener was not an experienced sailor, and I begged him to go below, but he refused. Afterward I asked him why he had insisted on staying above. He said, 'Well, just last week I went to a ceremony where they named me Admiral of the Chesapeake, and I just didn't feel like an admiral would go below in a situation like that.' "
—broadcaster Walter Cronkite

GIANNI VERSACE, 50 FASHION DESIGNER
"I loved Gianni because he was kind, gentle and funny. I loved his clothes because he understood that women want to look fantastic and he made sure that they did. Gianni's dresses and suits were particularly good to wear on off days. If you were feeling fat and pasty, you were instantly cheered up as you squeezed into a ravishing concoction in some heavenly color. His detractors were sick with jealousy because he dared not only to be successful but to blatantly enjoy his success."
—actress Elizabeth Hurley

WILLIAM HICKEY, 69 ACTOR
"I played his nephew on Wings. He had a strange, whining voice, and it would get him the biggest laugh on the show. He told me that he was Irish but grew up in a Jewish neighborhood. He asked his father, 'Are we Jewish or are we Irish?' The father said, 'You're not Jewish or Irish. You're a Hickey.' That's about the best description of him you could give."
—comedian Gilbert Gottfried

BRANDON TARTIKOFF, 48 TV EXECUTIVE
"He will always be, for me, the measure of success, not just in terms of how many seasons a network can be No. 1 or how well a show can do, but how he did his job, with showmanship arid humanity. He recognized good work and effort and did it with a support that left you knowing that he was truly a friend."
—X-Files creator and executive producer Chris Carter

PAT PAULSEN, 69 COMEDIAN
"He was like Buster Keaton. He did street theater, tremendously deadpan, put-on type of comedy. In 1968 he started running for President, and in these past 30 years he became a political icon. Whenever I walked around with him, people would call him Mr. President or claim they voted for him. They'd say, 'Please run again.' "
—comedian Tommy Smothers

COL. TOM PARKER, 87 ELVIS PRESLEY'S MANAGER
"He was a nival man. He had an incredible instinct for publicity and an incredible instinct for the preservation and exploitation of the one very talented young man that he managed. He made Elvis Presley into a household name, a musical icon and virtually a god."
—composer Mike Stoller

WILLEM DE KOONING, 92 PAINTER
"He was one of the best American artists of his time. He kept growing and changing. He just moved organically. He also had a great sense of humor. There's the anecdote where someone showed him a picture of a monkey who painted paintings. He was asked what he thought, and he said, 'That monkey is a pretty good painter.' "
—artist Alex Katz

NANCY DICKERSON, 70 JOURNALIST
"I remember when I was younger watching her. It made me say, 'Wow, can a woman do that? Can a woman really do that?' And that was way before affirmative action. There weren't many women covering politics. I always remembered she did what the guys did. She was also one of the most generous, spirited human beings on the planet. As a friend, she was extremely generous, openhearted. What astonished me was how little she talked about the things she did first. She was very modest."
—journalist Lesley Stahl

MICHAEL HUTCHENCE, 37 MUSICIAN
"Sometimes lead singers relate only to other lead singers. It's kind of this ego thing. But Michael wasn't like that at all. He was a really sweet guy, a very nice guy to everyone he met. He was the consummate pop star. And he had so much fun with it all. I really miss that about him. I love having people like that around, and there really aren't many like him, people with his kind of spunk."
—U2 drummer Larry Mullen

MOTHER TERESA, 87 HUMANITARIAN
"She was able to bring people together, Muslims and Christians, in a way that many diplomats are unable to. She was able to cross every line of society. She stood for really respecting your neighbors and caring for them. I think that gift came from a complete and absolute dedication to her faith."
—founder of Special Olympics International Eunice Kennedy Shriver

HAROLD ROBBINS, 81 AUTHOR
"He was a character out of one of his own books. He lived the life. Harold would always tie surrounded by beautiful women. The ultimate Harold Rbbbins party would feature him in the Jacuzzi with five beautiful blondes."
—author Jackie Collins

CARL SAGAN, 62 ASTRONOMER
"Cart had the gift of taking complicated and making them understandable to everyone. He was a great scientist and a great communicator who brought the fascinating wonders of the universe into the lives of people all over the world. Whenever we take a long look into the night sky, we are paying tribute to Carl and the cosmos he helped us comprehend."
—NASA administrator Daniel S. Goldin

JOHN DENVER, 53 SINGER-SONGWRITER
"John Denver was a hero to me. When I was 15 years old, listening to his songs on the radio helped teach me what a song should be about. Seeing him perform taught me that it was possible to make your audience part of your show. I enjoyed joking with John, teasing him about being a Texan. He was distinctive in his style and as much a leader in his music as Stephen Foster and Leonard Bernstein. His music will live on."
—singer-songwriter Lyle Lovett


JIMMY STEWART, 89 ACTOR
Advertisement
Treat Yourself! 4 Preview Issues
The most buzzed about stars this minute!