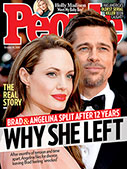 This Week's Issue!
People Top 5
LAST UPDATE: Tuesday February 10, 2015 01:10PM EST
PEOPLE Top 5 are the most-viewed stories on the site over the past three days, updated every 60 minutes

I want to congratulate PEOPLE for bringing to light the national disgrace of child abuse. My wife and I are foster parents and have adopted two abused children thus far. It is amazing to us that the problems your article describes are so consistent and large-scale and yet so little known to the general public. While debates rage about school prayer and free condoms, there are thousands of children being treated brutally and mercilessly by the very people who should be protecting them. Your article will do much to throw the light of scrutiny on this terrible problem.
MARK D. VAN GUNDY
Sierra Vista, Ariz.

Is it some coincidence that so many of these abusive, so-called mothers are so young and have so many children? Why do we continue to allow these criminals to procreate and bring child after unwanted child into the world? We are so concerned with the rights of these irresponsible, abusive people that we neglect to consider the consequences of their actions. I am aware that we are a free country and that our citizens have rights, but this cycle of violence is continually perpetuated as the abusers raise (or don't quite raise) another generation of abusers. Where does it end?
ANONYMOUS

I had just finished Christmas shopping and was deciding if my kids had enough under the tree when I read your article on the abuse and neglect of children. It made me realize the things my kids take for granted, such as clean clothes, food and shelter, and a kiss and hug before they get into their warm beds, are probably the best thing I'll ever get or do for them. God bless the West family and all the social workers who day-to-day strive to give kids better lives.
DAWN SIEPMANN, Falls Village, Conn.

I was disappointed in your article about child abuse. Your readers would have been better served if your story had talked about the cycle of abuse, the parents who are struggling to break the cycle and the services available to help them. Six years ago I came very close to killing the youngest of my four children. I knew then that I desperately needed help and support, and I found an organization that does just that. Parents Anonymous Inc. is a national network of community-based groups that support the whole family in a safe, nonjudgmental environment and is free of charge. When I joined I was scared, confused and had no self-esteem whatsoever. Now, my children are growing up in a happy, violence-free home. I feel hopeful and have gained respect for myself. Instead of ending stories with caseworkers sighing and saying they've become "resigned" to it, why not end with positive, important information that can bring an end to this terrible problem?
MICKEY HARTSHORN, Portland, Ore.

I am a social worker, and your article hit the nail on the head. The only cases that ever make the news are those in which children die. Few people realize how much state social workers do to protect children from abuse. I believe that some children are alive today because of the actions of a social worker.
KRYSTAL FORTNER, Albuquerque

NANCY REAGAN
Nancy Reagan is truly a first-class lady, taking care of our former President and still finding the time and energy to dedicate herself to some vital causes. This is so great, especially today when "till death do us part" means very little.
SHANNA ROSS, Lexington, S.C.

When I was an 18-year-old college freshman, my grandfather looked at me and said, "You're not my granddaughter because I don't have a granddaughter." It was at that moment that I realized exactly how awful Alzheimer's is. He died this year, the week before Thanksgiving. It's been two years since my grandfather forgot who I was. In those two years, my family has changed so much. It made me realize that Alzheimer's is really a family disease.
ABIGAIL NEWHALL, Valparaiso, Ind.

EARL SPENCER
I had to laugh at the hypocrisy of the man in your article detailing his "messy split" from his wife, Victoria Lockwood. Is this the same Earl Charles Spencer who admonished the media for making his sister Diana's life a living hell and driving her to her untimely death, while holding himself up as the standard for decency and class? How the self-righteous mighty has fallen.
CAROL BANKS WEBER, Honolulu

BOB GRIESE
I was saddened to learn in your story on sports broadcaster Bob Griese that his wife, Judi, died of breast cancer in 1988 (PEOPLE, Dec. 1). Because of PEOPLE'S demonstrated interest in fighting breast cancer, we'd like to offer your readers who are fraternal twins a chance to help a major scientific study of the disease. We need nonidentical twins over 35 who will answer a medical questionnaire and send copies of their mammograms to researchers. Twins can contact us by phone, 401-729-1000, fax, 401-751-4642 or e-mail: twins@twinsfoundation.com.
KAY CASSILL, PRESIDENT, THE TWINS FOUNDATION, Providence


CHILD ABUSE
Advertisement
Treat Yourself! 4 Preview Issues
The most buzzed about stars this minute!