People Top 5
LAST UPDATE: Tuesday February 10, 2015 01:10PM EST
PEOPLE Top 5 are the most-viewed stories on the site over the past three days, updated every 60 minutes
Picks and Pans Main: Tube
Spotlight On...
The Learning Channel (Mondays-Thursdays, 11:30 a.m. ET)
Grades: Bear, A; Skinnamarink, A-
The magic needed to charm a preschooler is hard to define, harder to capture. But these shows have displayed it consistently since premiering in the fall.
Created by Mitchell Kriegman (Clarissa Explains It All) and produced by Jim Henson Television (run by the late Muppet creator's son Brian), Bear in the Big Blue House stars a sociable, orange-furred 7-footer of the ursine persuasion whose grace belies his bulk (he cha-chas like a dream). Bear and Tutter, a slightly hyper mouse (pet interjection: "Oh, hickory-dickory!"), share a commodious, comfortable home, where they regularly entertain Treelo the lemur, Pip and Pop the otters and a little bear named Ojo. The puppetry is enormously clever, the production design is practically perfect (what could be more inviting than the soft colors and soft pillows of Bear's living room?), the songs are catchy and not syrupy, and the day's lesson (from the principle of sharing to the law of gravity) is subtly reinforced in Bear's concluding talk with Luna, the womanly moon. The thing is, we never like to leave. Does Bear have a spare room?
Skinnamarink TV is not as imaginative as Bear, but it's bright, breezy and fun. The series features Sharon, Lois & Bram, the Toronto-based songsters formerly seen on Nickelodeon's Elephant Show, in a half-hour package of gentle TV parodies that might be viewed as a kids' version of that north-of-the-border classic SCTV. The spoofs of game shows, sitcoms and such may not reach the level of adult-pleasing humor found on Sesame Street, but the format allows lots of time for Sharon (Hampson), Lois (Lilienstein) and Bram (Morrison) to do what they do best: perform old songs with affection and infectious enthusiasm. They also interact amusingly with two human-size animal characters, cheeky C.C. CopyCat and Ella Acapella, a sweet young pachyderm.
Syndicated (check local listings)
CBS (Mondays, 9:30 p.m. ET)
Grade for both: B
Why do some people take shots at Martha Stewart, the famous cooking, gardening and decorating maven (and, according to her publicity bio, "arbiter of taste")? Look at her TV show, which went daily this season after four years as a weekly half-hour. Shortly before Christmas she demonstrated how to bake the perfect fruitcake—after citing an informal survey of her friends to prove that folks sort of like the oft-maligned confection. Something in her tight smile suggested that anyone who responded, "Fruitcake? Yeccchhh!" was transferred summarily to her enemies list.
Stewart is a tempting comic target, and the new series Style & Substance comes out firing. Not at her, of course, but at a fictional central character whose resemblance to actual persons living or dead is purely coincidental. Chelsea Stevens (Jean Smart) is a divorced mistress of the domestic arts with a magazine, a television show, a staff full of lackeys (except for new office manager Jane Sokol, played by Nancy McKeon) and zero friends (not even fruitcake fanciers). Despite an obsessive-compulsive personality that drives her to prepare hors d'oeuvres at 5 a.m., Chelsea's advice to an imperfect world boils down to four words: "Be more like me." The Jan. 5 premiere, written by executive producer Peter Tolan (The Larry Sanders Show), is often deliciously funny, and Smart (Designing Women) clearly savors her plum role. But the series risks losing its edge if Chelsea reveals too much of her lonely, vulnerable side to Jane. Watching an upcoming episode, we kept thinking, "Get Chelsea some therapy," when we should have been laughing with abandon.
Meanwhile, if you want to learn to fashion picture frames out of birch bark, the real Martha Stewart continues to provide such useful household information in a manner that is direct, polite and authoritative, though not especially warm. Her show could use a dash of humor, even if her life is not exactly a sitcom.
ABC (Thursdays, 8 p.m. ET)
C+
A better title for this drama series might be Dead Meat, since it has the misfortune of being scheduled opposite Friends. (The previous victim in this time slot, the worthy Nothing Sacred, has been switched to Saturdays.) But the show may appeal to two constituencies: environmentalists and the X-Files crowd. Al Gore and others who are hot and bothered about greenhouse gases should applaud the premise: Somehow or other, global warming has produced a new species of man that looks human but actually wants to wipe out Homo sapiens. The Jan. 15 premiere establishes that bio-anthropologist Dr. Sloan Parker (Debra Messing, formerly of Ned and Stacey) will lead the effort to save humankind with help from medical researcher Dr. Ed Tate (Vincent Ventresca), police detective Ray Peterson (Frankie Faison) and Tom Daniels (Adam Storke), who introduces himself as an FBI agent but turns out to be of a different breed than X-Files feds Mulder and Scully.
The first episode goes too heavy on creepy atmosphere, and some of the dialogue must be heard to be disbelieved. (After explaining her theory of a deadly new species to the skeptical cop, Sloan says, "You're going to have to trust me on this. It's what I do.") But the basic situation has potential, and Larry Drake (L.A. Law) is felicitously cast as Dr. Walter Attwood, the hero's sinister boss.
>Murphy Brown's Cancer Group
NO FAKING THE TEARS
AT THE FIRST SCRIPT READING FOR THIS week's Murphy Brown (Jan. 14, 8:30 p.m. ET, on CBS), Wendie Jo Sperber began to cry. Sperber, 39, a veteran of sitcoms like Bosom Buddies, guest stars as a member of a cancer support group joined by feisty newswoman Murphy (Candice Bergen), who was diagnosed with breast cancer in October. Sperber got a similar diagnosis last fall. "What [my] character is going through on the show, I'm going through in life," says the single mother of two.
Playing the other group members are real-life cancer survivors Tracy Nelson, 34 (Father Dowling Mysteries), Marcia Wallace, 55 (The Bob Newhart Show) and Susan Moore, 40 (a guest star on Seinfeld and Party of Five), who was treated for breast cancer in 1993. "You had to force yourself to be there again," says Nelson, who battled—and beat—lymphoma 10 years ago. "It was hard to put on that scarf to hide my hair."
Bergen, 51, was awed by such courage. "They demonstrate what life is like before and after diagnosis," she says of her costars who, on the set, became a mini-support group for Sperber. "It's such a shock when something like this comes at you. We all felt very protective of her," says Wallace, a 12-year survivor of breast cancer. Sperber is grateful. "To see that [Nelson, Wallace and Moore] all got through this," she says, "was so inspirational."
Contributors:
Craig Tomashoff.
Disney Channel (Weekdays, 10 a.m.; Saturdays and Sundays, 7 and 7:30 a.m. ET)
Advertisement
Today's Photos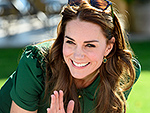 Treat Yourself! 4 Preview Issues
The most buzzed about stars this minute!