People Top 5
LAST UPDATE: Tuesday February 10, 2015 01:10PM EST
PEOPLE Top 5 are the most-viewed stories on the site over the past three days, updated every 60 minutes
Heart of the Matter
All His Life, Broadcaster Tim Green Had a Wish: to Impress a Woman He'd Never Known
That obsession eventually helped motivate Green, now 34, to become the co-valedictorian of his class at Syracuse University, a standout defensive end with the National Football League's Atlanta Falcons, a lawyer, a bestselling author, a Fox Sports analyst and a National Public Radio commentator. Yet all that and a loving family weren't enough to make him feel whole. In his latest book, A Man and His Mother (HarperCollins)—names and details were changed to insure privacy—Green eloquently documents a long but ultimately successful search for his birth mother, a process his wife, Illyssa, 33, says was necessary "to complete the chapter in his life."
It was a chapter never hidden from him by his parents, Dick and Judy Green, who did not conceal the fact that he'd been adopted. But "I really didn't want to consider it," says Green. "I just blocked it out of my mind." Yet his sense of abandonment not only fueled his ambitions but also influenced his relationships. "If I had a girlfriend, I clung to her desperately," he says. Ultimately it was the end of a relationship, in 1985, that moved him to search for his birth mother. The girl's mother, who had become his confidante, told him that she too had placed a son—who would have been Green's age—for adoption.
"I saw this woman I really cared for," recalls Green, "who was in pain because she had a son and she didn't know what happened to him." He thought maybe his birth mother "was just like this woman. Maybe she worries." He wondered, too, about his birth father—fantasizing that he might be royalty but aware too that he could just as easily be a criminal. It wasn't until Green was about to sign his first pro contract, with the Atlanta Falcons in 1986, that he decided to track down his past. While other newly rich rookies might insist on incentive clauses, Green asked his agent for something unusual: the name of a good private detective.
Information soon began trickling in, although Green's adoption was closed. The detective discovered that Green's maternal grandfather had been a policeman and a professional baseball player, his birth father an Army officer with a degree in mathematics, and that his birth mother had worked her way through college. But the detective could provide no names. At night, Green lay in bed next to Illyssa—introduced in college by mutual friends, they had wed in 1989—teary-eyed and haunted by the fear that he might never be able to ease his longing.
But serendipity was on his side. In 1988, Green used his birth certificate to locate the town where he was born. It had one hospital, and Green had become friends with a nurse who worked there. She took a copy of his records from the files—only a week, it turned out, before a fire destroyed the room in which they were kept.
With records in hand, Green was able to find a marriage license for his biological mother. Her unusual maiden name, Heathslide, led to a relative in Ohio who gave Green her phone number. On a February night in 1989, Green called. "Is this Joanne?" he asked. When she told him it was, he said, "This is your son." There was prolonged silence. "Just say something if you're there," pleaded Green. When she did, they spent the next two hours emotionally exchanging life stories.
Since then, Green and elementary school teacher Joanne Burgen (she's now married, with two adult children) have established a warm relationship. But Burgen recently said on the ABC show The View that she had no regrets about placing him for adoption. "I was poor, and school districts didn't hire single mothers," she explained. Over the years, Green's two families have become close, and his four children, aged 2 months to 7 years, call both Burgen and Judy Green grandma even though they don't know why Daddy has two mothers.
Green understands not all adopted children feel compelled to search for their birth mothers. But for him, making the connection soothed an ache no less real for being hard to define. "Just looking at her face is like my face—I can't explain it," he says of their first meeting. "We both hugged each other, and we both cried. There was closure, but more things to come."
NICK CHARLES
CYNTHIA WANG in New York City
Contributors:
Cynthia Wang.
WHILE TIM GREEN WAS GROWING up in Syracuse, N.Y., he says, his peers often heard a familiar refrain from their parents: "Why can't you be more like Tim?" Green seemed to do everything right. He earned straight A's. Made his high school varsity football team as a freshman. Won a state championship in wrestling and earned a college scholarship. Looking back, he realizes now why he was so driven. "My whole quest for praise and achievement," says Green, who was adopted at birth, "was an attempt to make myself desirable to a woman who gave me away."
Advertisement
Today's Photos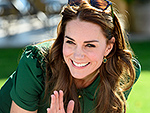 Treat Yourself! 4 Preview Issues
The most buzzed about stars this minute!