People Top 5
LAST UPDATE: Tuesday February 10, 2015 01:10PM EST
PEOPLE Top 5 are the most-viewed stories on the site over the past three days, updated every 60 minutes
Slip of a Girl
Princess Victoria, Heir to Sweden's Throne, Falls Victim to Anorexia
But like the once-bulimic Princess Diana, to whom she has been likened, Victoria harbored a grim secret beneath her svelte look. On Nov. 29, a week after the 5'6" heir to the throne appeared at a Stockholm gala in a gown that re-SS vealed how skeletal—not just slim—she had become, her family confirmed the press's suspicions. "The crown princess is suffering from an eating disorder," said Elisabeth Tarras-Wahlberg, director of the Information and Press Department of the royal court. "She is receiving therapeutic help."
To some, the news came as a shock. But to others, Victoria Ingrid Alice Desiree, Crown Princess of Sweden, Duchess of VästergÖtland, seemed the type susceptible to eating disorders. (Sweden's incidence of anorexia among girls 14 to 24 is about 1 percent, similar to the incidence in the U.S.) "Victoria is very ambitious," says Monica Wadsted, an editor at Dam Tidning. "She puts her heart into everything she does, which fits the profile for anorexia." Adds Lillimor Johansson, a nurse and therapist at Stockholm's Huddinge Hospital's Eating Disorders Center, where some speculate Victoria may be undergoing outpatient treatment: "If you're in the public eye, it is more likely you can develop a problem. Women in the public eye feel they have to be suecessful, the best, in everything."
Raised with her brother Carl Philip, 18, and sister Madeleine, 15, at Drott-ningholm, a baroque-style 17th-century palace outside Stockholm, the out-doorsy and fun-loving Victoria has long excelled at both school and sports. Though she has had few romances ("Boys are intimidated," says a source close to the family), she has a large circle of chums and is particularly close to her father, Carl Gustaf. "They go boating and skiing," says a family friend. "He likes parties, so does she. And they were both brought up as rulers, so they have that understanding."
Determined to give their children "a normal Swedish upbringing," says the friend, Carl Gustaf, 51, and Queen Silvia, 54, have limited the young royals' appearances. But at 18, Victoria—who begins political science studies at Uppsala University, near Stockholm, this month—became deputy head of state, a ceremonial position with a palace office and an onslaught of invitations. (Sweden's monarch has no political role.) "Her duties are what she chooses them to be," says Palace spokeswoman Cecilia Wilmhardt. She has chosen plenty: After studying French at a French university in 1996, she boned up on Sweden's parliament with her country's prime minister, attended UN sessions and greeted dignitaries, including Boris Yeltsin, at state dinners.
Sources say it was while in France that she first began to diet—spurred by her popular mother, a perfectionist who long ago mandated low-fat cuisine at the palace and who, says one acquaintance, "is hysterical about keeping slim." The Queen, says a friend, "wished her daughter to diet. Not to be mean, but for her own good." Adds the friend: "The Queen is very worried. This has always been the perfect family, and the perfect facade has cracked."
How soon the crack can be mended is unclear. The weekend of the disclosure—which the princess had decided on as a way to end speculation—Victoria dined with friends in Paris. "She sat and thought so long about what she should eat," an onlooker told the Swedish magazine Hänt Extra, "but when the food came, she ate almost nothing." On Dec. 10 she looked tense and gaunt at Stockholm's Nobel Prize dinner. "One of the hardest things for a person with an eating disturbance is to eat with other people," says therapist Johansson. "And she was with 1,400 others. It must have been terrible."
Yet Victoria, insiders say, elected to stick to a schedule spokeswoman Tar-ras-Wahlberg calls "daunting." Journalist and royal watcher P.O. Eriksson says "her interests are centered on becoming Queen. She wants the right education and to learn how the society works." Ultimately, her sense of duty may pull her through. "She has great work ahead of her," says Johansson. "She must get on with it by first getting well."
KIM HUBBARD
LEE WOHLFERT in Stockholm
Contributors:
Lee Wohlfert.
FRESH-FACED, EBULLIENT AND unpretentious, Crown Princess Victoria of Sweden, 20—the oldest of King Carl XVI Gustaf's three children—has always been adored by her countrymen. So when the royal baby fat melted away last summer, leaving the once-plump princess sylphlike, the Swedish press rejoiced. The weekly women's magazine Svensk Dam Tidning (which noted last year that the princess looked as if she had "eaten too many hamburgers") touted "Victoria's Scrumptious New Style" and featured her on the cover nine times between June and November—once wearing a bikini. Outside her homeland the trimmed-down brunette sparked rumors of romance when she and Monaco's Prince Albert (who is just a friend) kept company at the wedding of Spain's Princess Cristina in October.
Advertisement
Today's Photos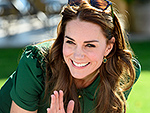 Treat Yourself! 4 Preview Issues
The most buzzed about stars this minute!