People Top 5
LAST UPDATE: Tuesday February 10, 2015 01:10PM EST
PEOPLE Top 5 are the most-viewed stories on the site over the past three days, updated every 60 minutes
Picks and Pans Main: Song
Spotlight On...
His voice was an almost perfect instrument for the pop songs he performed, as vivid and textured as aspens photographed in morning light. At his best, John Denver soared above his impulse to sentimentalize, and in this recently released album, billed as "his last recordings" and completed little more than a year before his death in October, he revisited many of the tunes that made him one of the most commercially successful singers of the 1970s. While corn was never far from his palette ("Perhaps Love," "I'm Sorry"), Denver also left a store of memorable, tightly crafted tunes like "Leavin' on a Jet Plane," which became a No. 1 hit for Peter, Paul & Mary in 1969, and "Rocky Mountain High," his soaring, 1972 celebration of a city-damaged soul reborn in nature. For these re-recordings, Denver didn't stray far from his original versions, although his tendency toward overwrought optimism does seem tethered at times by a touch of melancholy. It is a feeling old fans may feel as well after hearing this bittersweet collection. (River North)
Various artists
This double album set contains short stories recently published in The New Yorker, read by various actors and, in some cases, the authors themselves. The best matchup is actress Frances McDormand (Fargo, Mississippi Burning, Lone Star) and "People Like That Are the Only People Here," a characteristically perceptive and poignant Lorrie Moore story in which a young mother tries to deal with the discovery that her baby has a malignant tumor.
But it is also engaging to hear John Updike read his own "New York Girl," about a Buffalo, N.Y., salesman's adulterous affair with a New York City divorcée. Ian McEwan reads his intriguing tale of a hot air balloon trip gone awry. And even the often mush-mouthed actor Gabriel Byrne (Miller's Crossing, The Usual Suspects) elocutes crisply while reading Seamus Deane's very Catholic, very Irish tale, "Maths Class." Although those who believe literature should be seen, not heard, will still prefer to eyeball the stories themselves, this album represents an interesting alternative, not to mention a good way of reading while driving or exercising. (Mercury)
The Grateful Dead
Never in their 30-year-plus history were members of the Grateful Dead known for brevity Given to long, free-form improvisational workouts, fine-tuning of instruments between jams and lengthy, onstage discussions about what number to do next, the bandmates were fond of the surreal and watched clocks only to see them melt. Yet on this rarest of nights in 1969, they managed to color inside the time lines, performing two eclectic, shuffling sets in little more than an hour each. The first of two CDs, Early Show includes rhythm and blues standards like "Good Morning Little School Girl" and "I'm a King Bee" while the other, Late Show, features Dead staples such as "St. Stephen" and hypnotic jams titled simply "Drums" and "Feedback." Both showcase the band's great strengths as well as its sometimes laughable weaknesses. With guitarist and group shaman Jerry Garcia at the height of his powers, the band's ensemble work is often mesmerizing; yet on a high-spirited cover of the Beatles' "Hey Jude," cracking, overmatched vocalists Ron "Pigpen" McKernan and Bob Weir sound like they're trying to hail a cab. Culled from the Dead's seemingly fathomless crypt of performance tapes, Fillmore East almost, but not quite, gives fans the one thing they so crave but can never again enjoy—another night of the living Dead. (Grateful Dead Records/Arista)
Chris Stills
A year ago, Chris Stills was lugging the tools of his father's trade from tour bus to stage. Now the 23-year-old son of rocker Stephen Stills has graduated from labors as a roadie for his dad's group, Crosby, Stills & Nash, to wielding his own guitar on this impressive recording debut. Sounding more like the work of a well-traveled musician than a newcomer, this 13-song CD also showcases his gift for writing lyrics that catch in the mind. ("Did you ever hide from the razor blades of time?" he sings on one standout track.) The superb musicians Stills and his producer and collaborating partner Ethan Johns have assembled work in a country-rock-blues idiom familiar to any of his father's fans, who may also do a double take after hearing vocal harmonies hung on a tight, guitar-based wall of sound—just like those of You, Know & Who. But this brash album is no mere exercise in coattail surfing. With it, Chris Stills is carrying on a family tradition, and doing it with aplomb. (Atlantic)
Various artists
While Elton John's vocal and songwriting contributions to the 1994 Lion King film soundtrack helped make the animated feature a huge hit, there was no denying that John's pop-star power overshadowed the fable's inherent Afro-centric themes. To much of the general public, The Lion King's, music boils down to the stirring but slick singles "Circle of Life" and "Can You Feel the Love Tonight." Not so on this far superior and edgier Broadway cast album. Here the songs fit more seamlessly into the flow of the story. That's partly because this time those earlier hits share the spotlight with the haunting songs of South African composer Lebo M. At the same time, John, functioning here more as a songwriter than a star, and lyricist Tim Rice (Evita) have added three terrific new tunes for the stage version.
As realized on this original cast album, The Lion King is a joyously percussive and often deeply moving cultural partnership between Tin Pan Alley and the township of Soweto. And with tickets for the Broadway show being sold as much as a year in advance, this CD is the next best thing to an orchestra seat. (Walt Disney)
>Deborah Gibson
LITTLE DEBBIE NO MORE
WHEN FANS RECENTLY SPOTTED THE STAR OF BEAUTY AND the Beast dashing into the Broadway theater where the musical is playing, they began shouting, "Debbie! Debbie!" Although the actress's name is clearly spelled out overhead—and in lights yet—as Deborah Gibson, loyalists still remember her affectionately as Debbie, the 16-year-old Long Island, N.Y., high schooler whose bubblegum dreams came true in the late-1980s when she scored two No. 1 pop hits: "Foolish Beat" and "Lost in Your Eyes." Gibson, now 27, says she is glad that people still think of her as that sweet-16 teen. Back in 1990, she says, she had been pushed by record execs into posing for publicity photos in a provocative black leather bustier in order to boost sales of her album, Anything Is Possible. "I literally cried when that happened," she says of the attempted image altering.
These days, Gibson heads her own record label (Espiritu), which released her most recent, aptly titled album, Deborah, last summer. She is also enjoying a second career on Broadway (she has had the role of Belle in the Beauty production since fall) and a third in Hollywood, where she has two low-budget films (My Girlfriend's Boyfriend and Wedding Band with Dom DeLuise) in the can. As for having fallen out of heavy rotation on MTV, the still-unmarried Gibson is philosophical. "I've never had this huge, traumatic, 'Oh my God, my pop career is over' feeling," she says. "I've always looked to artists like Bette Midler and Cher, who have made pop music a part of their overall careers. That's where pop music fits into my life right now."
Contributors:
Steve Dougherty,
Ralph Novak,
Amy Linden,
Erik Meers.
John Denver
Advertisement
Today's Photos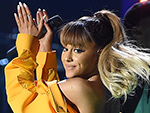 Treat Yourself! 4 Preview Issues
The most buzzed about stars this minute!