People Top 5
LAST UPDATE: Tuesday February 10, 2015 01:10PM EST
PEOPLE Top 5 are the most-viewed stories on the site over the past three days, updated every 60 minutes
Cold Comfort
Authorities Say a Benign Bedside Manner Hid This Nurse's Deadly Intent
Whether Majors is guilty of any crime will now be for a jury to decide. On Dec. 29, after years of mounting speculation and rumor about a mysterious series of deaths at the small county hospital, police arrested Majors, 36, and charged him with killing six patients. Relying on a compelling but largely circumstantial array of evidence, authorities contend that Majors murdered his victims, ranging in age from 56 to 89—hinting that he did so out of a hatred of the elderly.
Police are known to have looked into 165 deaths at VCH, giving rise to speculation that Majors may have killed far more patients in a two-year period—speculation that authorities have not entirely tried to play down. "I don't mean to imply there were six murders and six murders only," said county prosecutor Mark Greenwell. "We think we picked the best cases with the best chance of success." For Dom Rolando, whose sister, 79-year-old Margaret Hornick, is one of the six cited victims, the arrest is long overdue. "I definitely knew something was wrong," says Rolando, recalling that afternoon in November 1994 when his sister, who had been taken to the hospital with a fractured hip, mysteriously died after only nine minutes in the ICU with Majors. "But what can you say? What can you do?"
All along, as clouds of suspicion gathered, Majors has steadfastly maintained his innocence. "I value life. I do not believe in euthanasia. I never have," he told PEOPLE in an interview last August. "I just know in my heart that I didn't do anything to shorten anybody's life." And though many area residents think him guilty, he is not without his supporters. "They haven't proved it yet," says Pat Rogers, 38, a factory worker whose 76-year-old mother, Louise Lohrman, died at VCH in 1994. "I just don't think he killed my mom."
The investigation leading to Majors' arrest began in March 1995 after Dawn Stirek, a registered nurse and the supervisor of VCH's intensive care unit, returned from a maternity leave. To her alarm, Stirek noticed that over the past year or so the number of deaths in the hospital's ICU had sharply increased. From 1990 through 1993, for instance, the number of patients admitted to the hospital annually had averaged 353, while the number of deaths in the ICU fluctuated between 24 and 31. Then, in 1994, without any increase in the number of admits, the death toll had suddenly jumped to 101.
Studying hospital records more closely, she found that Majors, who had started at VCH in February 1993, was on duty for many more deaths than any other nurse. A 1997 epidemiology study showed that a patient died every 23 hours in the ICU when Majors was working. By contrast, when he was not on duty, there was a death every 552 hours. On March 7, 1995, Stirek presented her finding to the hospital's director of nursing. Two days later, Majors was suspended; soon afterward, the Indiana state police began to investigate.
A few weeks later the case broke open, when an anonymous letter was sent to police, state health officials and local media, claiming there was a "Death Angel" at VCH and that "we need to stop this nurse." The letter, signed "Nurses who work to save lives, not kill them," never mentioned Majors by name. But since he was known to have been suspended, the allegations were assumed to be directed at him. People such as the Dorans who had lost loved ones at VCH began to consider the possibility of foul play. "I knew my dad went damn fast," says Robert Doran, whose father was not among the six people listed as victims by prosecutors, "but until I saw Majors on the news I didn't suspect murder."
Majors wasn't the only one who fell under official scrutiny. Investigators from the Indiana State Department of Health soon uncovered evidence that VCH had been run in casual fashion. Among the procedural violations: A registered nurse—rather than a doctor—had completed the required screening of death charts to ensure that quality care had been provided. Also, hospital staff had failed to keep some potentially dangerous drugs locked up. According to Andrew Stoner, a spokesman for the state agency, VCH was suffering from "complete systems failure." In reviewing Majors' performance, a state board voted in December 1995 (after hearing testimony that he had given unauthorized medicines) to suspend his nursing license indefinitely on the grounds that he had unlawfully practiced medicine and had jeopardized the lives of patients.
Meanwhile the criminal investigation seemed to stall. Apart from statistics linking Majors to an inordinate number of deaths, authorities had little to go on. The case languished until last April, when Majors' nephew Jason Crynes claimed to police that Majors had boasted of killing patients at VCH. Based on that account, authorities obtained a search warrant for a van that Majors had used. Inside they found, among other medical paraphernalia, vials of potassium chloride, a drug that is used to regulate the heartbeat, but which is deadly when injected in concentrated form and is difficult to trace.
But the discovery may not be the smoking gun prosecutors had sought. For one thing, the search was conducted two years after Majors left VCH, and Crynes, 20, who has a history of drug and psychiatric problems, has since changed parts of his story and recanted others. (Majors says he has no idea how the potassium chloride got in his van, and authorities have not disclosed what drugs, if any, were found in the 15 bodies they exhumed in the course of the investigation.) Crynes's mother, Debbie McClelland, says her son lives "in a fantasy world" and characterizes the case against Majors, her brother, as "a witch-hunt."
As for Majors, he insists he's being made a scapegoat for shoddy health care practices at VCH. By his account, all he ever wanted was to care for sick people, a desire born of helping to look after his infirm grandmother as a youngster. When he was 5, he, his sister and their parents, Orvil, 64, a retired coal miner, and Anna Bell, 59, a homemaker, moved from Greenville, Ky., to Linton, 45 miles from Clinton. Educated at Indiana University as well as at a vocational college and the Nashville Memorial School of Practical Nursing, he worked at VCH from 1989 to 1991 before leaving for a higher-paying position in Tennessee. Rehired at VCH in 1993, he was known as a hard worker who not only took long shifts at the hospital but also found time to run a pet store and an antiques emporium. Despite some eccentricities—he fed his English bulldog Maggie with a bottle and used diapers on her—he received exemplary evaluations at the hospital, earning praise for his independence and initiative.
Much of Majors' defense, in fact, rests on his claim that he was a highly capable caregiver who only gave supervised injections. His lawyer I. Marshall Pinkus suggests that part of the problem may have been that VCH had started to receive an unusually high number of terminally ill patients from local nursing homes who were then placed in the intensive care unit, which boosted the mortality figures. Yet state health spokesman Stoner says that wasn't the case. Why does Majors believe he was singled out as a suspect? He wonders if it's because he's openly gay. "I wouldn't want to think so," he says. "I would hate to think those people are that narrow-minded."
But in an affidavit filed at the time of his arrest, prosecutors depicted Majors as a predator, not a victim. Despite his glowing job evaluations, the affidavit maintains that other nurses at the hospital had noticed the high number of deaths that occurred on his watch and even took bets on which of his patients would be the next to go. One nurse at VCH reportedly heard Majors describe the families of patients with such derogatory terms as "white trash," "dirt" and a "bunch of whiners," and two former friends told authorities that over the years Majors had repeatedly said he hated old people. According to one, Majors once declared, "They should all be gassed." The affidavit also said that VCH staffers had spotted Majors administering furtive or unexplained injections and that seemingly stable patients in the ICU had died suddenly when left alone with him. In one instance an elderly female patient was resting comfortably when another nurse went to get blood. Five minutes later the nurse returned as Majors emerged from the patient's room, announcing, "She's dead."
Such anecdotes have generated enormous anger among many Vermillion County residents toward VCH. "That hospital was a death camp," says John Rozsa, 73, whose 61-year-old wife, Ethel, died there in 1994, and who initiated a civil lawsuit against both VCH and its staff (though Ethel is not one of the official victims cited by authorities). "There was too much of a pattern that over and over again would repeat." All the same, given the circumstantial nature of evidence made public so far, persuading a jury that Majors is guilty beyond a reasonable doubt may not be easy. Now being held without bail in the Vermillion County jail, Majors is described by his mother as "stunned" by his arrest. He also knows that whatever the outcome of his eventual trial he will never shake the taint of suspicion. "I don't think I'll ever be able to put this behind me," he told PEOPLE. "No matter if I'm exonerated, the doubters are still going to believe that I've done something wrong."
BILL HEWITT
LORNA GRISBY and KATE KLISE in Clinton
Contributors:
Lorna Grisby,
Kate Klise.
THREE YEARS AGO, JOHN DORAN Sr., a 76-year-old retired coal miner, entered Vermillion County Hospital, in Clinton, Ind., feeling run down. Immediately, Doran's family was impressed by the warmth and professionalism of Lynn Majors, the attending licensed practical nurse. "He was so dang nice to us," says Doran's daughter-in-law Marjorie. "If he'd have been a doctor, he'd have had patients running to him. Just the best bedside manner in the whole world." But less than 24 hours later John Doran suddenly died of cardiac arrest. Though he didn't suspect foul play at the time, Robert Doran has since come to believe his father died at the hands of his nurse. "No doubt in my mind he killed my daddy," says Robert, 57, a retired roofer who is suing the hospital. "He was trying to commit the perfect crime."
Advertisement
Today's Photos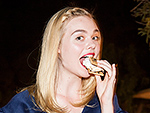 Treat Yourself! 4 Preview Issues
The most buzzed about stars this minute!