People Top 5
LAST UPDATE: Tuesday February 10, 2015 01:10PM EST
PEOPLE Top 5 are the most-viewed stories on the site over the past three days, updated every 60 minutes
Picks and Pans Main: Song
Talking With...
As a leader of the Band in the late 1960s and early '70s, Robbie Robertson epitomized an era's restless, wandering soul. But his deep cultural roots (he is of Mohawk descent) ground the solo artist's music. Which is not to say that his latest CD is pure history lesson. On Contact's finest tracks, "The Sound Is Fading" and "Making a Noise," he melds traditional Native American chants with searing guitar solos, up-to-the-second dance beats (courtesy of mixmasters Howie B and Marius de Vries) and haunting melodies. Still, it's hard to mistake a catchy song like "Sacrifice"—which features the fiery rhetoric of imprisoned American Indian Movement activist Leonard Peltier—for standard radio fodder. Blessed with a keen pop sensibility and a sexy whisper of a voice, Robertson energizes his heartfelt songs by capitalizing on both. (Capitol)
Bobby Hicks
There's a lot to be said for the value of a good old-fashioned sweet melody. And this mostly instrumental album by veteran country fiddler Hicks is full of sweet, melodious moments. A North Carolina native, Hicks played with Bill Monroe's Blue Grass Boys during the 1950s and is now part of Ricky Skaggs's Kentucky Thunder. He was also a big admirer of Bob Wills's western swing band.
All those influences are apparent in this album, not only in its dedication to Monroe, Wills and Dale Potter, Hicks's violin mentor, but in the presence of Skaggs himself playing mandolin and singing harmony and in the inclusion of tunes associated with Wills's band, such as "Comanche Hit and Run." Hicks also reels off a pretty version of the Marty Stuart-Harlan Howard tune "Oh, What a Silent Night," with blue-grass veteran Del McCoury handling the vocal part while McCoury's son Ronnie and Stuart trade mandolin solos.
Good fiddling is one of the consistent joys of country music; it's a real pleasure to hear one of the most gifted practitioners of the art come to the fore. (Rounder)
Izzy Stradlin
In the pregrunge days of the mid-1980s, Guns N' Roses was, to its fans, the last word in rock bands. But when rhythm guitarist Izzy Stradlin quit the group at the height of its success in 1991, Guns didn't seem to matter quite so much anymore. Apparently sick of the loud, ego-driven histrionics of his fellow Hoosier and band cofounder, lead singer Axl Rose, in 1992 Stradlin released a rocking good album on his own, Izzy Stradlin and the Ju Ju Hounds, that was ignored by CD buyers. Now, after a six-year hiatus, Stradlin, with help from Guns bassist Duff McKagan and former Georgia Satellites guitarist Rick Richards, is back with another brew of twangy country punk and rootsy rhythm and blues. With his raspy voice and chunky guitar style, he is definitely from the Keith Richards school of unapologetic rock and rollers (he even does a cover version of Chuck Berry's "Memphis"). Old-time rock, of course, is dead. It's just nice to know that guys like Stradlin are around, offering hope for a resurrection. (Geffen)
A.J. Croce
Before his death in a 1973 plane crash, Jim Croce established himself as a subtle, witty and relentlessly naturalistic songwriter. His 26-year-old son A.J., by comparison, is often loud, crass and given to flights of rhetorical fancy. In this, his third solo album, A.J. often sounds more like the son of Aerosmith's Steven Tyler than the offspring of Jim Croce.
Croce wrote or cowrote all the songs on this album except for two, including the blues standby "Trouble in Mind," which he renders in almost strident fashion. The original tunes are uniformly lacking in warmth and narrative flow. Jim Croce certainly wrote some massive clinkers (although "Bad, Bad Leroy Brown" was even more embarrassing for Frank Sinatra than it was for Croce). A.J. doesn't indulge in any such tall tales; nor, however, does he have his dad's touch for small, emotional songs such as "Time in a Bottle" or "Operator." If the sins of a father aren't always visited upon his son, neither, apparently, are his blessings. (Ruf)
Jimmy Ray
As photogenic as the Spice Girls and Hanson may be, pop music's new hitmakers up to now have lacked raw sex appeal. With his snaky physique, retro pompadour and rockabilly-punk demeanor, 22-year-old British newcomer Jimmy Ray exudes the sort of animal magnetism that has been a pop rarity lately. Ray's first single, "Are You Jimmy Ray?" has already climbed into Billboard's Top 20, and the beat-heavy rockabilly-tinged likes of "I Got Rolled" and "Way Low" may soon follow suit. But alas, Jimmy Ray's debut album, though far less lightweight than Spiceworld, is fast-food entertainment at best. Humming along is a cinch. Actually remembering any of it by this time next year won't be so easy. (Epic)
Ruby Lovett
Capable of surging with subtle rock rhythms yet basically an emotional country singer, Lovett (no relation to Lyle) is often reminiscent of Patty Loveless. Now 31, she grew up in Laurel, Miss., singing gospel (she seems more than comfortable performing "When He's All You've Got") and kept singing while she studied to become an X-ray technologist. She was working in a Nashville hospital when she was signed to a recording contract. Allen Reynolds, Garth Brooks's producer, took on this debut album, and he and Lovett gathered an eclectic mix of songs, including "True Love Never Dies," "Little Bitty Crack in His Heart" and "That Train Don't Stop Here Anymore." The results suggest that the X-ray business's loss will soon be country music's gain. (MCG/Curb)
>Elliott Smith
MR. SMITH GOES TO HOLLYWOOD
The sort of underdog triumph scored by
Matt Damon
's mop-pushing genius in Good Will Hunting doesn't only happen in the movies. Elliott Smith was a Portland, Ore., singer-songwriter with three independently produced albums and a small cult following until Hunting's Portland-based director, Gus Van Sant, a longtime fan, invited him to contribute to the film's soundtrack. Smith gave him five old songs and a new tune, and now the latter, "Miss Misery," is an Oscar nominee for Best Original Song. Smith, 28, has a fourth album due this summer from DreamWorks.
How did you hook up with Gus Van Sant?
He used to come see me play in Portland, and we had mutual friends.
How did you write "Miss Misery"?
I made it up the same way I make up all the others. I don't really know what I'm talking about until it's over. It's sort of a stream of consciousness thing about beauty.
Did you expect the song to be so successful?
I had no idea that the movie was going to explode, and even that didn't mean that the song is going to be nominated. It's a total kick, and it's totally bizarre at the same time.
Will you wear your trademark wool cap to the Oscars?
I plan to wear a white suit with a big pink carnation. I want to try and look as perfectly pristine as possible.
Contributors:
Alec Foege,
Ralph Novak,
Steve Dougherty,
Jeremy Helligar,
Barbara Kligman.
Robbie Robertson
Advertisement
Today's Photos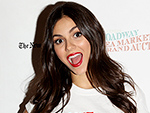 Treat Yourself! 4 Preview Issues
The most buzzed about stars this minute!