People Top 5
LAST UPDATE: Tuesday February 10, 2015 01:10PM EST
PEOPLE Top 5 are the most-viewed stories on the site over the past three days, updated every 60 minutes
Out of Control
A Strange Story Gets Stranger as An Ex-Teacher, Madly in Love with a 14-Year-Old, Is Expecting a Second Child Believed to Be His
Many would say she already has. Letourneau has refused to identify the father this time, but her lawyer David Gehrke has said he assumes it is the teenager, now 14 and an eighth-grader in Seattle. (His name has not been published because of his age.) Letourneau, who is six weeks pregnant, conceived while out on parole, around the time she and the teenager were found by police at 2:40 a.m. in her parked car. Police say they had $6,200 in cash, her passport and a load of baby clothes, suggesting they were about to flee the country.
Letourneau had been forbidden to see the boy as a condition of her release, so she was sent back to prison last month. The startling news of her second pregnancy has left almost everyone involved in the case in a state of disbelief. "I'm kind of speechless," says her husband, Steve, 35, a cargo-loading specialist for Alaska Airlines who has custody of the couple's four children and is in the process of divorcing his wife. "It's like taking a picture of our family from the wall and throwing it on the ground."
A close look at the family in which Letourneau grew up may provide some clues as to how she went wrong. Her father, John Schmitz, was a philosophy instructor at Santa Ana College in California who was elected to one term in Congress. Dapper and handsome, he was renowned for his considerable personal charm. But he was even more widely known for his fierce attacks on threats to public decency wherever he found them—and he found them everywhere. His fervid conservatism won him the presidential nomination of the American Independent Party in 1972, but eventually his views grew so extreme that he was asked to leave the John Birch Society.
At home, Schmitz was an unusually stern father to his six children, and by some accounts was particularly obsessed with the dangers of sex education. Despite her political differences with Schmitz, women's rights attorney Gloria Allred became friendly with him and his wife, Mary, though she winced at what she considered their heavy-handed treatment of their kids. "John and Mary were just so ideologically strict, so repressive," says Allred, who hasn't spoken to the family in years. "I'm sure [Mary Kay] never felt comfortable talking to them about things she might have been feeling."
Yet old friend Michelle Jarvis says Mary Kay hardly seemed oppressed, though her parents traveled often and she was cared for by her three older brothers. The family lived in Corona del Mar, says Jarvis, in "a gorgeous house that backed up against the hills. I used to swim in the pool at night and see coyotes running across the yard. On sleepovers, Mary and I would raid the refrigerator in the middle of the night." At a parochial high school that both girls attended in Anaheim, Jarvis says, Mary Kay blossomed: "Her father used to call her Cake, and that was her nickname. Mary was very popular in high school. She had lots of girlfriends and guy friends. She had lots of personality and smarts. She was very funny."
As it turned out, her father had a secret that wasn't. In 1982 his political career ended in disgrace when it was disclosed that he had been living a double life, keeping a mistress who had once been his student and fathering two children by her. Allred suspects the scandal left the family deeply shaken, and she speculates that the aftershocks are still being felt. "I can't imagine how that must have influenced the children—the contradiction, the irony," she says. "I'm not excusing what Mary Kay did, and I'm not a psychiatrist, but I can understand how she could have crossed the line the same way her father did."
Yet Mary Kay remained unshakably loyal to her father and, at least outwardly, seemed to put the episode behind her. While at Arizona State University, she met fellow student Steve Letourneau, and when she became pregnant they married. Many who knew her agree that, at least until recently, Letourneau was devoted to her four children—Steven, 13; Mary Claire, 10; Nicholas, 6; and Jacqueline, 4. Settling with her family in Normandy Park, a middle-class suburb of Seattle, she earned a reputation at Shorewood Elementary School as an exceptionally gifted teacher.
One pupil with whom she formed an especially close relationship was a Samoan-American second-grader, one of four children, who showed remarkable artistic ability that Letourneau delighted in cultivating. More than that, she began to think of him as a kindred spirit. "There was a respect, an insight, a spirit, an understanding between us that grew over time," she told
The Seattle Times
last year. "It was the kind of feeling you have with a brother or sister—a feeling that they're part of your life forever." At that point, she maintained, there was nothing sexual about her feelings. "I didn't know what it meant," she said. "I felt that one day he might marry my daughter."
Over the next several years, Letourneau kept in close touch with the child. She bought him art supplies, took him to museums and encouraged him to develop his talent for poetry. "She showed me pictures he drew and let me read his poetry," says one of Letourneau's neighbors. "He was very artistic, very insightful. The poetry he wrote wasn't anything you'd expect from a 12-year-old."
Then, starting in the fall of 1995, when Letourneau had the boy in her sixth-grade class, she suffered a series of emotional jolts. In October she learned that her father had terminal cancer. "She was devastated, she was paralyzed," Julie Moore, a defense psychiatrist who evaluated her, later testified. "She felt like she lost the man of her life." By that time her marriage was in trouble, and to make matters worse, in January 1996, Letourneau suffered a miscarriage that left her on the brink of a breakdown.
She apparently took solace in her relationship with the boy. They began having sex in the summer of 1996, he later told authorities. In an interview with NBC's
Dateline
, the boy said he had initiated the sexual relationship, and that Letourneau had tried to resist before finally giving in. He said they had sex a half-dozen times that year, mostly at Letourneau's house or in the back of her car. The time they were spending together aroused at least vague suspicions in the boy's mother, who asked the youngster what was going on. "He said there was nothing between them," she told
The Seattle Times
. "And I assumed I could trust her with my son."
In Letourneau's view, the relationship was more than simply physical, and she told
Oprah Winfrey
that she considered the boy "the love of my life." The teenager, who had given her a silver ring, said after her arrest that they had planned to have a baby to strengthen their ties. Letourneau has since denied planning the first pregnancy, but conceded that she was "not unhappy" when she learned she was going to bear a child.
The affair came to light in February 1997, when Steve Letourneau found some of his wife's love letters to the boy at their home. What he didn't know at the time was that she was already six months pregnant with the boy's child. After a relative of Steve's called officials at Shorewood Elementary to report the liaison, Letourneau was questioned and arrested. In May she gave birth to a healthy baby girl, who was named Audrey. Three months later she pleaded guilty to two counts of child rape. At her sentencing last November she expressed remorse and pleaded for leniency. "I did something I had no right to do. Morally and legally it was wrong," she tearfully told the court. "Help me." At one point she solemnly vowed, "I give you my word it will not happen again." A defense psychiatrist testified that Letourneau suffered from bipolar disorder, a form of manic-depression that often leads to reckless behavior. Even the boy's mother spoke on Letourneau's behalf. "I feel Mary has been punished enough for her mistake," she said. Giving Letourneau the benefit of the doubt, Judge Linda Lau sentenced her to 7 l/2 years, suspending all but six months on condition that Letoumeau enter a treatment program for sex offenders, take medication for her disorder and have absolutely no contact with the boy.
Even then, prosecutors argued Letoumeau was not to be trusted, and it soon became clear they had reason. Late last fall, while finishing her six months behind bars, Letourneau began taking the drug Depakote to treat her bipolar disorder. But the drug had side effects, including hair loss, and within days of her release on Jan. 2, she had stopped taking it and was rebelling against her sexual-deviancy counselor. As prosecutor Lisa Johnson later told the court, "She doesn't believe she needs treatment, because she doesn't believe she did anything wrong." On the evening of Feb. 2, the boy phoned Letourneau, and early the next morning they were found in her car. The boy has reportedly told his counselor that he and Letourneau had sex at least once during the month she was out on parole.
An angry Judge Lau immediately ordered Letourneau back to prison to finish her sentence. The subsequent discovery, confirmed by a sonogram, that Letourneau is due to give birth again in November raises a host of issues. Under state prison regulations, the baby will be taken from her at birth and placed with a guardian—possibly the boy's mother, who is already caring for Audrey, now 10 months. Those familiar with Audrey's situation say the mother is committed to raising her granddaughter and that her son is doing what he can to help out. "He's very good with Audrey," says a friend of Letourneau's, who has been in daily contact with her. "He often stands over her and rubs her back at night, trying to get her to fall asleep."
Unless Letourneau's conviction is unexpectedly overturned on appeal, she must serve nearly six years before she becomes eligible for parole again. There is also the distinct possibility that she will face additional charges of child rape stemming from the second pregnancy, which could keep her behind bars far longer. At this point, authorities will say only that the case is under investigation. Meanwhile, Steve Letourneau has moved his family to Alaska. The children, who have talked intermittently with their mother, he says, still cannot fathom what has happened. "But they're handling it pretty well, considering their anger."
How the boy, who is receiving counseling, will cope with what he has experienced and will face in the future is hard to assess. Experts say there is a danger of psychological damage, especially with regard to forming other relationships. Dr. Fred Berlin, founder of the Johns Hopkins University Sexual Disorders Clinic in Baltimore, says, "We should not assume that every child is invariably hurt by this." But he also stresses that no adult should ever put a child at such risk. Somehow that notion is, for the moment, beyond Letourneau's understanding. "I would imagine [they] will get married as soon as she gets out of prison," says a friend who is in close touch with her. "The two of them want to be together. They're drawn together like magnets."
BILL HEWITT
LORENZO BEXET and JOHNNY DOM), LESLIE BERESTEIN and ELIZABETH LEONARD and JAMIE RENO in Orange County
Contributors:
Lorenzo Bexet,
Johnny Dodd,
Leslie Berestein,
Elizabeth Leonard,
Jamie Reno.
Advertisement
Today's Photos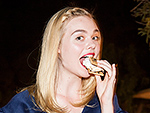 Treat Yourself! 4 Preview Issues
The most buzzed about stars this minute!