People Top 5
LAST UPDATE: Tuesday February 10, 2015 01:10PM EST
PEOPLE Top 5 are the most-viewed stories on the site over the past three days, updated every 60 minutes
Picks and Pans Main: Screen
Talking With...
Matthew McConaughey
, Ethan Hawke, Skeet Ulrich, Julianna Margulies
After his recent disappointing outings in
Contact
and
Amistad
, pretty boy McConaughey gets to show his stuff here, proving he indeed has real movie star appeal, at least when playing a charming rogue. In
The Newton Boys
, a genial crime drama based on real persons and events, McConaughey is terrifically likable as the cocky leader of the most successful bank-robbing gang in the U.S. The Newton Boys were four brothers who, having grown up dirt poor in rural Texas, opted for robbing banks over picking cotton. Between 1919 and 1924, they methodically held up more than 80 banks in Texas, the Midwest and Canada without getting caught and without killing anyone. It was only after they stole $3 million from a mail train, the largest train robbery ever in America, that they were arrested, tried and sentenced to minor time.
Director-cowriter Richard Link-later, in a departure from his previous films about gen Xers (
Slackers and Dazed and Confused
), shows considerable appreciation for both period details and his Texas locale but fails to bring either the narrative or the characters into sharp enough focus. Unlike, say,
Bonnie and Clyde
,
The Sting
or even
Butch Cassidy
and the
Sundance Kid
, films that The Newton Boys evokes, this movie doesn't really go anywhere. These guys rob banks and have fun doing it ("Ain't this a hell of a way to make a living?" one Newton brother jovially asks an engineer on the train he's robbing), but there isn't a greater truth being told.
As McConaughey's sibs in crime, Hawke and Ulrich each do well in several telling scenes, but the always reliable Vincent D'Onofrio is short-changed by an underwritten role.
ER
's Margulies, playing McConaughey's lady friend, proves plucky and looks swell in period costumes. (PG-13)
Renée Zellweger, Christopher Eccleston
Oy, what a mess.
A Price Above Rubies
stars
Jerry Maguire
's Zellweger as an ultra-Orthodox Jewish housewife who wants more from life than bad sex with her nerdy Talmudic-scholar hubby (Glenn Fitzgerald). She goes to work selling jewelry for her brother-in-law (Eccleston), with whom she begins a loveless affair. More lousy sex. The longer
Rubies
goes on, the more one wonders if the point isn't to belittle the lovemaking abilities of religious Jewish men. No wonder there have been protests about the film. Zellweger is more whiny than spunky, and the men all come off badly. You don't have to be Jewish to be put off by
Rubies
, but it helps. (R)
Kenneth Branagh, Madeleine Stowe
If
A Price Above Rubies
is soap opera wearing a yarmulke,
The Proposition
is melodramatic hogwash served atop a communion wafer. Branagh plays a Catholic priest in the 1930s who becomes entangled with a rich couple (William Hurt and Stowe), members of his Boston parish. This duo are much in love, but Hurt is sterile, so the two hire a law student (Neil Patrick Harris, who is totally geeky) to impregnate Stowe. The too-willing kid soon winds up dead. Did Hurt have him killed? Trust me, you won't care. Stowe and Hurt are far better than the material, while Branagh just seems to be praying he was elsewhere. (R)
Edward Burns, Lauren Holly
Writer-director-actor Burns (
The Brothers McMullen
) sets his third movie in a working-class ocean town that runs along a boardwalk of clichés. A 30ish waitress (Holly) is uncertain whether or not she wants to settle down with her blue-collar boyfriend (Jon Bon Jovi). She's tired of the monotony: The streets are always damp with drizzle, every day ends with a bottle of beer from the fridge, and Bruce Springsteen keeps moaning his bleak ballads on the soundtrack. Well, who should blow back into town but Burns, the big creep who broke her heart a few years ago and then skedaddled. Will he woo her away? Betray her again? If they do leave town, would someone please put some ABBA on the jukebox?
Even in her waitress's uniform, Holly, with her model-slim figure and taut, pretty triangle of a face, looks as if she were holding a little black dress to her body and studying the effect in a department-store mirror. Bon Jovi gives a nice, unaffected performance in a decent-Joe role. As for Burns, doing a sexy-drifter number, he over-underplays the part. He's just driftwood. (R)
Joseph Cross,
Rosie O'Donnell
As he begins fifth grade, a Catholic schoolboy (Cross) sets himself on a metaphysical quest. He wants to know for sure that 1) God does exist and that 2) his recently deceased grandfather is enjoying an afterlife. No one—not even O'Donnell, typically gruff but well-meaning as a nun who loves baseball, nor Denis Leary, untypically sweet as his dad—can give him the concrete evidence he wants.
This is certainly a worthwhile subject for a family film, but
Awake
is an unpleasant mix of cute humor, phony piety and mawkish sentiment. Forced to scrunch his face into an expression of pained earnestness, Cross, a pleasant enough 10-year-old, seems to be playing a tiny Jimmy Carter. (PG)
>Jeremy Irons
IRON MAN
"I'VE NEVER WORRIED TOO MUCH about whether the audience liked me or not," says Jeremy Irons, 49. That's an understatement; but after a career playing sickos (
Dead Ringers
), psychos (
Die Hard with a Vengeance
) and the just plain weird (his Oscar-winning turn in
Reversal of Fortune
), why would he play the good priest Aramis in
The Man in the Iron Mask
? The location didn't hurt. "You always get good dinner when you get back from a day of shooting in Paris," Irons laughs. But director Randall Wallace says Irons was ideal because of his "brooding intelligence and the sense that more is going on there that he is not letting everyone else see."
In the film, Irons displays his equestrian skills: Offscreen he's an accomplished horseman, not to mention an avid motorcyclist. He also got to work with
Leonardo DiCaprio
, whom Irons calls "an extraordinary young boy. He wasn't allowing any of the adulation to affect him. He knows that [fame] is a very transient thing."
Next up for Irons, who lives near London with his wife, actress Sinead Cusack, 50 (
Stealing Beauty
), is another art-house role in
Chinese Box
, about China's takeover of Hong Kong. Irons might be a superstar if he had played James Bond, a part he was considered for around 1980. But heroes aren't for him. For instance, "Macbeth," he says, "is a terrible man! But it's a great role, and that's what I go for."
Contributors:
Tom Gliatto,
Jason Lynch.
Advertisement
Today's Photos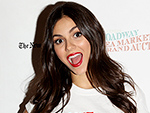 Treat Yourself! 4 Preview Issues
The most buzzed about stars this minute!