People Top 5
LAST UPDATE: Tuesday February 10, 2015 01:10PM EST
PEOPLE Top 5 are the most-viewed stories on the site over the past three days, updated every 60 minutes
Late Bloomer
Once An Industry Joke, Conan O'brien Is Having the Time of His Life as Tv's Comeback Kid
Rebecca Romijn
and other megamannequins, answer: First, "Have a nationally broadcast talk show," says O'Brien, who has had his since 1993, when David Letterman moved to CBS, vacating the 12:30 a.m. slot. "I was not talking to a lot of supermodels before this." Second, "Have someone else supply the clothes. When NBC started buying suits for me, it suddenly got a lot better."
And so it has stayed. In the five years since the rangy, 6'4" O'Brien, 35, a then-unknown TV comedy writer with a Jack Lord pompadour, took the supreme gamble of trying to fill Letterman's shoes, he has planted them firmly in late-night soil with a brand of comedy all his own—served up with easy, what-the-heck charm. There's the hand puppet known as Triumph, the Insult Comic Dog; a strange visual gag in which President Clinton speaks with "Clutch Cargo" lips; and O'Brien's chipper but nonsensical banter with his harmlessly gruff sidekick Andy Richter. The host's current audience of 2.6 million households approaches Letterman's NBC numbers, and O'Brien has a five-year contract worth a reported $2 million annually. "This is my world," he says at his office in New York City's Rockefeller Center. "This is my home."
Home almost meant bunking with Chevy Chase on the boulevard of broken talk show dreams. With virtually no on-camera experience, O'Brien was pelted with critical tomatoes after his Sept. 13, 1993, debut. NBC executives were hardly more enthusiastic. They gave him contracts in 13-week increments and bombarded him with memos on how to move his hands and comb his hair. At one low point he told head writer Robert Smigel (now at SNL), "I don't want to be a trivia question."
But, heeding a bit of advice offered early on by late-night liege Johnny Carson—"Just be yourself"—O'Brien eventually decided to sit back and enjoy his baptism by fire. "When someone gives you a beautiful Porsche," he explains, "and says, 'We might come and take it away at some point,' you don't sit around and worry about when they might take it away. You get in it, you just drive it, and you have fun." As he loosened up on-camera, says his father, Thomas O'Brien, an associate professor at the Harvard Medical School, the real Conan emerged with his "mischievous humor, his amusement at things, his quickness." The naysayers began saying yea. The Washington Post's redoubtable Tom Shales, who initially called the show roadkill, now salutes Late Night as "the most amazing turnaround that I can recall in the history of TV." Even O'Brien's physique improved. "He works out more," says friend and King of the Hill coexecutive producer Greg Daniels. "He's looking very buff."
O'Brien's shaky start notwithstanding, his current success seems foreordained. Growing up the third of six children—Neal, 37, an antique car collector; Luke, 36, a lawyer; Kate, 33, a teacher; Jane, 31, a comedy writer (formerly for Cybill); and Justin, 25, a business consultant—in Brookline, Mass., "he was a nonstop source of jokes, made-up songs and babbling," says brother Luke. At Brookline High, O'Brien morphed into something of a nerd: good student, average sportsman, excellent tap dancer. "Even now," says his mother, Ruth, a retired lawyer, "he can dance as if he had legs of rubber." Says O'Brien modestly: "I could make people laugh, and that's how I made friends."
Lots of them. At Harvard, where he studied American history and literature, he was president of its famous humor magazine, the Harvard Lampoon. Graduating magna cum laude in 1985, he and fellow lampooner Greg Daniels headed for L.A., where they wrote for HBO's Not Necessarily the News. Itching to perform, O'Brien also took an improv class. "My first day," he recalls, "I start talking to this girl. Funny, smart. It's Lisa Kudrow." He and the future Friends star struck up a long-term friendship that briefly segued into romance. "It was," says O'Brien, who now lives with ex-Late Night talent executive Lynn Kaplan, 29, "a Sam-and-Diane Cheers kind of thing."
After spending three years in New York writing for Saturday Night Live, O'Brien returned to L.A. in 1991 for a plum assignment: producing and writing for The Simpsons. But he still longed to perform, so when SNL executive producer Lorne Michaels urged him to audition for Late Night, "the will and the drive and the desire were there," says O'Brien.
Through Late Night's downs and ups, his colleagues never doubted that Yankee work ethic. "I knew," says Michaels, "he'd give it everything it took." If anything, they've worried that O'Brien, who admits to having a "monofocused mind-set" about the show, needed to get a life. "When you're lying in that nursing-home bed," says Andy Richter, "having met David Hasselhoff 17 times doesn't keep the ghosts away."
But Lynn Kaplan is no ghost. The couple met in 1993, when he was hiring an assistant. Both agree that the attraction was mutual ("Although I was surprised," she recalls, "he was this collegiate-looking guy"), and they began dating about a year later. Kaplan, who left the show recently to raise money for charity, was the one who forced the workaholic to take vacations, even if the history buff's idea of beach reading is The Rise and Fall of the Third Reich.
The couple, who have discussed marriage ("I'm the one who brings up the topic a little more than Lynn," he says), divide their time between a three-bedroom Connecticut retreat and a rented SoHo loft, where O'Brien keeps a collection of guitars that once belonged to the likes of Eddie Van Halen and Les Paul. On a tour through his home, he pauses in front of a Vanity Fair photograph of him wearing a sandwich board that reads: "My name is Conan O'Brien and you don't know me. I was given the 12:30 a.m. talk show slot on NBC and I'm going to need your help." Now, he says, "I look at it and think, 'You have no idea what you're in for.' '
Tom Gliatto
Nancy Matsumoto in New York City
Contributors:
Nancy Matsumoto.
How does one meet supermodels? Let NBC talk show host Conan O'Brien, whose Late Night chairs have accommodated Vendela K. Thommessen,
Advertisement
Today's Photos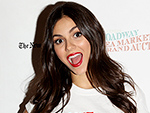 Treat Yourself! 4 Preview Issues
The most buzzed about stars this minute!