On Newsstands Now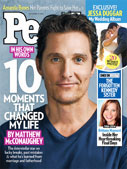 Matthew McConaughey: In His Own Words

Jessa Duggar's Wedding Album

Brittany Maynard's Final Days
Pick up your copy on newsstands
Click here for instant access to the Digital Magazine
People Top 5
LAST UPDATE: Tuesday February 10, 2015 01:10PM EST
PEOPLE Top 5 are the most-viewed stories on the site over the past three days, updated every 60 minutes
Exit Seinfeld
The Naysayers May Say Nay, But, as the Finale Nears, There Is No Denying That for Millions Seinfeld Was Gold, Jerry, Gold!
She knows now. Mc Williams and 30 million other Americans passionately devoted to the farcical silliness of the comic and his three infantile friends—Kramer (Michael Richards), George Costanza (Jason Alexander) and Elaine Benes (Julia Louis-Dreyfus)—have propelled Seinfeld and Seinfeld into the sitcom stratosphere. The linchpin of NBC's Must See TV lineup, the show has become one for the books, medical ("Seinfeld syncope" was coined to describe a Massachusetts man's fainting spells that were caused by his howling at the group's antics) as well as legal (former Miller Brewing Co. manager Jerold Mackenzie was awarded $24.7 million after getting fired for repeating a suggestive Seinfeld plotline to a coworker).
Now, as the show's finale approaches this Thursday, May 14, prepare for Seinoff celebrations. Some 1,000 fans made the pilgrimage to L.A.'s It's a Wrap resale shop the weekend of May 2 to get first dibs on nine racks of Kramer shirts ($10 to S25) and other wardrobe remnants. Kramer look-alike contests and Elaine danceathons will cap finale-night festivities from Miami to Los Angeles. And while New York City mayor Rudolph Giuliani put the kibosh on a scheme to hold a mass viewing of the last show off Times Square, St. Louis plans to project the episode onto a seven-story building at the intersection of Tucker and Washington. In all, an estimated 76 to 79 million people are expected to witness the hour-long show (preceded by an hour-long clip retrospective), not a record perhaps (
M*A*S*H
's 1983 ender drew more than 106 million viewers) but, as Michael Richards told The Washington Post, "the final signature to a great portrait—a great work of art."
For his part, Seinfeld hasn't revealed his own farewell-Thursday plans, other than to appear on
The Tonight Show
. Maybe he'll veg out with those tuning in to Clint Eastwood's
Unforgiven
on ABC or
When Animals Attack
on FOX (Nick at Nite, out of respect and ratings sense, will shut down for the hour). "Jerry would say it's not as if civilizations are rising and falling," says his friend comedian Larry Miller.
He's right. The episode will be followed by ER, not an invasion of Visigoths. And it's not as if fans haven't had months to steel themselves. Seinfeld gave notice in December that, despite high ratings, it was time to retire the show, which premiered in 1989. "He was right to leave," says Barney Martin (who played his dad, Morty). "If we went one more year, the edge would have come off." Seinfeld has revealed another incentive for stopping short of a 10th season: Nine is his lucky number. "He's very superstitious," his mother, Betty, told magazine writer Debra L. Wallace. "Everything has to be divisible by 9."
As for that fateful final episode (code name: "A Hard Nut to Crack"), "You can expect the unexpected," says NBC entertainment president Warren Littlefield, one of the 100-plus network bigwigs, friends and family members who signed confidentiality agreements and gathered April 8 on Stage Nine in Studio City for the final filming. Afterward cast members said their goodbyes and—though co-creators Seinfeld and his friend comedian Larry David always prided themselves on the show's zero-sentimentality quotient—gave in to emotions long held in check. "I was being made up," says Estelle Harris, who played George's shrill mother, Estelle, "and Julia Louis-Dreyfus had just finished being made up. She leaned down and said how thrilled she was I had been a part of the show. It just made me cry."
Indeed, the series, with catch-phrases that trickled down to watercooler conversation, made Seinfeldians of us all. Even viewers abroad (the show airs in roughly 50 countries), who might not fully appreciate the concept of muffin tops, cherished small, odd points of connection. Marina Garcia, a Mexico City psychoanalyst, was delighted to find a fellow English Patient hater in Elaine Benes. "When Elaine screams, 'Please finish the story and die once and for all,' I felt the same," says Garcia. And Len Lesser is hailed almost everywhere as Seinfeld's loud Uncle Leo. "I was at the Wailing Wall in Jerusalem," he says, "[and someone yelled,] 'Uncle Leo!' "It was sacrilegious!"
Then again, some anti-Seinfeldians couldn't resist seizing this hyped moment to blaspheme the show. Ron Rosenbaum, a
New York Observer
columnist who once advocated starting a Can't Stand Seinfeld Society, recently wrote, "There is a vast, or at least substantial, minority of Americans, and not just New Yorkers, who find the insipid, overrated, timid, smug, insular and self-satisfied sitcom just sets their teeth on edge."
If such nonfans ever wished the characters could all meet the same harsh fate as George's late fiancée, Susan (Heidi Swedberg), they might be glad to know that the ender marks the return of series co-creator David, the bleakly funny perfectionist who killed her off with a poisoned-envelope scenario when he left the show, exhausted, at the end of the seventh season. But Seinfeld has himself promised that the show will end with a giggle. "It's not a big thing," he said. "It's the shoelace that comes undone in the men's room and touches the floor."
For Seinfeld, at least, the last-episode drill was the same as for any week—making sure the show purred along without a hitch, even though this script was rumored to be crammed with cameos from guest characters. Seinfeld, says Jerry Stiller (George's father, Frank), "has more in this one hour than most mini-series. This had to be something special." Then, at 2:30 a.m., after 5½ hours of filming, Seinfeld announced, "It's a wrap." (The very last scene was filmed without an audience three days later.) As the cast took curtain calls, the buttoned-down star was "near tears," says Jeff Bye, the show's warm-up comic.
Still, many cast members are looking forward to moving on. "It's been exhausting," says Estelle Harris of the hullabaloo. Louis-Dreyfus is a mom now (to sons Henry, 5, and Charles, 1, with TV producer-husband Brad Hall). "And while she enjoys acting," says her half sister Lauren Bowles, who played a waitress at Monk's coffee shop on the series, "if she had to choose to do just one thing in her life, it would be [motherhood]." Jason Alexander, says his friend TV writer Michael Markowitz, "thinks it's important to take a few years out of the spotlight." Michael Richards wants to concentrate on movies.
Seinfeld himself seems to be in a New York state of mind. Far richer than when he left Manhattan in 1980 (he raked in reportedly $94 million in 1996 and '97 alone), he's returning to his old zip code. In February, he plunked down $4.35 million to buy a terraced co-op in the Beresford, a soaring Upper West Side palace of brick, limestone and terracotta. "Jerry is like a kid with this apartment," says Lois Peerce, his real estate broker. "He's having it totally redone."
Sometime this summer he'll move into the three-bedroom, 3,900-square-foot, 19th-and-20th-floor duplex with library, maid's room and wood-burning fireplace that previously belonged to violinist Isaac Stern. Destined for one wall of the 29-by-18-foot living room: the front door from his Seinfeld apartment. "It was always one of his dreams to live here," says a Beresford board member, who thinks the comedian will fit in comfortably with the building's other well-heeled tenants, including Beverly Sills and John McEnroe. "He seems just like he is on television, although a little shy."
Seinfeld, whose multimillion-dollar contract as an American Express pitchman will continue after the show ends, has announced only one professional move: He'll do some stand-up this August in New York for an HBO special, I'm Telling You for the Last Time. What else might he try for an encore? "I've teased him," says his friend, Larry Miller. " 'Just go sit on an island, the kind of island off a European country where the guy who brings you the drinks is always angry. Or just go fishing.' " Seinfeld's response: "I don't want to go fishing. Who's ever been fishing?"
One thing Miller thinks he knows for sure is the way Seinfeld will sign off. "In the end," he says, "it will be a small nod, a smile and just a, 'Yeah. I'll be seeing you. Let's go home. Let's go to sleep.' "
Tom Gliatto
Craig Tomashoff, Julie Jordan, Amy Brooks and Monica Rizzo in Los Angeles, Helene Stapinski and Joseph V. Tirella in New York City and Joseph Harmes in Mexico City
Contributors:
Craig Tomashoff,
Julie Jordan,
Amy Brooks,
Monica Rizzo,
Helene Stapinski,
Joseph V. Tirella,
Joseph Harmes.
Advertisement
Today's Photos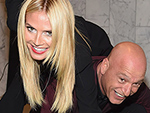 Treat Yourself! 4 Preview Issues
The most buzzed about stars this minute!