People Top 5
LAST UPDATE: Tuesday February 10, 2015 01:10PM EST
PEOPLE Top 5 are the most-viewed stories on the site over the past three days, updated every 60 minutes
Picks and Pans Main: Tube
Talking With...
Near the end of this drama, real-life Senate investigator Jim Tuite (Ted Danson) gives his wife (Cynthia Dale) a speech on the many reasons the U.S. government has failed to deal with the complaints of thousands of veterans who say they were harmed by toxic substances in the Persian Gulf War. "Maybe it's too much for anybody to get a hold of," she finally responds. Maybe so, but no one can say writer John Sacret Young (China Beach) and director Rod Holcomb (ER) haven't made an all-out attempt to cover the subject of Gulf War syndrome in this three-hour-plus production.
For viewers who are suspicious of fictionalization, the filmmakers repeatedly—and often gratuitously—reinforce dramatic scenes with documentary-style testimony by actual veterans, politicians, et al. For viewers who like mystery and suspense to enliven the facts, they have created a key composite character: a Deep Throat-type source who meets Tuite in dark places. The investigator is annoyed by the cloak-and-dagger stuff; so are we. The drama is most persuasive when it gets out of Washington and into the lives of two families affected by Gulf War syndrome: a soldier (Matt Keeslar) who inadvertently infects his wife (Jennifer Jason Leigh) and baby, and a civilian (Steven Weber) who develops brain cancer as an apparent result of his postwar cleanup work in the Gulf, then commits himself to the loving care of his sister (Marg Helgen-berger) and his God.
Bottom Line: A noble but flawed effort
HBO (Sun., May 31, 10 p.m. ET)
Show of the week
rolled off the tongue of Larry's producer, Artie (the redoubtable Rip Torn). Strangely, the guy we'll miss most is Hank (Jeffrey Tambor), Larry's bitter sidekick-sycophant. Hey now, buddy, and farewell.
Bottom Line: Applause, applause
CBS (Wednesdays, 8:30 p.m. El)
"I am a nutso, crazed perfectionist who drives everyone away because I need every detail perfect," says Judith Light as a Martha Stewart type in the June 3 premiere of this sitcom. But Light (Who's the Boss?) doesn't seem so crazed. Jean Smart was nuttier—and funnier—as a similar character in Style & Substance, which flopped on CBS as a midseason entry. So this show would seem to have slim hope of exciting America in a seven-episode summer run. The pilot features a crossover gimmick: Fran Drescher and Rachel Chagall, in their roles from The Nanny, set out to visit Light's farm in upstate New York, but they never arrive—and thus never share the screen with any Simple Life cast members. How's that for moral support?
Bottom Line: Simplify your life by not watching
>Sunday, May 31 THICKER THAN BLOOD TNT (8 p.m. ET) Mickey Rourke and Dan Futterman in an involving drama set in an inner-city Catholic school.
Monday, June 1 THE MIGHTY MISSISSIPPI History Channel (9 p.m. ET) Four-part documentary on the big river keeps rollin' 'til Thursday, with host Hal Holbrook.
Tuesday, June 2 BUFFY THE VAMPIRE SLAYER WB (8 p.m. ET) Attention, new fans of the high school horror show: Here's a repeat of the two-hour 1997 premiere.
Wednesday, June 3 METEORITES! USA (9 p.m. ET) Worse than golf-ball-size hail! Tom Wopat is the hero of this TV movie.
Thursday, June 4 FRIENDS NBC (8 p.m. ET) Chandler locks lips with Joey's girlfriend in this rerun. Call the crisis squad.
Friday, June 5 ENDING WELFARE AS WE KNOW IT PBS (9 p.m. ET) Meredith Vieira hosts a study of the sweeping changes in welfare.
Saturday. June 6 GODZILLA MANIA E! (10 p.m. ET) A behind-the-scenes look at the extra-large movie. Just think "hour-long promo."
>Beth Littleford
Killing Them Softly
Beth Littleford's interview style is pure Barbara Walters: the gauzy lighting, the compassionate gaze, the soft-spoken sincerity that trickles into smarminess. But, as sole female correspondent on Comedy Central's The Daily Show, Little-ford, 29, sticks to—and sticks it to—an un-Baba list of C-grade celebrities. She asked David Duke how to get stains out of a white sheet (Clorox, the white supremacist said blankly); cajoled Fabio into describing himself as a cut of meat (when the romance-novel cover boy answered, "T-bone," she sighed, "Oh, Fabio!"); and stumped Dionne Warwick with the question: Why didn't the singer's clairvoyant associates foresee the bankruptcy of the Psychic Friends Network?
Littleford's twice-monthly, three-minute segments are mercilessly funny. So why would any celebrity sit down with her? "Either they're desperate enough for the attention, or they're just trusting," says Little-ford, who'll marry Daily Show supervising producer Rob Fox in July. "I don't want to hurt people," she adds, "especially someone who doesn't deserve it. David Duke deserved it a little bit."
Contributors:
Jason Lynch.
Showtime (Sun., May 31, 8 p.m.)
Advertisement
Today's Photos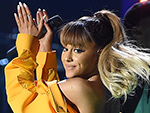 Treat Yourself! 4 Preview Issues
The most buzzed about stars this minute!