People Top 5
LAST UPDATE: Tuesday February 10, 2015 01:10PM EST
PEOPLE Top 5 are the most-viewed stories on the site over the past three days, updated every 60 minutes
Picks and Pans Main: Tube
Week at a Glance
Nothing against sex, understand. It's the city part of this Gotham-centric new series that gets on our nerves. Created by Darren Star (Beverly Hills, 90210) and based on the 1996 book by Candace Bushnell, the comedy stars
Sarah Jessica Parker
as a columnist for a fictional New York City newspaper. Her beat is the singles scene, and her research essentially consists of socializing with her friends. There's a lot of ostensibly sophisticated conversation about "this city" and what makes its sexual playing field uniquely hazardous. One hunk (whose first name is Capote) is described as "one of the city's most notoriously ungettable bachelors," and another (played by ex-Law & Order cop Chris Noth) is typed as "the next Donald Trump" but "younger and much better-looking." Parker is appealing as always, but watching the show is an empty diversion—like scanning a gossip column about people who don't exist.
Bottom Line: Better you should go out on a date
CBS (Mondays, 8:30 p.m. ET)
Show of the week
CBS has been thumping the tub for this series lately, suggesting that it deserves to succeed Seinfeld on the sitcom summit. Hype? Sure, a bit. But if you saw last month's second-season finale—a warmly funny flashback to the marriage of Ray (Ray Romano) and Debra (Patricia Heaton)—you know Everybody Loves Raymond is a rare and winning combination of wit, sweetness and eccentricity. The summer rerun period is a good time for latecomers to board the bandwagon, and CBS is happy to oblige them with a special June 8 stunt: four Raymond repeats from 8 to 10 p.m.
The first of the episodes is a Christmastime treatment of Ray's No. 1 frustration: the lack of opportunity for conjugal intimacy in a home filled with three children (6-year-old daughter, 2-year-old twin sons) and frequently invaded by his pushy parents (Peter Boyle and Doris Roberts) and his droopy brother Robert (Brad Garrett), a bachelor policeman. (It's Robert's oft-expressed envy of sportswriter Ray that gives the show its ironic title.) The humor is gentle in the second half hour, as Ray's mother gives him a long-postponed piano lesson. But the night's third and fourth episodes highlight Mom's hovering presence and judgmental personality: She prefers Robert's "good and pure" girlfriend to De-bra; she crashes her daughter-in-law's Tupperware party, prompting Debra to write her a letter demanding some space. The family tensions seem real, but Raymond's writers never allow the conflict to outweigh the comedy.
Though he comes from a stand-up background, Romano registers reactions even more effectively than he delivers laugh lines in his distinctive baritone whine. And Heaton complements him beautifully as a smart spouse with a gift for getting to the point.
Bottom Line: Almost everybody should like Raymond, at least
Showtime
(Sun.-Mon., June 7-8, 9 p.m. ET)
Here's a sequel that really is "long-awaited." Tales of the City was a hit miniseries on public TV in 1994, but PBS pulled funding from the follow-up. (Coincidentally or not, the move came after conservative groups objected to the gay sexual content of the original.) More Tales was in limbo until Showtime teamed with British and Canadian production companies to revive the project.
Though we're glad the six-hour More Tales will finally air, watching it sometimes seems to take as long as awaiting it. The '70s San Franciscans of the miniseries (taken from novels by Armistead Maupin) muddle through complications and coincidences whose low probability and slow development are undeniably reminiscent of daytime soap opera. One character even has amnesia. But until it turns macabre near the end, More Tales maintains the humanistic tone set by Mrs. Madrigal (Olympia Dukakis), the nurturing landlady with a tangled past who embraces all her tenants as "children" in the family of man.
Bottom Line: If you loved the first, even More won't be enough
Lifetime (Tues., June 9, 9 p.m. ET)
If you can overlook the intrusive commercial breaks and the ho-hum attitude of host Penny Marshall, this second annual cable showcase for female independent filmmakers is worth two hours of your time. The best of the four short films is Dani Minnick's touching World upon Her Shoulder, which stars Karen Young (Daylight) as a woman whose mental breakdown is seen through the eyes of her young daughter (Kashmir Jones). Our runner-up choice is Paula Walker's Seed, which combines terse narrative and flashy camera work in the story of a pregnant cop (The Jackal's Diane Venora) and her shadowy sperm donor. Also on the bill are Carol Mayes's Rituals, a sexy but implausible tale of voodoo and adultery, and Icebergs, Nicola Hart's offbeat comedy of food as a source of family conflict.
Bottom Line: Stylish shorts from a female perspective
Discovery Channel (Sun., June 7, 8 p.m. ET)
As Robert F. Kennedy Jr. says in this documentary, it's the sense of "lost potential" that draws us to the memory of his father. Having evolved from a cold warrior and racket buster into a compassionate champion of the young, the poor and the disenfranchised, Robert Kennedy was murdered 30 years ago this month as he sought the Presidency. Drawing on interviews with friends and family members whose memories remain vivid and poignant, this admiring profile (coproduced by journalist Jack Newfield and based on his book of the same title) makes us grieve anew over the death of a man who was 42 but still growing.
Bottom Line: A moving tribute
>Sunday, June 7 THE AMERICAN FILM INSTITUTE SALUTE TO ROBERT WISE NBC (10 p.m. ET) Julie Andrews is host for a tribute to the director of The Sound of Music.
Monday, June 8 INVASION AMERICA WB (9 p.m. ET) Buckle up for cosmic war in this premiere of an animated series created by Steven Spielberg.
Tuesday, June 9 MEN IN BLACK HBO (8 p.m. ET) Tommy Lee Jones and Will Smith rumble with aliens in the 1997 sci-fi flick.
Wednesday, June 10 ANIMAL HOUSE TBS (5:05 p.m. ET) A 20th-anniversary screening of the campus romp starring John Belushi.
Thursday, June 11 INTIMATE PORTRAIT: REBECCA LOBO Lifetime (7 p.m. ET) Profile of the WNBA star precedes a game between her New York Liberty and the Cleveland Rockers.
Friday, June 12 THE CASTRO PBS (9 p.m. ET) Documentary on the gay pride of a San Francisco neighborhood.
Saturday, June 13 IN THE NAME OF THE FATHER ABC (8 p.m. ET) Daniel Day-Lewis as a wronged Irishman in the powerful 1993 drama.
HBO (Sundays, 9 p.m. ET)
Advertisement
Today's Photos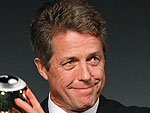 Treat Yourself! 4 Preview Issues
The most buzzed about stars this minute!