People Top 5
LAST UPDATE: Tuesday February 10, 2015 01:10PM EST
PEOPLE Top 5 are the most-viewed stories on the site over the past three days, updated every 60 minutes
The Eclectic Horseman
In Life and The Horse Whisperer, Robert Redford Wears More Than One Cowboy Hat
We should all be so frazzled. At 61, Robert Redford is a lion of Hollywood, an undisputed legend with a nearly 40-year career of signature performances—from
Barefoot in the Park
to
Butch Cassidy and the Sundance Kid
to
Out of Africa
—of grace and easy charm, an Oscar for best director (1980's
Ordinary People
) and few embarrassments. He has done it by scorning the very system that made him a success and—through his Sundance Institute and Film Festival in Utah—encouraging filmmakers to fight that system. Long before it was trendy, he spurned Hollywood to split his time between the rugged Wasatch Mountains near Salt Lake City (where he owns 5,500 acres that include his home and the nearby Sundance Resort) and the frantic anonymity of Manhattan, while he and his wife, Lola (they were divorced in 1985), raised three children—artist Shauna, 37, screenwriter Jamie, 36, and actress Amy, 27.
"From the beginning of his career, it was never his desire to be on
The Tonight Show
," says Stan Collins, 63, a Provo, Utah, stockbroker and Redford pal for 40 years. Whether shrewdly contrived or genuine, his quiet reserve has only magnified Redford's mystique, and not just on the Pennsylvania Turnpike. "I would every once in a while catch myself deep in conversation with him and realize, 'Holy God, I'm talking to Robert Redford!' " says Mary Tyler Moore, who starred in
Ordinary People
.
But perfect he isn't. "He has a reputation for being late, and it's well-earned," says Moore, who recently went to a surprise party for a close mutual friend. Redford eventually turned up more than an hour late, missing the surprise. His status allows him to indulge in professional perfectionism, which some say can be exhausting. "Every once in a while, Redford puts you in your place," says Jeremy Larner, who struggled with Redford over every detail of his biting script for Redford's 1972 film,
The Candidate
, including a three-hour argument over the lead character's name. "In the end he's a star who wants his way. Bob is very tough in lots of ways that relate to getting along in show business." He refused, for example, to do sequels to Butch Cassidy and the Sundance Kid and The Sting.
Redford remains something of a puzzle even to those who have spent considerable time with him. "Do I feel like I got to know him? No, not really," confesses actress Kristin Scott Thomas, who worked with Redford for six months last year on the weather-hampered production of his new film,
The Horse Whisperer
, an adaptation of Nicholas Evans's bestselling novel and the first movie in which Redford directs himself. "He is not someone who reveals himself easily," says
Whisperer
producer Patrick Markey, a friend for almost 20 years. "He's always holding back mysteries."
It's no mystery why
The Horse Whisperer
, with the Zen-like cowboy Tom Booker at its center, would appeal to Redford. Able to "gentle" horses—and by extension their owners—who are scarred by trauma or life's other vicissitudes, the serene, wise and lonely Booker is a classic Redford character, a blue-jeaned gentleman of the old school. The star convinced Disney to spend $3 million for the rights to Evans's book even before it was finished, and Redford will reportedly earn $20 million for his role as producer, director and star.
Obsessed with detail, he had his crew inspect 300 ranches throughout the west before he settled on Keith and Marie Engle's 5,000-acre spread along Montana's Boulder River as the movie's chief locale. For the next six months, Redford made himself right at home. "He'd come in and have his hand in the cookie jar," Keith Engle says. "He'd ask questions about how we did certain things, like wrangling horses and things like that. He was very interested in doing things the right way."
And the speedy way. A veteran pedal-to-the-metal man, Redford used to buy his Porsches in Omaha just for the pleasure of roaring along empty prairie highways on his way west. Engle says he took Redford "aside and asked him to slow it down a bit" along the ranch's half-mile dirt driveway. Park County Sheriff Ed Kinnick was not so subtle: He slapped Redford with a $70 ticket—paid on the spot—when the lawman clocked the star doing 55 mph in a 35 mph zone about 10 miles west of the ranch last July.
Redford reserves any anger for things that matter to him; he sees
The Horse Whisperer
as an ode to a disappearing West. "Politicians go around talking about this great land, the promised land. In the meantime, they're savaging it," he says as his car inches through the granite canyons of midtown Manhattan. Such rhetoric would sound hollow coming from other limo-locked stars, but Redford has long walked the walk. Saving the land "is at the core of who Bob Redford really is," says friend and former Salt Lake City Mayor Ted Wilson. The star's beliefs have not always made him popular: He was burned in effigy in April 1976 for opposing a $3.5 billion power plant. "A lot of people would have become bitter and moved away," says author and environmental activist Terry Tempest Williams, who rallied with Redford to save nearly 2 million acres of Utah red rock. "The most impressive thing about Robert Redford is that he has stayed."
Impressive? Maybe. Surprising? Hardly. Redford's no stranger to perseverance. Born and raised in Santa Monica and Van Nuys, a surly young Redford, feeling hemmed in by his suburban confines, fled Southern California with a baseball scholarship to the University of Colorado. "I became the campus drunk and blew out before I could ever get going," recalls Redford, who dropped out during his sophomore year. He spent a lonely year painting in Europe before meeting Lola Van Wagenen, a 17-year-old Utah bank teller who was a neighbor in his Los Angeles apartment building.
The couple married in L.A. in 1958 and headed to New York City, where Redford first enrolled in the Pratt Institute of Art & Design and eventually in the American Academy of Dramatic Arts. "Even then he had charisma," says stockbroker Collins, who first met Redford and his wife when they were "living on bouillon" on Manhattan's Upper East Side. "People really noticed him."
By 1967 he was starring opposite Jane Fonda in the film version of
Barefoot in the Park
(appearing with her again 12 years later in
The Electric Horseman
), and in 1969 hitched a ride to the firmament with
Butch Cassidy
, becoming lifelong friends with Paul Newman. The two still trade jibes and practical jokes, like the one in the 1980s where Redford sent a wrecked 1964 Porsche, wrapped in a red bow, to Newman's Connecticut home. Months later, Newman had the car compacted and delivered back to Redford's house, where its weight cracked his floor. The car was recast as a sculpture and placed in Newman's garden.
Back in 1969 the suicidal climax to
Butch Cassidy and the Sundance Kid
seemed well-suited to Redford, who was developing a reputation for doing all he could to sink his career. When Sydney Pollack cast Barbra Streisand opposite Redford in 1973's The Way We Were, the actor buttonholed the director and asked, "She's not going to sing, is she? I don't want it to be a musical." "Shows you what I know," he says.
While Redford created his own professional problems, a meanspirited fate handled his personal life. In 1959 the Redford's 5-month-old child died of sudden infant death syndrome. "That was a tough hit," says Redford. "It was our first child. We were in New York and we were broke. It was really tough." He won't say anymore about it, but he has quietly raised money to combat the mystery killer. Only son Jamie has, in Redford's words, "suffered the furies" of ill health for much of his life. Debilitating colitis led to cirrhosis, and in 1993 Jamie underwent a liver transplant. But the surgery was not a success; each weekend during the New York City filming of Quiz Show, which he was directing, Redford would fly to see Jamie, who was at an Omaha hospital the two had chosen, awaiting another transplant.
A second operation and more complications followed, "but now he's fine," Redford says. The family equilibrium was also shaken in 1984, when Shauna, still reeling from the murder of her longtime boyfriend Sidney Wells eight months earlier, crashed her Ford Bronco into the freezing Jordan River outside Salt Lake City. Local resident Dorine Staker Rivers, who dove into the water and helped drag a semiconscious Shauna to safety, met Redford months later at the premiere of
The Natural
. " 'Saying thanks just isn't enough,' " she remembers him saying. "I believe he was at a loss for words. He was just being a dad at that point."
Living, not playing, the role of patriarch, Redford says, has been his most demanding and rewarding performance. "People think it's been easy for me. That's hard to live with. It's so untrue. The hardest thing in the world is when your children have problems. There have been so many hits on our family that no one knows about, and I don't want them to, for my family's sake. I've made some interesting movies, and I've been very satisfied with the work, but if someone wrapped it all up and said to me, 'What's your greatest achievement?' I'd say, 'The children. They're the best thing in my life.' "
Today, thanks to Jamie and Shauna, he's not just a dad but a granddad—or Bo-Pa or Ba-Poo, depending on which of his four grandchildren, aged 2 to 7, is talking. Any way they say it, "the word grandfather is weird," Redford says. "It feels like some old guy in a robe."
And an unattached guy at that. Of his divorce from Lola, he says only, "I got lost for a time." Screenwriter Larner says Redford never expected to split. "He told me he was totally faithful to his wife.... They were very tight; they went through a lot of stuff together." Lola now lives in Vermont, and the two remain close. Redford has since had a late '80s romance with actress Sonia Braga and a lengthy relationship with costume designer Kathy O'Rear that ended around 1995. Recently the star has been seeing Sibylle Szaggars, known as Billie, a German-born abstract painter in her early 40s, who has been spending time with Redford in his rented home in Calistoga, Calif. But Redford says he's probably single for keeps: "I have to be careful in terms of never saying never, but I don't think I would go there again."
Redford is more willing to take chances on his career. "I'd rather treat every project like it's all gone and I'm starting over," he says. "I'm extremely critical. I become bored easily. I envy people who are good at table-hopping. I hate it. I like eating too much to leave my table!"
For Redford, that means four meals a day of whatever he wants, including chocolate and hot fudge sundaes. "It's my metabolism," he offers helpfully, if infuriatingly. "I'm not afraid of aging," Redford says. "It's a fact of life, unless you go to some length to arrest it, and that's not me." And besides, he adds, "Nobody is swooning over someone my age. They see me, and they're more likely to say, 'Oh, is he still around?' "
Larry Hackett
Todd Gold in New York City, Ken Baker in Livingston, Mont., Cathy Free in Salt Lake City and Danelle Morton in Los Angeles
Contributors:
Todd Gold,
Ken Baker,
Cathy Free,
Danelle Morton.
Advertisement
Today's Photos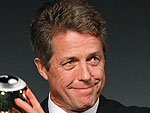 Treat Yourself! 4 Preview Issues
The most buzzed about stars this minute!