People Top 5
LAST UPDATE: Tuesday February 10, 2015 01:10PM EST
PEOPLE Top 5 are the most-viewed stories on the site over the past three days, updated every 60 minutes
Picks and Pans Main: Song
Talking With...
With a rockabilly beat and a voice full of twang, Yoakam has helped hold back the tide of slick commercialism that threatens to turn Nashville from country's Music City into a Muzak mall. And he has done so without many critics noting that his name rhymes with hokum. On a few tracks here, he runs the risk of reminding them, inexplicably adding violin arrangements to otherwise splendid please-don't-leave-me songs. Country wouldn't be country without violin strings, of course, but please, give us only the type that fiddlers, not Philharmonics, play. Luckily, that is the only misstep in this collection of 13 heartbreak ballads and honky-tonk tunes that feature stellar performances by the wonderful band Yoakam has assembled (guitarist Pete Anderson is especially notable). Harkening back to country's pre-Garth era, Yoakam, on one of several standout tunes, "Traveler's Lantern," sounds as if he were onstage at the Grand Ole Opry's former shrine, the Ryman Auditorium, singing with the Carter Family.
Bottom Line: Rootsy country music you won't hear on any elevators
Garbage (Almo Sounds)
Album of the week
When Garbage's siren-like singer, Shirley Manson, purrs "I am a wolf, but I like to wear sheep's clothing" at the start of her quartet's second album, she isn't kidding. Beneath this CD's slick, danceable surface lurks a menacing, unpredictable animal ready to pounce—as well as a reason for pop music fans of all stripes to rejoice. Here's a band unafraid of mixing the latest sonic bleeps and blasts with references, both lyrical and otherwise, to classic guitar rock. On its 1995 debut, the result was occasionally like listening to Top-40 radio while vacuuming the living room. But not here, thanks to consistently strong songwriting and a sophisticated, multilayered sound that prevents any one whiz-bang musical element from stealing the show. At its most successful, as on "Push It," which recycles the Beach Boys' "Don't Worry Baby" to surprising effect, the group upgrades the past without seeming nostalgic. This summer, expect the feisty, alluring Manson to be, as she sings at one point, quoting the Pretenders, rock's "talk of the town."
Bottom Line: Trashes the competition
Johnny Rivers (Soul City)
In the dubious tradition of white performers making hits out of tunes done originally by black artists, Rivers first scored with Chuck Berry's "Memphis" and "Maybelline" in the early 1960s. (Later, he returned to the charts with 1966's "Poor Side of Town," which he actually cowrote.) Now 55, Rivers has come back with his first studio album in more than 15 years. A combination of old blues standards plus some Rivers originals, the CD does include one standout track co written by him, the mournful "Don't Let the Rain Come Down." No doubt some smart up-and-comer will cut his own version of it soon.
Bottom Line: So-so collection from a '60s survivor
Shirley Horn (Verve)
Full of real warmth and obvious admiration, singer-pianist Horn's latest album is more informed than the usual tribute. Horn knew Davis well; he had encouraged her to move to New York City from her native Washington, and they often performed together before Davis's death in 1991. Their cerebral, methodical approach to jazz was also similar. The nine songs on this album were all associated with the trumpeter, and Horn even uses Davis's longtime bassist, Ron Carter, and his drummer, Al Foster, to supplement her own rhythm section. But she is clearly the star of this project. Her thoughtful, deliberate approach to "Baby, Won't You Please Come Home" almost makes it seem like a whole new song. She draws all the possible emotion out of "My Funny Valentine," and she even dredges up the old "Basin St. Blues" without making it seem like a cliché. Horn's ability to mold her voice to a melody evokes Davis's similar skills on trumpet, even as she generates a most entertaining album that's all her own.
Bottom Line: We should all be remembered this artfully
>Boy George
Boy II Man Since leading his group, Culture Club, to pop fame in the 1980s, Boy George has given up the dresses he once wore (but not his makeup) and has been working in London as a deejay and owner of a small record company. Now, at 37, he is reassembling his old bandmates for a U.S. tour and a June 14 performance on the VH1 Storytellers series.
How do you feel about '80s music?
At the time I didn't really appreciate other bands because I felt like I was in competition with them. But now I can look back and really appreciate some of the Duran Duran songs, certain Cyndi Lauper songs.
How have you changed most since your heyday?
I was a lot more petulant when I was 21. And more insecure.
Do you miss your old look?
At a certain point I felt really trapped in that image. I felt like one of those Victorian women putting on those bustle dresses.
What should we expect this time around?
I always dress up when I go onstage because that's my armor, my protection. It will be kind of extreme but different from the '80s look.
Contributors:
Steve Dougherty,
Alec Foege,
Ralph Novak,
Marisa Sandora.
Dwight Yoakam (Reprise)
Advertisement
Today's Photos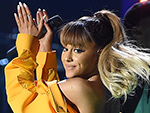 Treat Yourself! 4 Preview Issues
The most buzzed about stars this minute!