People Top 5
LAST UPDATE: Tuesday February 10, 2015 01:10PM EST
PEOPLE Top 5 are the most-viewed stories on the site over the past three days, updated every 60 minutes
Picks and Pans Main: Song
Talking With...
Playful and appealingly varied, this album aptly demonstrates that Hobbs is a generally livelier and less stiff country singer than her fellow sooners Garth Brooks and Reba McEntire. She also fills her music with an earthy honesty. This album not only showcases her true, energetic voice, it also displays her composing talents, which range from the kick-up-your-heels verve of "Rockin' and Rollin' and Raisin' Hell" and the cleverness of "Yellow Pages Under Blue" to the thoughtful philosophical ballad "Trust the Night" ("I would rather hurt from love than not know love at all"). Hobbs and producer-husband Duane Sciacqua also make good use of a talented bunch of studio musicians, especially accordion player Joey Miskulin, steel-guitar virtuosos Sonny Garrish and Bruce Bouton and keyboard players Gary Smith and Jay Vern (complementing Hobbs's own neo-barrelhouse piano). They may have forgotten, though, that Hobbs is also effective as a duet singer and that she teamed with Moe Bandy in the 1980s on the hit single "Let's Get Over Them Together." Still, it is good to see her finally find a place of her own in the spotlight.
Bottom Line: Country music with brains and bounce
Billy Bragg & Wilco (Elektra)
Album of the week
Here is the happy ending to a musical tale about three pop misfits: British songwriter Billy Bragg, a longtime proponent of socially conscious songs, finds a collaborator in the popular American country-rock group Wilco, whose music has always been stronger on melody than message. Both, in turn, discover their hearts in the words of Woody Guthrie, folk-music icon of the Great Depression era. Bragg and Wilco are enlisted by Guthrie's daughter Nora, 48, to bring to musical life a batch of dusty, typed and handwritten lyrics that her father left after his 1967 death. The new collaborators succeed to wondrous effect, inventing enough lilting melodies and vocal arrangements to make Guthrie's songs sound like sing-along classics. Among Mermaid Avenue's many riches are a rocking ditty about drunken sailors and a seaport floozy who claims to be "Walt Whitman's Niece"; a riotous campaign song, "Christ for President," urging the electorate to "cast your vote for the carpenter"; and "Way Over Yonder in the Minor Key," in which Bragg sings Guthrie's tall tale of a lad luring a girl to a tryst by crowing "ain't nobody that can sing like me." Bragg not only lives up to the boast, he and Wilco have helped Guthrie's ghost create a pop-music masterpiece.
Bottom Line: A Brit, some country rockers and a dead folk poet create an American classic
Brian Wilson (Giant)
Listen to the simple and wistful see-you-in-September high school ballad "Keep an Eye on Summer," and you may swear that the rest of the Beach Boys are back in the mix singing those gorgeous high harmonies behind big Brian Wilson's lead. The fact is that Brian himself sings all the vocal parts on "Summer" (an obscure composition co-written by Wilson and originally recorded by the Beach Boys in the early '60s) plus every other cut except one on this brief (39 minutes), 11-song solo album. Where most long-past-their-prime classic rockers now sing like mere husks of their youthful selves, Wilson's own vocal powers seem to be undiminished. The same cannot be said of his skills as a composer and arranger, which 30-some years ago sent the Beatles scurrying to duplicate his Pet Sounds recording feats on Sgt. Pepper. Here, many of the string-and bell-sweetened arrangements sound as jaw-droppingly saccharine as some of the lyrics ("You can fly forever/ Never wonderin' why"). On a few songs, however, Wilson's material nearly matches his talents, as on another old Beach Boys tune, "Let Him Run Wild"; "Dream Angel," a lullaby for his baby daughters; and "Lay Down Burden," a eulogy in which the surviving Wilson brother mourns his late sibling, fellow Beach Boys founder Carl. The song, like the CD, is a sweet reminder of the Boys of summer.
Bottom Line: Beachy vocals with an undertow of schmaltz
Linda Ronstadt (Elektra)
She has sung to the beat of many different drums since making her 1960s debut as the Stone Poneys' sexy chanteuse. Indeed, it is easy to forget that Ronstadt, who spent ensuing decades dabbling in genres as diverse as big-band standards, Broadway musicals, mariachi and even light opera, is one of rock and roll's most richly endowed vocalists. Here the veteran singer, who'll turn 52 on July 15, harks back to her country-rock roots, lending her ringing, full-bodied voice to ballads by John Hiatt ("When We Ran"), Bruce Springsteen ("If I Should Fall Behind"), Bob Dylan ("Tom Thumb's Blues") and Naomi Neville ("Ruler Of My Heart"). Joined by longtime Southern California studio guitarist Waddy Wachtel, ex-Eagle Bernie Leadon and members of Tom Petty's Heartbreakers, Ronstadt is at her soulful best on those gems as well as on Hiatt's honky-tonk ballad "Icy Blue Heart." And on the mournful migrant's lament "Dreams of the San Joaquin," she mines the emotional lode of her own Mexican heritage.
Bottom Line: Rich, bluesy country rock from a protean vocalist
Cleopatra (Maverick/Warner Bros.)
Imagine the Spice Girls with actual vocal talent and a mere hiccup of the hype and you have Cleopatra, the latest blast of girl power from Great Britain. Unlike that other miracle of pop-music packaging, this trio did not meet at an audition; they're sisters by birth. Zainam Higgins, 17, Cleopatra, 16, and Yonah, 14, follow the standard formula for R&B success: hip-hop beats, dance-inducing bass grooves and soaring vocal harmonies. And they include a savvy cover of a classic hit—the Jackson 5's "I Want You Back," in which Cleopatra sounds just like the young Michael Jackson. Like the Spices, they also tend to sing with Brooklyn inflections, so that words like "forever" and "never" are pronounced "forevah" and "nevah." Whatevah. On the song "Life Ain't Easy," the girls also reveal something unknown in Spice World—a social conscience.
Bottom Line: Catchy pop fare we could live without but may not be able to escape
>Bun E. Carlos of Cheap Trick
A Cheap Trick Treat
Twenty years after recording their classic quadruple-platinum power-pop album At Budokan, drummer Bun E. Carlos and his Cheap Trick bandmates—Robin Zander, Tom Petersson and Rick Nielsen—have reunited and hit the road. Now on a seven-month tour to promote a new reissue—Cheap Trick at Budokan: The Complete Concert (Epic/Legacy)—Carlos looks back in wonder.
Are you surprised by the interest in a 20-year-old album from a Tokyo concert?
It's kind of weird. When we did it, we never assumed that we'd be around for longer than a few years.
Were you surprised at the hysteria that greeted you in Japan in 1978?
We couldn't leave our hotel rooms because there were all these fans outside. We couldn't even go to the window because fans might see us, back up and get hit by a car.
Did you realize the concert would have such impact?
No. Budokan was the biggest martial-arts hall in Tokyo. We were like, "Here we go, another goofy venue to play in."
Did you get a lot of groupies in the 70s?
They lined up for Robin and Tom. I never had the physique or the hairline. And drummers never got any girls.
Contributors:
Ralph Novak,
Steve Dougherty,
Peter Castro.
Becky Hobbs (Beckaroo/Intersound)
Advertisement
Today's Photos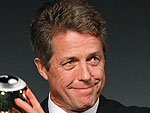 Treat Yourself! 4 Preview Issues
The most buzzed about stars this minute!