Archive Page - 12/1/12 39 years, 2,079 covers and 53,260 stories from PEOPLE magazine's history for you to enjoy
On Newsstands Now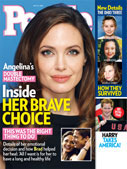 Angelina: Inside Her Brave Choice

New Details on the Ohio Three

Prince Harry Takes America!
Pick up your copy on newsstands
Click here for instant access to the Digital Magazine
People Top 5
LAST UPDATE: Sunday May 19, 2013 02:10AM EDT
PEOPLE Top 5 are the most-viewed stories on the site over the past three days, updated every 60 minutes
Mister Mischief
Merry Prankster and Hunk Mel Gibson Scores in Lethal Weapon 4, but He Frets Over Daughter's Friends—and What's with Those Two Donkeys?
ER
's Dr. Anna Del Amico, not to pull her punches. "You know, Maria, you can really fire away," he said. "Hurt me. Really hit me."
"You sure?" a sheepish Bello asked.
"I'm serious," Gibson said, laughing. "Do it."
Do it she did. Take after take. Until, by the fifth roundhouse punch, the Aussie-raised actor, who has earned fame and an estimated $70 million fortune tearing limbs from unlucky screen enemies, kicking, boxing, socking, jumping off tall buildings and—in his Oscar-winning epic Braveheart—exiting in a blaze of bloody, disemboweled glory, had a change of heart. "Young woman," said Gibson, his face red and decidedly absent its trademark schoolboy grin, "I don't think you need to hit me anymore."
Quiche, anyone?
Or perhaps it's the rule book that needs revising. After all, even Real Men have nerve endings—and at 42, with more than $1 billion worth of box office receipts and video sales to his name, six children, a Honey-Do List (thanks to Robyn, his wife of 18 years) and a pair of donkeys in his backyard that have had him locked in legal fisticuffs with his tony Connecticut neighbors (more on that later), Gibson has earned a moment's respite. The fact is, it has been 20 long years since he walked onto the hot, dusty set of the futuristic Australian flick Mad Max—and into the action-adventure career that last May found him on a highway near Las Vegas, being dragged (no stuntman, naturally) on a wooden table-top at 50 mph for a scene in the just released
Lethal Weapon 4
.
"I actually had to work to make it look harder than it was," Gibson says with the sort of mischievous grin friends—and fans—know well. "He's a crazy nut," marvels Richard Donner, Gibson's pal and director of all four Lethal Weapons. "He never gets nervous. He's a daredevil."
But—as Gibson grudgingly admits—an aging daredevil. "I'm not exactly a geriatric," he says. "But I'm not 23 anymore." Indeed, in the two decades Gibson has been in the public eye, he has battled to curb his drinking (successfully), his smoking (unsuccessfully) and his bad temper (depends on the day). And while the years have added aches to his antics—hence a Lethal Weapon 4 replete with one-liners on the order of "I'm too old for this s—t"—time has also freed him from much of his early angst. In 1985 a sullen, combative Gibson told PEOPLE—about to incite his ire by naming him Sexiest Man Alive—that being a star felt a lot like being a target: "It's as if you have your pants down around your ankles and your hands tied behind your back." Last year, while filming
Payback
in the streets of Chicago, Gibson seemed totally relaxed, basking in the adoration of female fans who, during shooting breaks, would shower him with roses, shrieking "Mel! Mel!" Says Gretchen Gain, a costume designer on
Payback
: "He would cup his ear as if he couldn't hear them. And then he'd pick up the roses and take a bow."
Another evening in Chicago, at the famous comedy revue Second City, more than roses were proffered. Like other celebs who visit the show, Gibson was ushered backstage and asked to improvise a few skits. "All the women in the cast," says actor Rachel Hamilton, "angled for hugs and kisses from him." For his part, producer Kelly Leonard was impressed with Gibson's talent: "To do improv, first you have to be funny and second you have to be honest. Most celebrities have a hard time with it. Mel held his own."
And when the show was over, went his own way. Though Gibson has in the past popped up in tabloids carousing in bars with women other than his wife, those days, it seems, are long gone. "I've seen grips and electricians and stuntmen use the business as an excuse when their marriage breaks up," says Gibson's longtime stunt coordinator Mic Rodgers. "They say it's because they go on location so much, so naturally they fool around. That's bunk. Mel doesn't play that part of the game."
Which isn't to say he doesn't play games. Tall tales. Dirty jokes. Burps on cue. You name it, Gibson revels in it. "He's sort of like the class clown," says Rene Russo, who has starred with Gibson in the last two Lethal Weapon movies as well as in 1996's
Ransom
. "He's like a hyperactive kid. Wherever there is a little circle gathered on the set, you know that Mel is telling one of his stories." Like, say, the time he convinced Ransom director Ron Howard that the pilots on the Disney corporate jet were required to wear Mickey Mouse ears. Or the Halloween he had his children believing that Charles Bronson, a Malibu neighbor, was digging underneath their house to "get them," says Rodgers. "They were freaked."
And
Lethal Weapon 4
costar Chris Rock was on the receiving end of. Gibson's sense of humor the day after he was featured on CBS's 60 Minutes, discussing, he says, "how I used to get beat up all the time by crazy white kids and how, even in the past 10 years, there have been instances when, being the only black person somewhere, I get so nervous I get a nosebleed." The next day, he says, "I show up on the set, and everybody's nose is bleeding."
The humor is vintage Gibson—irreverent, insensitive, real. "The cool thing about Mel Gibson," laughs Rock, "is that he is Mel Gibson."
Not everyone, however, is as charmed by Gibson's earnest eccentricities. There is, for instance, grumbling among some of his neighbors in the posh New York City commuter town of Greenwich, Conn. Already angered that the fence he installed around his $9.25 million Tudor-style mansion in 1994 cut off access to a historic bridle trail, some are now irked about the location of an animal pen he uses to keep half a dozen sheep and two donkeys on his 77-acre property. According to local regulations, the pen is too close to the town's water supply. Gibson's lawyers argue that his land qualifies as a farm and is thus exempt from the rule. But a question remains: What is Gibson doing with donkeys in Greenwich anyway?
"Uuuuh, they're not mine. I never met them," responds Gibson with a laugh. "I never saw them before, I promise, Your Honor."
Of their oddball pal, friends can only chuckle. "There's nothing regular about Mel," says Ron Howard. "I could never characterize him as regular."
But when it comes to the matter closest to his heart, raising his children—daughter Hannah, 17; twins Christian and Edward, 16; Will, 14; Louis, 10; and Milo, 8—Gibson wants to be thought of not as Mel the Star, but, he says, as Mel the Dad. He puts a premium on family time: teaching one child golf, watching another play soccer, or just hanging out with the gang chuckling over
Wallace & Gromit
, a British animated short film. "I think I enjoyed that more than they did," he admits. He may also have been the happiest one kicking back on their recent family vacation in Mexico. "Oh, man," Gibson says, "I was just jet-skiing and parasailing and reading and lying around in the sun and eating great food. It was wonderful."
And yet, by all accounts, Mel the Dad is not all about lying around in the sun. Whether in Malibu (where Gibson owns two houses), Connecticut or their 800-plus-acre ranch in Australia, both Gibson parents do their best to shield the kids from "an environment that outwardly advertises a life with no boundaries," says Ron Howard. (Gibson's own father, Hutton, 79, moved his wife, Anne, who died in 1990, and their 10 kids to Australia in 1968 in part to shield Mel, then 12, and his four brothers from the Vietnam War draft.) When the children visit their father on the set, says Jim Van Wyck, an executive producer on Lethal Weapon 4, there is "no parade of nannies. They behave and seem to enjoy themselves."
And when they need to be picked up after school or a sporting event, it's often Mom or Dad at the wheel, says stunt coordinator Rodgers: "There's nobody chauffeuring anybody around." Most Sundays the children accompany their mother and father, a conservative Catholic who opposes birth control and abortion, to church. And like most other kids, they bring their friends home to meet the parents. "Here's a superstar making millions of dollars, and he's going through the same thing every other guy with a 17-year-old daughter is going through," says Rodgers. "He says the kids' [friends] come over to the house, and he's got to check them out. I'd hate to be a 16-year-old kid and try to talk to him because he'd have you pinned."
Unless you happened to be a 16-year-old master carpenter. Gibson may be able to fly down a highway on a tabletop unscathed—or snowboard down a mountainside, as he likes to do with his children—but feats of domestic derring-do come less easily. "When he gets home from work, he does Dad stuff like any other Dad," says Rodgers. "He's got projects around his house. He doesn't hire somebody to put the handle on the cabinet. He does it. He's not very good at it, but he tries."
Luckily he is somewhat better at lamps. Not fixing them, mind you, wielding them. One evening in Chicago last October, Gibson and a group of distant cousins were happily putting away platters of fried calamari at Rosebud on Rush when waiter Michael Ponte made the mistake of approaching with a pepper grinder. The next thing he knew, says Ponte, Gibson leapt to his feet, a small lamp in hand, and shouted, "En garde!" The street-smart 33-year-old did not back down. "Hey, this isn't
Braveheart
," said Ponte, brandishing his grinder. Fortunately the arrival of chicken giambotta broke up the commotion. And soon, Hollywood's most Lethal Weapon stepped into the night, jacket zipped up, cap pulled down—having survived, yet again, a close encounter—and wondering, no doubt, what to do about those donkeys.
Karen S. Schneider
Ken Baker, Julie Jordan and Monica Rizzo in Los Angeles, John T. Slania in Chicago, Jennifer Frey in Greenwich and Dennis Passa in Australia
Contributors:
Ken Baker,
Julie Jordan,
Monica Rizzo,
John T. Slania,
Jennifer Frey,
Dennis Passa.
Advertisement
Treat Yourself! 4 Preview Issues
The most buzzed about stars this minute!