On Newsstands Now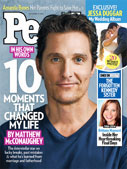 Matthew McConaughey: In His Own Words

Jessa Duggar's Wedding Album

Brittany Maynard's Final Days
Pick up your copy on newsstands
Click here for instant access to the Digital Magazine
People Top 5
LAST UPDATE: Tuesday February 10, 2015 01:10PM EST
PEOPLE Top 5 are the most-viewed stories on the site over the past three days, updated every 60 minutes
There's Something About Cameron
In Her Car, Her Romance and Her Superhot Career, Cameron Diaz Stays Strictly in the Fast Lane
Cameron Diaz
. Or so it seemed at the Long Beach Grand Prix Pro-Celebrity race last April. For four days before the race, the 25-year-old actress—currently starring in the hit gross-out comedy
There's Something About Mary
—was all smiles as she and about 20 other racers underwent required training at the Willow Springs racetrack north of L.A. By day they learned to master curves at up to 100 mph; by night they threw darts over beer and popcorn at a local dive. Having competed in the race a few years back, Diaz tried to put the others at ease, says fellow driver and
Caroline in the City
star Andy Lauer. "It's a race; it's intense," she told them with a giggle. "But it's really fun." When the big day came, Lauer was pleased to see her face in his rear-view mirror—at first. As Diaz edged closer and closer in her yellow Toyota Celica, he sensed something more than camaraderie in her grin. "She kept coming after me with that huge smiley face," says Lauer—and then he realized: "It was a threatening smile. Actually, I thought she might hit me."
She didn't—but he was wise to worry. "Her attitude was, 'I'll show these guys. I'm a very nice person, but don't get in my road,' " says her driving instructor, Jim Snelling. "She had a burning desire to win."
Alas, Diaz didn't do that either. When on the ninth lap another driver bumped her from the rear, she lost her nerve, briefly slipped into a turnout lane and finished sixth. But if it is any consolation, Diaz should know this: In her own way, she has been showing the guys for a good long time—and not just the boys she decked for trying to steal her books as a teenager. Four years have passed since the 5'9" beauty—then an unknown catalog model with almost no acting experience—sauntered onscreen in
The Mask
and caused the eyes of costar Jim Carrey, as well as millions of other red-blooded moviegoers, to pop out of their heads. As the sultry female lead in the $120 million box office smash, her status as Hollywood Super Babe was all but guaranteed—but Diaz would have none of it. Instead, she tossed her padded bra (sorry, fellas,
The Mask
megacurves were not by Mother Nature but from Frederick's of Hollywood), lopped off her long locks and took on quirky roles in small-budget films. In 1995 one of those little films landed her something even better than fame: boyfriend Matt Dillon. They met in Minnesota while she was filming
Feeling Minnesota
and he was shooting
Beautiful Girls
. As Diaz told Britain's
Guardian
last year, "I love him incredibly."
As if long legs and love were not enough, this summer Diaz received another perk:
ENTERTAINMENT WEEKLY
'S nod as the It Girl of '98. Still, the star has mixed feelings about the acclaim. "Of all the actors I've met," says Peter Farrelly, who codirected
Mary
with his brother Bobby, "Cameron is the one who truly fears fame."
Meaning, mostly, that the young woman who once impressed her first-grade teacher Gerald Simms with her "very good handwriting," who still talks to her mother every day and who never fails to share her favorite chicken piccata with her beloved cats, Little Man and Kitty, is uninterested in a fishbowl existence featuring oversized egos (and breasts). No surprise, then, that even after proving her box office bang in last year's $127 million hit
My Best Friend's Wedding
—a
Julia Roberts
vehicle that cemented the stardom of Diaz as well—she went right back to acting in smaller films, including
Head Above Water
with Harvey Keitel. "She is very savvy," says Roberts. "She's out there in a very open and incredibly friendly way. She's a great giggler. But at the same time she is not some giggly, perky, sophomoric, blonde person.... [She] understands the world."
And what she wants from it. For
Mary
, Diaz may not have gotten the $2 million-plus she now commands for big Hollywood productions. But she got something she seems to value even more: the pleasure of working alongside Dillon, 34, who plays a sleazy private eye vying with Ben Stiller for Diaz's affection.
"Matt would come over and rub her shoulders...if it had been a long day," says Lin Shaye, who plays Diaz's lonely next-door neighbor. "I would notice them sitting on a bench together, or stretching out with her head on his chest. They were affectionate in a really gentle way."
Bobby Farrelly was amazed at the way Diaz and Dillon balanced their professional and personal lives. "On the weekend, they were arm in arm and fun to be around because they are in love," he says. "But on the set, they were just two actors going about their business." No offense to Dillon, but it's clear who captured this director's heart: "She is as close to the ideal woman as you can get."
Ideal, if you go for the kind of woman who guffaws at her own dirty jokes. Make no mistake, despite her penchant for baby-doll barrettes and the little booties she learned to knit (
Julia Roberts
was her teacher) for her niece Chloe, 18 months, this former cheerleader is much more the ringleader. For starters, she drives like a maniac—even off the racetrack. (As her
Wedding
costar Dermot Mulroney told a friend, "I'll never get into a car with her again!") According to Peter Farrelly, at the bowling alley she can roll a cool 185, in a batting cage "she just creams the ball," and, he says, in a scene calling for the nongolfer to take a turn at the driving range, she stunned onlookers with her natural skill. "Cameron had a better swing than the double we hired to stand in for her," says Peter, "and the double was a college golfer." Still, it is a different kind of prowess that impresses his brother. "She drinks like a sailor," says Bobby. "No matter what you're doing, she's in. I don't care if you're shooting pool for money or guzzling beer, she's one of the guys." And not just any guy, adds Lin Shaye: "She eats like a truck driver. She just piles her plate with whatever there is—the potatoes, the cake and pie. Then she goes back for seconds."
And yet, there are things even a party-hearty gal like Diaz hesitates to do: say, using sperm as hairstyling gel—even if it is pretend. In a scene that is sure to make the Super Yukola Hall of Fame, Diaz does just that in Mary. But she agreed only after long negotiations—and a couple of beers, says Bobby Farrelly: "She was thinking, 'I have a career going here, guys, and I don't want to ruin it over one of your ridiculous gags.' "
Judging from the box office receipts on
Mary
—$60 million and counting—her career is in great shape. But what would Mrs. Simms, her first-grade teacher, think?
Diaz was raised in the two-story gray stucco house in Long Beach, Calif., where her mother and father—Emilio, 49, a foreman for Union of California Oil and second generation Cuban-American, and Billie, 48, an exporting agent of German, English and Native American descent—still live. For as long as she can remember, Diaz has said, she and her older sister Chimene, Chloe's mother, who lives in the L.A. area, were encouraged to think for themselves. "They rarely said no to me," Diaz told
Parade
magazine last year, "so if they did, I knew they had a good reason, and I wouldn't go against them." Indeed, there was no sign of rebellion at Los Cerritos Elementary School, where Diaz was "a very good student," says the now retired Mrs. Simms. The closest she came to displaying a wild side was on Halloween in second grade, when, Simms recalls, Diaz dressed up as Mae West: "She had jewels, a long dress, high heels. She was good. The dress didn't trip her."
In the streets of Long Beach, however, she developed into something less angelic, playing asphalt ball games with tough guys who regularly pummeled her. A heavy-metal fan whose mother took her to her first Van Halen concert as a teenager, Diaz held her own. She wore her jeans ripped, her eyes rimmed with black and her feelings on the inside. When kids taunted her with the nickname Skeletor for being thin, she didn't show her hurt—she knocked them flat. Ditto the boys at Long Beach Polytechnic High School who "would jump out in front of you to give you a good scare or try to take your books out of your hands." Diaz told the Chicago Sun-Times: "I would kick the s—t out of them."
Academics were not her top priority in high school, though she studied enough to get better-than-average grades. Like many teenagers, what she enjoyed best was having fun: dancing at football games on the Polyettes drill squad, seeing movies—
Raiders of the Lost Ark
about 27 times—and come sundown, piling her pals into her old Volkswagen bus and hitting the clubs. She was only 16 when, while partying in Hollywood, she was spotted by photographer Jeff Dunas. "She had a sparkle," he says. And fortunately, he had scruples. "I thought you were legitimate," Diaz later told him, "because you asked to speak to my father."
Within a week she had a contract with the Elite modeling agency and a deal with her parents that she could model as long as she finished high school. "My parents were completely supportive," Diaz told PEOPLE in 1994—but understandably wary of the unsavory sorts she might meet. As she traveled to Japan and Paris, earning up to $2,000 a day on assignments for clients including Coca-Cola and Nivea, she carried with her a long silver hairpin given to her by her mother. "It's beautiful—and can be used as a weapon," Diaz explained. "Moms are like that."
Her leap from modeling to movie fame was little more than a lark. Hanging out in the office of her agent Robin Levy, Diaz saw
The Mask
script and thought, 'Why not?' "She tried out as a joke," says Levy. Twelve auditions later (the producers had in mind a more curvaceous type, hence the $36 padded bra) Diaz had the part—and a new career. Not everyone understood her desire to shed the sexpot image for heavy drama. "She seemed completely the opposite of what I wanted," says Steven Baigelman, who nonetheless ended up directing Diaz and
Keanu Reeves
in the 1996 dark romance
Feeling Minnesota
. As he tells it, Baigelman could not resist her blend of "confidence" and "ballsy humor," not to mention her way with portobello mushrooms. "When she didn't have a scene in the morning," he says, "she would shop for vegetables and make pasta for the cast and crew. She had no attitude at all about being the star."
Nor does she now. Diaz's greatest concession to fame after 11 films is the four-year-old black Mercedes sedan she now drives. She lives in a modest apartment filled with flea market finds in L.A.'s Hancock Park neighborhood, shops at vintage stores and waits on line like everyone else to get sushi at Hollywood's tiny strip-mall restaurant Itacho. She is, by most accounts, genuinely surprised that anyone considers her a star. "She seemed pretty shocked when people asked her for her autograph," says Melissa Guglielmino, a cashier at the Twin Oaks Restaurant in Cranston, R.I., where Diaz and Dillon ate while filming
Mary
last December. Says Jeff Dunas, "The grown-up Cameron is exactly the same girl she always was: excited [about life] and no pretension—zero. I think that is a testament to her relationship with her family and with her boyfriend, maybe."
No maybe about it for Diaz's longtime friend Francine Champagne, director of booking at Elite. According to Champagne, Diaz fell for Dillon because he is intelligent, caring, honest and, not least of all, "a man's man," she says. "There is no gray area. He is a man who loves sports, and he is very close to his family. Since she is close to hers, that was a big attraction." No one knows how far that attraction will carry them—as the tykes at Los Cerritos Elementary School can attest. Last May, Diaz returned to spend two hours talking to the children and answering their questions. "Why are you so skinny?" asked one. "Good metabolism," Diaz explained. "Who's your latest boyfriend?" another pupil wondered. No sooner were the words Matt Dillon out of her mouth than another child hit her with the obvious follow-up: "Are you going to marry him?" Diaz had no response. Instead, she did what any rich and famous movie star staring down a roomful of pint-size reporters would do. Says third-grade teacher Jahneen Nadeau with a smile: "She kind of blushed."
Karen S. Schneider
Elizabeth Leonard, Anne-Marie Otey, Danelle Morton and Vicki Sheff-Cahan in Los Angeles and Joanne Fowl and Patricia Keith in New York City
Contributors:
Elizabeth Leonard,
Anne-Marie Otey,
Danelle Morton,
Vicki Sheff-Cahan,
Joanne Fowl,
Patricia Keith.
Advertisement
Today's Photos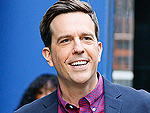 Treat Yourself! 4 Preview Issues
The most buzzed about stars this minute!