People Top 5
LAST UPDATE: Tuesday February 10, 2015 01:10PM EST
PEOPLE Top 5 are the most-viewed stories on the site over the past three days, updated every 60 minutes
Picks and Pans Main: Tube
Week at a Glance
Show of the week
Jodie Foster, who became a single mom last month, is the executive producer of this powerfully affecting drama about an affluent husband and wife seeking to adopt a poor couple's newborn. But its premise and producer aside, The Baby Dance (directed by playwright Jane Anderson from her 1990 drama) succeeds most notably as an incisive study of class conflict in America. After countless attempts at artificial insemination and nine miscarriages, Rachel Luckman (Stockard Channing) and her sterile spouse, Richard (Peter Riegert), both in the movie business, are desperate for a baby. And Wanda LeFauve (Laura Dern), an indigent housewife in Shreveport, La., is eight months pregnant with a fifth child that she and her out-of-work husband, Al (Richard Lineback), can ill afford to raise.
Living in a run-down trailer, the LeFauves might as well be Martians as far as the urbane Luckmans are concerned. But, as Richard tells Al, "you'll always have the advantage over me, my friend. You have the ability to make life." And so, while waiting for the baby that binds them, the couples struggle to get along, masking their mutual distrust with awkward small talk and strained cordiality. Riegert and Lineback are both solid as the husbands, while Channing, as a brittle career woman aching for motherhood, has never been better. But it's Dern who'll break your heart. Alternately resilient and despairing as a faded beauty trapped in an endless cycle of poverty and pregnancy, she gives the performance of her career.
Bottom Line: This Baby delivers magnificently
PBS (Tuesdays, 9 p.m. ET)
He was the model for Robin Williams's character in 1990's Awakenings. Now author and neurologist Oliver Sacks stars as the affably inquisitive host of his own four-week series (debuting Aug. 25). As his 1985 book The Man Who Mistook His Wife for a Hat proves, Sacks is fascinated by bizarre medical disorders. Future episodes focus on some color-blind Pacific islanders and an autistic New England artist. But the opener finds the good doctor in Seattle, mingling with a Cajun-born chef named Danny Delcambre and his friends, all victims of a rare congenital condition known as Usher's syndrome. Deaf since birth, most are also slowly going blind. It's not only the group's uncanny ability to communicate that intrigues Sacks (as their vision deteriorates, they rely less on sign language and more on what he calls the beautiful language of touch) but also their undimmed optimism. "I'd want my sight back," says one plucky young woman, "but I wouldn't want hearing." Why? "I'm deaf. I know my life is deaf; the people I know are deaf."
Bottom Line: Insightful medical mystery tour
The Beach Boys Story
VH1 (Sun., Aug. 23, 9 p.m. ET)
If their music is all that matters to you, then this hefty, two-hour documentary on the Beach Boys should more than satisfy. Extensive clips of the Wilson brothers (Brian, Carl and Dennis) and bandmates Mike Love and Al Jardine in performance (doing everything from such sunny '60s hits as "Surfin' U.S.A." and "California Girls" to 1970's reflective "Cool, Cool Water") are interspersed with the guys' candid reminiscences of being mobbed on tour by screaming fans, competing with the Beatles and coping with the reclusive Brian (as the others waited at his home recording studio, built in 1967, he would hole up in his bedroom). Unfortunately, Brian's darker travails—including his 1964 breakdown and subsequent bouts with drugs and alcohol—are only sketchily dealt with, and the troubled lives and tragic deaths of sibs Dennis and Carl seem to rate barely a liner note.
Bottom Line: Plenty of good vibrations, but a shallow bio
FOX (Sundays, 8:30 p.m. ET)
What Happy Days was to the '50s, That '70s Show tries to be to the decade of discos, gas-pump lines and synthetic sitcoms like, well, Happy Days (which premiered in 1974)—in short: a revisionist take on ancient history. Here we have Eric Foreman (Topher Grace), the bemused straight man to his hipper-than-thou suburban teenage friends, including sultry Donna (Laura Prepon). He's a bit nervous whenever they're alone. "Eric, relax," she says, "we've lived next door forever. You could have had me when I was 4." Now there's a line you wouldn't have heard on The Partridge Family. In fact, The '70s Show has a jarringly '90s slacker sensibility. Still there are some very funny moments. Eric, still high from sneaking a joint with his pals, tries to chat normally with his clueless parents while watching the walls behind them tilt like a carnival ride. And in an off-the-wall fantasy sequence, the kids sassily mimic their uptight elders. Judging by the Aug. 23 pilot, these happy days could turn out to be a real blast from the pseudo-past.
Bottom Line: Lively slacker humor from an engaging cast of newcomers who get to cut loose
Terry Kelleher is on vacation
>Sunday, Aug. 23 DISASTER SUNDAY TBS (7 p.m. ET) Floods! Tornadoes! Meteors! Everything but locusts and boils in four hours of nature documentaries.
Monday, Aug. 24 BEFORE YOUR EYES: DON'T TAKE MY DADDY CBS (10 p.m. ET) Three daddies with past ties to the IRA face deportation from the U.S.
Tuesday, Aug. 25
ONE-ON-ONE WITH DAVID FROST—GEORGE BUSH: A PRESIDENT'S STORYA&E (9 p.m. ET) A two-hour bio, including Frost's post-Gulf War chat with the Prez. Not gonna say more. Wouldn't be prudent.
Wednesday, Aug. 26 INTO THE RISING SUN PBS (10 p.m. ET) Goodbye, Columbus. This four-week series salutes Vasco da Gama and other Portuguese explorers.
Thursday, Aug. 27 SCHOOL TIES USA (2 p.m. ET)
Matt Damon
—before he became
Matt Damon
—costarred in this 1992 film set at a '50s prep school.
Friday, Aug. 28 THE GAME Showtime (8 p.m. ET) Michael Douglas plays for his life in a 1997 thriller.
Saturday, Aug. 29 BRINK! DISNEY (7 p.m. ET) Wheelie-intense TV movie about rival in-line skaters.
Showtime (Sun., Aug. 23, 9 p.m. ET)
Advertisement
Today's Photos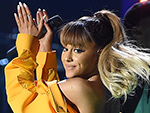 Treat Yourself! 4 Preview Issues
The most buzzed about stars this minute!