On Newsstands Now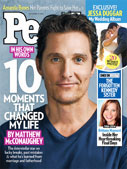 Matthew McConaughey: In His Own Words

Jessa Duggar's Wedding Album

Brittany Maynard's Final Days
Pick up your copy on newsstands
Click here for instant access to the Digital Magazine
People Top 5
LAST UPDATE: Tuesday February 10, 2015 01:10PM EST
PEOPLE Top 5 are the most-viewed stories on the site over the past three days, updated every 60 minutes
Picks and Pans Main: Screen
Critic's Choice
This is a Japanese film about a man who talks to his pet eel. Now there's a plot Hollywood isn't rushing to steal (unless the eel answers back).
Actually,
The Eel
is a much better movie than its title suggests. Directed by Shohei Imamura (
Black Rain
) and winner of the Palme d'Or at the 1997 Cannes film festival, this moving drama is about the slow emotional reawakening of a man (Yakusho of
Shall We Dance?
) who has spent eight years in prison for killing his unfaithful wife. Now a barber in a small town, he is polite to all but emotionally open to no one except a pet eel he kept in prison. Then one day he saves a woman (Shimizu) from suicide. Soon she is working beside him at the barber shop and offering him more than just warm lather.
The characters in
The Eel
keep surprising you, which doesn't happen enough in movies of late. (No rating)
Bottom Line: Bad title, good movie
Ian Michael Smith, Joseph Mazzello, Ashley Judd, Oliver Platt, David Strathairn
Featured attraction
It's a good bet that a movie is going to explore questions of faith if it opens on pealing church bells and a narrator who intones, "It's Simon who made me a believer in God." The narrator is played by Jim Carrey, who appears only in
Simon Birch
's first and final scenes and never once makes a wacky face. Not that anyone would mistake Birch, a bittersweet, would-be inspirational drama loosely based on John Irving's 1989 novel
A Prayer for Owen Meany
, for an
Ace Ventura
sequel.
Set in a coastal town in Maine during the early 1960s, Birch is about the triumph of our old friend, the human spirit. Twelve-year-old Simon, the movie's teeny-tiny titular hero (Smith, who's 3'1" and has Morquio's syndrome, a genetic disorder that leads to dwarfism), is convinced that God has kept him small because He has something special, involving a heroic act, in mind for him. Nothing, not other kids making fun of him nor the local minister (Strathairn) lecturing him, is going to keep little Simon down or cause him to lose his faith. And, sure enough, when he's finally tested and lives have to be saved, Simon proves big enough for heroism.
Depending on how generous one is feeling, Birch is either heartwarming and inspiring or glutinous tapioca. Part of the problem is that first-time director Mark Steven Johnson (who wrote this and both
Grumpy Old Men
films) never settles on a consistent tone, swinging from comic exaggeration to fuzzy nostalgia to dark drama. But Smith is a find, holding his own against solid pros like Judd, Piatt and Strathairn. (PG)
Bottom Line: Lots of religious symbolism, but what it all means is murky
Sophie Marceau, Stephen Dillane
Jane Eyre with sex. That pretty much sums up
Firelight
, a delicate, romantic, British period drama that moves at a meditative pace (some would say ponderous) despite the heroine's fast-fluttering heart. Slow or no, it's a deeply passionate film, and fans of gothic romance—you know who you are—will savor it.
Dillane plays a well-born Englishman who in 1838 pays Marceau, who is Swiss, £500 to have sex with him, bear his child and then surrender the baby at birth. Seven long years later, she manages to get herself hired as her daughter's governess without Dillane's knowledge and shows up at his remote English estate. Sparks instantly fly between the two despite a big ol' secret in the attic that has to be dealt with before the lovers can find true happiness.
Marceau (
Braveheart
) excels at playing mournful women in love and Dillane here is her melancholic match. With
Firelight
, screenwriter William Nicholson makes a glowing directorial debut. (R)
Bottom Line: The heat's turned way up in this sexy romance
Mike Myers,
Ryan Phillippe
,
Salma Hayek
, Breckin Meyer, Neve Campbell, Sela Ward
Ever wonder what would have happened to Tony Manero if the hero of
Saturday Night Fever
had strutted across the Brooklyn Bridge and tried out his dance moves at Studio 54? Wonder no longer. See 54, a deeply dumb movie about the late '70s heyday of Manhattan's most exclusive disco as seen through the eyes of a Tony Manero-type guy (Phillippe) who becomes a busboy at the club and then—hang on to your corporate flow chart—is promoted to bartender. Phillippe's blond naif starts out working-class in New Jersey, but in less time than it takes to learn the hustle, he is snorting coke, bedding rich babes (one of whom purrs at him, "You have the body of David and a face by Botticelli"), flirting with men and posing for beefcake shots in Interview magazine. Is this life empty and meaningless? You bet. Will he find out before it's too late? It's way too late, if not for him, at least for viewers, right from 54's earliest scenes.
The only reason to see 54, haplessly written and directed by first-timer Mark Christopher (with help from studio higher-ups, who insisted he recut and reshoot much of the film), is for Myers's deliciously smarmy turn as a stoned-out, lecherous Steve Rubell, the disco's co-owner. (R)
Bottom Line: The title reveals the movie's IQ
Olivier Martinez, Aitana Sánchez Gijón
Martinez, as a French foundry worker in 1912, wins the company's annual strength contest and for his prize is sent to Southampton to witness the launch of the Titanic. Shortly after he checks into his hotel, Gijón, a beautiful woman claiming to be a chambermaid on the doomed vessel, invites herself into his room for what proves to be an erotically charged but ultimately chaste night. The next morning she sails, and he returns home, intoxicated with romance. He becomes a local Spalding Gray, holding the town spellbound with increasingly detailed monologues about his imagined passion.
This French-language import might have been a pretty little fable about obsessive love, but the handsome Martinez, who has full, pouty lips and a tiny, inexpressive voice, seems less like a fool for love than a depressed fashion model. (No rating)
Bottom Line: Like the big ship, it sinks
SLUMS OF BEVERLY HILLS
Growing up poor on the edges of 90210-ville isn't easy for the teen heroine (Natasha Lyonne) of this caustically comic coming-of-age story. Slums marks a highly promising debut for director-writer Tamara Jenkins. (R)
SAVING PRIVATE RYAN
If you've been avoiding Steven Spielberg's World War II epic because you think it's too bloody—well, you're right, but you're also missing that rare thing, a great movie. Ryan's violence never seems gratuitous, merely the way it was. (R)
RETURN TO PARADISE
Vince Vaughn and Anne Heche steam up the screen in a taut little thriller that seems to have gotten lost in the late summer movie shuffle. She's a lawyer out to convince Vaughn to return to Malaysia to save an imprisoned pal from hanging. (R)
Contributors:
Tom Gliatto.
Koji Yakusho, Misa Shimizu
Advertisement
Treat Yourself! 4 Preview Issues
The most buzzed about stars this minute!