People Top 5
LAST UPDATE: Tuesday February 10, 2015 01:10PM EST
PEOPLE Top 5 are the most-viewed stories on the site over the past three days, updated every 60 minutes
Scoop
Buzz, Trends, News and Views
The joke's on her and Morgan Fairchild could not be happier
Focus
In roles like Dallas's Jenna Wade, Falcon Crest's Jordan Roberts or Flamingo Road's Constance Carlyle, Morgan Fairchild became the sum of her parts: the ultimate two-faced man-eater prowling the 1980s' prime-time soap operas. Now she's making a living making fun of herself, most prominently in a series of Old Navy commercials and, in an eye-popping turn, in the new Eddie Murphy comedy Holy Man. "I've always loved poking fun at that glamorous public image of me," says Fairchild, 48. "I like to take the blonde icon thing and twist it all over the place." In Holy Man, her face is silly-puttied by an electronic facelift machine. Her father, seeing a picture of her taken from the movie in a tabloid, called it grounds for a lawsuit. Even Fairchild didn't know what the special effects would do to her familiar visage until she saw the trailer while attending another movie. "I laughed—everyone laughed," she says. "It got a big reaction." In her other recent appearances—as Chandler Bing's va-va-va voom mom on Friends, or a soap opera diva who was hurled off a cliff on Cybil—Fairchild gleefully goofs on her '80s image. "I got typecast by Hollywood," she says. "I didn't even see it happening at first, but I probably should have. I played a dish in a TV movie [The Initiation of Sarah, 1978], and it's haunted me my whole life. Ever since, I've been cast as the glamorous bitch." Today her dream is to send up Morgan Fairchild full-time. "I wish," she says, "someone would do a sitcom where I spoofed myself."
Rescue Business
Maybe it's time for
Tom Cruise
to think about investing in tights and a cape; like some comic-book superhero, he keeps showing up in the nick of time. In March 1996 he cared for a hit-and-run victim in Santa Monica until help arrived; that July, at the Mission: Impossible premiere in London, he helped keep a 7-year-old boy from getting crushed by the crowd. A month later, Teenage Mutant Ninja Tom helped five people escape from a burning boat off the Italian coast. So what's he done lately? According to the British press, Cruise and a bodyguard chased muggers who were robbing a woman near the home the actor and his wife,
Nicole Kidman
, are renting in London. Cruise's spokeswoman says this time, however, the truth is more modest. "When he got there [the robbery] had already happened," the spokeswoman said after the Sept. 23 incident. "The woman was there with her young daughter, and he was trying to comfort them." Still, Cruise gets points for gallantry.
Hollywood's Secret Weapon
Thanks to Ted Cooke, some of Hollywood's big names have been walking around loaded. Johnny Carson, James Caan, Jim Belushi and NYPD Blue creator Steven Bochco are among the Hollywood heavies Cooke, the longtime police chief of Culver City, just west of Los Angeles, has licensed to carry loaded handguns outside their homes. In 1997 the Culver City Police Department issued 320 "carry permits"—compared to 158 over four years for Los Angeles, which has 89 times the population. Cooke admits he has a "soft spot for anybody that legitimately needs to protect themselves from crazy people." He defended the permit for Caan, who denied on his 1997 application that he had ever been a drug user, despite publicly acknowledging a stint in drug rehab three years earlier. "I would have to have independent knowledge of drug I use," Cooke says. For many, the chief's generosity is fast becoming moot: California has begun to require carry-permit holders to live where the permits were issued, arid few stars live in blue-collar Culver City. One who does, though, isn't giving up his license. "I'm carrying [a gun] right now," former Diff'rent Strokes star Gary Coleman, who is now a security guard, told PEOPLE. "I think every citizen in America should be armed."
Sounds Like a Problem
Some folks are getting huffy about Puffy. Rap impresario Sean "Puffy" Combs's parties are a little too jovial for neighbors of both his Manhattan restaurant and his Long Island, N.Y., country home. Loud crowds gather outside the eatery, called Justin's, so often that the landlord has threatened to cancel the lease. "There's no more noise associated with Justin's than any other successful restaurant," says Combs's lawyer Kenny Meiselas. Meanwhile, Debra Lobel, who lives next door to Combs's East Hampton house, has called the police three times to complain about raucous bashes. Cops say the noise is within legal limits, and "the other neighbors," adds Meiselas, "really haven't complained."
ON THE BLOCK
MARGARITAVILLE
Singer, author and good-times ambassador Jimmy Buffett has sold his two-house compound in Key West, Fla., after having moved on to the less barefoot precincts of Palm Beach, where he believes life is better for his three children. The duPont Registry, a publishing company that bought the spread for $900,000, will use it as a corporate retreat. It comes with a swimming pool, steam room, commercial kitchen with pizza oven and boat dock. Blender and salt shakers are extra.
At These Prices, Who Needs Scalpers?
The mud of Woodstock couldn't have seemed farther away. As waiters poured oceans of Dom Perignon champagne and moved amid tables piled with beluga caviar, Rod Stewart performed Sept. 28 in the cozy, 80-table ballroom at Manhattan's as-yet-unopened Cipriani Wall Street hotel. The WIP audience of 800 included everyone from Jon Bon Jovi, Regis Philbin and Donald Trump to Iraqi Deputy Prime Minister Tariq Aziz. High-spirited diners—who sat at tables of 10 that cost up to $1,500 a seat for the night—danced on the linen-draped tables, sang along and tossed roses onstage. "Wall Street or not," said Cipriani publicist Barbara Archer, "they knew all the words." Organizers wouldn't say what Stewart was paid for his 90-minute gig (about an hour less than his Madison Square Garden concert a few days later), but confessed they couldn't sign the Rolling Stones, who demanded $3 million, said Cipriani managing director Louis Rose. "That," Rose added, "was over our budget. Maybe in the future."
Police Siren
It wasn't the first time
Pamela Anderson
Lee was accused of having a body that could stop traffic. Just hours after her estranged husband, Tommy Lee, was released from jail Sept. 5 after serving nearly four months for assaulting her, the former Baywatch star was involved in a nude photo shoot for photographer David LaChapelle. Culver City, Calif., cops stopped the outdoor shoot, which centered around a wrecked car, when LaChapelle couldn't provide the proper permit. By that time a fully dressed Lee emerged from a nearby building to plead his case. "She made a valiant effort to get me out of the citation," says LaChapelle, who wound up with a ticket that was later dismissed. "Their faces really changed when she came up, but they wouldn't budge."
Girl Talk
Monica Lewinsky can't seem to figure whom to chat with for her first public interview. A confidant says Monica was "disappointed" that negotiations with
Oprah
Winfrey fell through (Winfrey implied the ex-intern wanted to be paid; Lewinsky wanted to secure rights to any overseas sales of the show). As for Roseanne's $2 million offer, forget it. "Do you really think she'd consider that?" the source said. Lewinsky is considering doing one interview for U.S. TV, one for print and one for international media. But not everyone is in line. "There is absolutely no interest in that here," says a staffer for
Rosie O'Donnell
. "It's not our [kind of] show."
The Morgan After
Advertisement
Today's Photos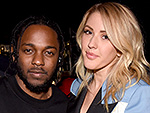 Treat Yourself! 4 Preview Issues
The most buzzed about stars this minute!