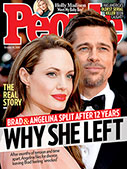 This Week's Issue!
People Top 5
LAST UPDATE: Tuesday February 10, 2015 01:10PM EST
PEOPLE Top 5 are the most-viewed stories on the site over the past three days, updated every 60 minutes
Bubbling Over
Actress Jaime Nicole Dudney, Barbara Mandrell's Daughter, Takes a Spin on As the World Turns


That would be Nashville, where her mother, country singer Barbara Mandrell, raised her amid the splendor and excess of a privileged youth. Dudney, 22, grew up expecting visits from "Aunt" Dolly Parton (as well as from Mandrell's sisters Irlene and Louise, Barbara's costars in an NBC variety series that ran from 1980 to '82). She went to private school with the grandchildren of Johnny Cash and Conway Twitty. But since July, when she signed on to play Georgia Tucker, a tough-talking beauty on CBS's As the World Turns, Dudney has been just another actress making a name for herself. Still, she says, acting's not her first passion. "If I could have any occupation it would be what Mom does," says Dudney, who shares her apartment with her only companion, cat Issabella. "There's got to be no better feeling than having 20,000 people singing your songs. But I'm a better actress than singer."

Her mother, who frets over her daughter's safety when Jaime visits Central Park (" 'Mom, it's the afternoon,' I'll tell her"), is quick to agree. In the fall of '97 the two women appeared on the CBS hit drama Diagnosis Murder. "I've been watching her acting, and there have been times I'm amazed," says Mandrell, 49, who has been married for 31 years to her manager, businessman Ken Dudney, 57, Jaime's father (the couple's other children are Matthew, 29, a chef, and Nathaniel, 13). Working with her daughter made Mandrell realize how seriously Jaime took the job. "Even when it was a 6 a.m. call, she'd be there at 5:40 a.m. And she never dropped a line. I dropped a line, Dick Van Dyke dropped one, but not Jaime."

The vivacious Mandrell's ambition and talent kept her touring, kids in tow, almost nonstop. "By the age of 2," says Dudney, "I had been in every state except for Hawaii and Alaska." Her Whites Creek, Tenn., home was a gigantic 27,000-square-foot log cabin on 130 acres. Yet Dudney sums up her childhood as "really normal," with her dad handling day-to-day parenting chores. "He'd fix my hair or go to cheerleading meetings with me," she says. "He was Mr. Mom." She worked summer jobs (pumping gas, for one) and was expected to study hard—or else. Once, when her grades weren't up to snuff, she had to stay home while her folks visited with President and Mrs. Bush.

A pall fell over this glittering childhood on Sept. 11, 1984, when the car Mandrell was driving with Jaime and Matt was hit head-on by another vehicle on a four-lane highway. While Matt sustained facial and internal injuries and Jaime a large bruise, their mother suffered a serious head injury and broken bones (the driver of the other car, a 19-year-old man, died in the accident). Over the next year and a half, Mandrell slowly recovered but, severely depressed and in constant pain, "she stayed in her bedroom 24 hours a day, with the blinds closed," recalls Dudney. The spirited Mandrell of old began to reemerge only after longtime pal Minnie Pearl coaxed her into taking lunch by the pool. Within a month, Mandrell was pregnant with Nathaniel ("He added the happiness we'd been missing," says Dudney) and, in 1986, she returned to the stage. After all, says Dudney, her mom "was born to be a star."

Dudney's own star began its ascendancy in 1993, when she won the Miss Tennessee Teen contest, which she had entered on a whim. Her victory landed her an agent, and her photo made its way to a Hollywood producer, who lured her to L.A. to shoot a pilot that went nowhere. As World's Georgia Tucker, though, Dudney delights. "Jaime is not the perfect Barbie doll," says executive producer Felicia Minei Behr. "She's very real to the audience."

Given the travails of Mandrell's celebrity, Dudney doesn't want to get too real. "To this day when we go to a place like Disney World, Mom has to put on a short brown wig, brown contacts, a straw hat and glasses," says Dudney. For now, "the biggest challenge for me is accepting that I'm a good actress."

Joanne Fowler in New York City


Ask actress Jaime Nicole Dudney if she's a natural blonde and she'll promptly bow her head, part her hair and show you that she's anything but. But those aren't the roots that concern her. Meandering around her small Manhattan apartment, Dudney enters the kitchen and points to her most significant keepsake—a tattered Tennessee license plate. "I keep this here," she says, "to remind me of where I'm from."
Advertisement
Treat Yourself! 4 Preview Issues
The most buzzed about stars this minute!