People Top 5
LAST UPDATE: Tuesday February 10, 2015 01:10PM EST
PEOPLE Top 5 are the most-viewed stories on the site over the past three days, updated every 60 minutes
More Than Friends
Prime-Time Princess Courteney Cox and Class Clown David Arquette in Love and Altar-Bound? What a Scream!
Courteney Cox Arquette
would plant on Tom Selleck, her former TV boyfriend on
Friends
—that was just the expression on her face one day last August. But Cox wasn't acting when she visited the set of 20th Century Fox's romantic comedy
Never Been Kissed
to watch her real-life beau, David Arquette, film a scene. "She had a big girlfriend smile on her face and was pointing out David for her mom and sister," says Michelle Stephan, an extra on the film. "You could tell she was closely watching everything he was doing and smiling the whole time."
Get used to that grin. The 34-year-old actress, who plays perennially single Monica on
Friends
, and Arquette, 27, the impulsively wacky star of a string of independent films and those scary AT&T ads, are engaged to be married following an unlikely courtship of more than two years. "It's one of those cases where opposites attract and complement each other in wonderful ways," says director Wes Craven, who watched Cox and Arquette fall in love while making his blockbuster horrorfests
Scream
and
Scream 2
. Craven says Arquette "brought a lot of excitement and a kind of mad whimsy to her life, and she brought a rootedness and a great amount of wisdom and love into his." Cox recently told Craven that a chair Arquette moved into her sleekly decorated four-bedroom house in Brentwood, Calif., was in the shape of a giant hand: "And Courteney said, 'I don't care. Before, if anybody had brought anything into my house that didn't match, I'd have gone crazy. But now it just all seems kind of fun.' "
Craven capitalized on the Cox-Arquette mismatch by having their
Scream
characters—she played ruthless TV reporter Gale Weathers to his bumbling deputy Dewey Riley—kiss at the end of the sequel, a scene that made audiences cheer. That chemistry carried over to real life, which—on the day that Arquette popped the question—proved explosively effective. The couple were vacationing on an East Coast beach last month, according to Craven, when Arquette suddenly dropped to one knee. "
Courteney Cox Arquette
," Arquette bellowed as fireworks blasted off a barge he had hired for the occasion, "will you marry me?" When a beaming Cox accepted—to the delight of members of her family who were vacationing with the couple—Arquette slipped a Victorian engagement ring on her finger. "That was classic Courteney and David," says Craven. "He did something so unabashed and so heartfelt, and she just went with it."
Expect more of the same at the couple's wedding (they've yet to divulge a date). "David is very creative with things like that," says Patricia Childress, an actress who appeared with him in the 1996 TV miniseries
Dead Man's Walk
. "He does everything with flair." For a while, Arquette—who with actress sisters Patricia and Rosanna and brothers Alexis and Richmond make up one of Hollywood's quirkiest acting families—was worried that his zaniness might get in the way of romance (he would ease the
Scream 2
tedium by slipping into Cox's dresses). "I'm a little too wild for her," he told PEOPLE in 1997. "She deserves someone who is more together than I am."
Actually, he was just what the nurturing Cox was looking for. "You can tell that girl wants a family life," Cox's mother, Courteney, a homemaker, told PEOPLE in 1995. But rebounding from the breakup of her 5½ -year relationship with actor Michael Keaton, Cox seemed wary of the dating game. "Relationships are tougher than I thought," she said to
USA Today
in 1997, "and I've got a lot of work to do on myself." But, she added hopefully, "actors dating actors can work out. The most important thing is to be with someone who's creative and passionate about what they do."
Now the trick for Cox and Arquette is finding time to be together. He's working on a number of projects, including filming the title role in
The Darby Crash Story
, while she's in Los Angeles taping
Friends
, now in its fifth season. Of course, Cox is hardly the first Friend to be felled by Cupid's arrow. Costar Lisa Kudrow led the way by marrying Michel Stern in 1995 (the couple's baby boy Julian Murray was born in May), and
Jennifer Aniston
seems poised to follow. She recovered from a split with longtime beau Tate Donovan (
Trinity
) by landing Hollywood's most sought-after bachelor,
Brad Pitt
, who sings monogamy's virtues in the November issue of
Vanity Fair
. "What's a bigger high?" he asked. "Spending your life with another—I feel I'd be quite good at it."
Those words ring particularly true for Cox. The Birmingham, Ala., native—one of four children—was only 10 when her father, Richard, a building contractor, and her mother were divorced. She stayed close to both parents but reacted to the instability by becoming highly disciplined. Her focus paid off when she began modeling and acting as a teenager (that was she boogying onstage with Bruce Springsteen in his 1984 video for "Dancing in the Dark"). "Behind her beauty-is a brain and a powerful drive," Ian Copeland, a music agent 15 years Cox's senior, told PEOPLE in 1995. Copeland says he nearly married Cox in the early 1980s, before her rising career led to a breakup. "I never should have let her out of my sight," he said.
Cox's visibility was rising, as she played Michael J. Fox's girlfriend on
Family Ties
and Jim Carrey's straight (wo)man in 1994's Ace Ventura: Pet Detective. That year she hit the small screen in Friends, the latest smash in a resume full of mainstream successes—a career arc that David Arquette had no interest in pursuing. Born on a religious commune in Winchester, Va., Arquette stems from a long line of entertainers: His great-grandfather was a vaudevillian, and his grandfather Cliff Arquette played the comic character Charley Weaver (his father, Lewis, 62, and his mother, Mardi—she died in 1997—were both actors). But after landing his first professional gig—in the 1990 FOX TV drama
The Outsiders
—David charted his own eccentric course, starring in low-budget flicks like the 1997 movies
Johns
and
Dream with the Fishes
. "I don't want to be the $20 million man," he told The Hartford Courant last year. "Not that I'd do anything extremely damaging, but I do live my life the way I want to."
A self-professed romantic, Arquette was linked with Ellen Barkin, his costar in Wild Bill. But by the time he was cast in
Scream
, he was unattached—just like Cox, who dated Counting Crows singer Adam Duritz after her split from Keaton. "From that very first day, you could tell something was going to happen with them," says Jamie Kennedy, their costar in Scream and Scream 2. "At the read-through he'd make a joke, and she'd just laugh and keep looking at him. She literally couldn't take her eyes off him."
Yet despite their obvious attraction ("You'd catch them flirting around the food truck," says Kennedy), Scream director Craven sensed that Cox was apprehensive about letting the friendship develop into romance, because Arquette was younger and had a well-known wild streak. Then, last year, during the filming of Scream 2, it became clear that Arquette's mother was dying. "He had to do these romantic and comedic scenes at the same time he was taking these terrible phone calls [about his mother]," says Craven. "He was going through hell." When she died of breast cancer that August, Cox comforted him. "She was there with him, with her arm around him, helping him get through it," says Craven. "She has seen him through some very dark times."
After that their relationship fused. The couple were cozy at May's MTV Movie Awards in L.A. and cuddly at the June 1 premiere of The Truman Show. Cox was also a visitor to the set of Arquette's first mainstream movie, Never Been Kissed, which costars Drew Barry-more. "They're going to be good together as a married couple," predicts an actress who worked on the movie. "He's funny, she's funny. They're just a cool couple."
And, despite their different personalities, a deliriously happy one. "Courteney likes to have control of things, and David has been living on the edge," says Craven. "I think in some ways they scare the bejesus out of each other." But, he adds, "they give each other something that is very important to the other. And, somehow, it works."
Alex Tresniowski
Julia Campbell in New York City and Ken Baker, Todd Gold, Julie Jordan, Craig Tomashoff and Paula Yoo in Los Angeles
Contributors:
Julia Campbell,
Ken Baker,
Todd Gold,
Julie Jordan,
Craig Tomashoff,
Paula Yoo.
Advertisement
Today's Photos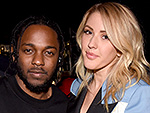 Treat Yourself! 4 Preview Issues
The most buzzed about stars this minute!