People Top 5
LAST UPDATE: Tuesday February 10, 2015 01:10PM EST
PEOPLE Top 5 are the most-viewed stories on the site over the past three days, updated every 60 minutes
Shtick Figure
Proving the Enduring Value of Pie, In-Your-Face Comic Soupy Sales Revives His Career—in the Movies
The face that launched some 20,000 pies is unmistakable. Soupy, 72, is winding down from his own gig, having rocked the Directors Guild of America awards that night with rim shots like this: "I got my genes from my grandmother. On her 76th birthday the doctor told her to run five miles a day. Now she's 94, and we don't know where the [blank] she is. [Pause.] It's my pleasure to present the award for children's programming."
He was always double-edged. In the 1960s he was also a national phenomenon. Ostensibly intended for kids, his absurdist live TV show drew millions of adult fans, notably Frank Sinatra, who helped inspire a Hollywood vogue by getting an on-air pie in the face, Sales's signature shtick. When his moment passed in the '70s, Sales turned to club work and TV game shows. But now he's a movie star. Well, costar. He plays a TV pitchman in Holy Man, with Eddie Murphy, set to open Oct. 9, and a beatnik priest in director Christopher Coppola's forthcoming Palmer's Pick-up, with Rosanna Arquette. Next year he'll appear in Conundrum with Joe Mantegna. "Soupy seems as busy as anyone in Hollywood," says Holy Man director Stephen Herek. "Longevity is everything." Reasons Sales: "Baby boomers who grew up watching me are putting me in their movies."
His show was a '60s youth culture staple. "We'd be at the movies, and kids would be going, 'Soupy! Soupy!' and we'd have to leave," says his son Tony, 47 (a guitarist who, with brother Hunt, 44, a drummer, has played with David Bowie, Iggy Pop and other rock notables). On the air, in his black sweater and polka-dot tie, Sales danced the "Soupy shuffle," coped with zany offstage visitors and riffed with a cast of hand puppets: White Fang, "the meanest dog in the United States," Black Tooth, "the nicest dog in the United States," and Pookie, a lion who played sidekick from a windowsill. The anarchic atmosphere struck a chord with the budding Vietnam generation. "It wasn't the tame, nice-guy Captain Kangaroo bull," says Jeff Kisseloff, 43, author of The Box: An Oral History of Television, 1920-1961. "Soupy was on the edge in his own little way. And we loved him for it."
Once he strayed over the edge and into broadcast legend. Winding up his Jan 1., 1965, show, Sales recalls, "I said something like, 'Tiptoe into your parents bedroom, go into their wallets and take out those little green pieces of paper with pictures of men with beards. Send them to me, and I'll send you a postcard from Puerto Rico.' " He got mostly play money but was nevertheless suspended by New York's WNEW-TV. Viewers promptly picketed the station, and he was reinstated within two weeks.
Sales speaks in a husky drawl tuned in the South. Born Milton Sup-man, he was the youngest of three sons of a Franklinton, N.C., dry-goods merchant and his wife, Sadie. His father died when Sales was 5, but Sadie remarried and the family moved to Huntington, W.Va. "When I was 6, I was playing Peter Rabbit onstage," he recalls. "Suddenly 200 people were laughing and it was like a message from God: This is what you're going to do." Nicknamed Soupbone—later abbreviated—he was voted most popular boy in his high school. Enlisting in the Navy, he saw action during WWII and went on, postwar, to earn a journalism degree from Huntington's Marshall College. While there he met Barbara Fox, a high school student who later became his first wife. After a stint as a deejay, Sales moved to Cincinnati, entering TV with Soupy's Soda Shop, a pre-Dick Clark dance show. In the '50s he ruled local TV in Detroit with various versions of The Soupy Sales Show, a program aimed at kids that soon drew a wide audience among adults. Picked up by ABC, the show relocated to Los Angeles, where in the early '60s it was a runaway hit, with a boost from a certain well-known Soupyphile. "One day he calls up and says, 'Hey, Soupy, it's Frank,' " recalls Sales. " 'I want to come on your show on one condition: I get hit with a pie.' " Soon all Hollywood lined up to be creamed. "The only guy who sent a cleaning bill," says Sales, "was Bob Cummings. We paid him $150 and he sends a bill for 75 cents."
After the L.A. show was canceled, Sales moved it to New York City, scene of its most spectacular success. Then, in 1965 he hit the charts with a spoofy dance record called The Mouse. Performing it on The Ed Sullivan Show, he met dancer Trudy Carson. Two years later, when his marriage was foundering, they crossed paths again in a production of Hellzapoppin at Montreal's Expo '67. The couple, who wed in 1980 after a long courtship, now share a one-bedroom Manhattan apartment.
Over the years, Sales found his steadiest work in comedy clubs. Then, in 1993, he won attention playing Moses in the cult comedy...And God Spoke, his first film since 1966's Birds Do It. Though thrilled with his renaissance, Sales longs for a return to the tube and is shopping a sitcom pilot costarring son Tony. "The world doesn't generate a guy like Soupy Sales anymore," Tony says of his father. "He's from a time gone by. That makes him all the richer to appreciate."
Sounds like a benediction, but the Soup is too hot to cool down. "People ask, 'When are you going to retire?' " says Sales. "Why should I? It's not exactly heavy lifting."
With Champ Clark in Los Angeles
Contributors:
Champ Clark.
It is 2:30 a.m in a Manhattan nightclub, and the last R&B set has come to a close. As the performers pack up, a horn player does a double take. There, schmoozing with the band, is a white-haired visitor in a black tuxedo. "Am I dreaming," asks the sideman, "or is that Soupy Sales?"
Advertisement
Today's Photos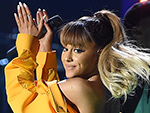 Treat Yourself! 4 Preview Issues
The most buzzed about stars this minute!