People Top 5
LAST UPDATE: Tuesday February 10, 2015 01:10PM EST
PEOPLE Top 5 are the most-viewed stories on the site over the past three days, updated every 60 minutes
Picks and Pans: Pages
Talking With...
In
Interview with the Vampire
22 years ago, Anne Rice introduced readers to the ravishing, aesthetically refined realm of the undead. Compared with Rice's characters, Hollywood's Count Draculas were doddering curmudgeons with false fangs. Here, in the seventh of her vampire chronicles, she resurrects the brooding Armand, who was last seen two books ago suicidally singeing himself in the sun's rays, testing the limit of his powers. Now we find him up to his neck in erotic high jinks and 15th-century Venetian intrigue, agonizing over his relationship with Marius, who gave Armand the kiss of immortality. But Rice saddles him with two misplaced companions, revisits too much familiar material and, worst of all, waits too long to explain how Armand ever survived that sunbath. (Knopf, $26.95)
Bottom Line: Not the biting chronicle we've come to expect
by Anthony Holden
It's an uncomfortable notion, but Anthony Holden—author of two previous biographies of the Prince of Wales—doesn't hesitate to voice it: In many ways, Princess Diana's death has been "a blessing" for her ex. With her do-good dazzle extinguished, Charles's quieter brand of service shines; his new primacy in his sons' lives, meanwhile, spares him the more vicious media criticism that flourished while Diana lived.
However, should the prince start to feel too pleased with his lot as he nears his 50th birthday on Nov. 14, Holden's book will remedy that. Once friendly with his subject, the author later took Diana's side and delights in noting Charles's foibles: He made Di miserable, he has backward ideas about architecture, he used to make girlfriends call him "sir" even in moments of intimacy.
Yet
Charles
also includes wise words on the monarchy's evolving role—and a sly fix for the Camilla Parker Bowles problem: The prince should take a page from Diana's media-savvy book. One photo "of the boys smiling in Camilla's company," Holden writes, "and public opinion would soon swing round." (Random House, $24.95)
Bottom Line: Flawed but fascinating portrait of a life in flux
by Stephen J. Cannell
Page-turner of the week
Beverly Hills layabout Wheeler Cassidy has only three interests: Scotch, golf and hitting on the wives of fellow country-club members (he calls it spearfishing). But when his respectable lawyer brother Prescott dies abruptly at his desk and his secretary is found dead after grisly torture, Wheeler has a mission. His investigation leads quickly to Hong Kong and mainland China and to a passionate lecture by author Cannell (
King Con, Final Victim
), who argues that Chinese organized crime is flooding the U.S. with drugs, guns and illegal immigrants (a journey known as riding the snake). With its crackling cast of power brokers, California cops and Asian gangsters, Snake slithers along to an explosive climax under the streets of Los Angeles, where Wheeler finally must deal with guilt over his irresponsible past. (Morrow, $25)
Bottom Line: A fine ride with a master at the wheel
by Judith Krantz
Judith Krantz knows where her brioche is buttered. So her latest novel packs plenty of the shameless name-dropping and over-the-top glitz that helped put her previous efforts (
Scruples, Spring Collection
) on bestseller lists. In
Jewels
, Princess Grace, Meryl Streep and David Lean are all woven into the plot, together with a veritable primer on pearls.
This time, Krantz also delivers something else: an affecting tale about the complicated bonds between mothers and daughters. Actress Tessa Kent is beautiful (this is Krantz, after all), a world-renowned star and the adored wife of an Australian multimillionaire. She's also keeping a desperate secret. When she was 14, she gave birth to a baby, Maggie, whom her mother raised as Tessa's sister. The deception allowed Tessa to achieve her dreams, but when the lie is revealed, on Maggie's 18th birthday, both women must confront the consequences.
Krantz never makes her characters very deep, but she hooks fans with masterly storytelling. And the unexpected mix of flat-out glamor and unvarnished emotion makes
Jewels
worth collecting. (Crown, $25.95)
Bottom Line: Semiprecious suds
>
THE BLESSING Jude Deveraux
A Wall Street tycoon and his kid brother, a country doctor, vie for the affections of an earthy young widow in Kentucky. From the author of
An Angel for Emily
. (Pocket, $20)
EVERYBODY DIES Lawrence Block
In the 14th adventure of this best-selling series, a sober and married Matthew Scudder, P.I., finds himself in the middle of a violent turf war. (Morrow, $25)
KING OF THE WORLD David Remnick
No, not James Cameron, but Muhammad Ali in his '60s heyday, as rendered by the editor of
The New Yorker
. (Random House, $25)
>Joan Lunden
After 20 years of crawling out
of bed at 3:30 a.m. so she could greet the dawn on the set of
Good Morning America
, Joan Lunden knows exactly how to describe the best part of leaving her job: "Waking up to the sunshine." Staying up late wasn't bad, either. "My kids would say, 'Mom, it's 11:30—go to bed!' But I was so infatuated with staying up!"
And though she had yearned to make a change in her life, Lunden, 48, admits that surrendering her show took away a big piece of her identity. Now she has turned her angst into
A Bend in the Road Is Not the End of the Road
(Morrow), a book she offers as a tutorial in finding opportunity in unexpected change. "We all have the same fears about transitions," says Lunden, who says that wealth and fame did little to cushion hers. "But there's a pot at the end of the rainbow."
There certainly was for Lunden, who stepped right into her
Behind Closed Doors
specials for ABC. Now living in Connecticut with her three daughters and dating Jeff Konigsberg, 37, she is also planning a syndicated talk show. "Futures don't just happen," she says. "They're created." With her level of ambition, she had better not get too used to sleeping in.
Contributors:
Nick Charles,
Kim Hubbard,
J.D. Reed,
Cynthia Sanz,
Cynthia Wang.
by Anne Rice
Advertisement
Today's Photos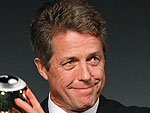 Treat Yourself! 4 Preview Issues
The most buzzed about stars this minute!