People Top 5
LAST UPDATE: Tuesday February 10, 2015 01:10PM EST
PEOPLE Top 5 are the most-viewed stories on the site over the past three days, updated every 60 minutes
Tough Cookie
Bossy and Brassy, Ashlee Vann Runs a Kids' Food Program with An Iron Fist. Oh, One More Thing—She's 11
Vann, in fact, has every reason to carry on like a peevish preteen—she's only 11 years old. A 4'7" dynamo with a blinding smile and a no-nonsense demeanor, Vann holds the title of coordinator of one of the three Kids Cafes in Springfield, Mo. There are 185 such cafes in 21 states that provide free meals exclusively to children (they're funded by Second Harvest, the nation's largest charitable hunger-relief organization). But the Kids Cafe where Vann works is the only one actually operated by a kid.
"It was a natural thing for Ashlee to do," says Tammy Stafford, 31, the unit director of Springfield's Kynion Boys & Girls Club (home to the Kids Cafe), who last year tapped Vann to help her manage things. "She wants and takes responsibility. And when we made her coordinator, she puffed up like a peacock."
Vann began volunteering at the cafe last year to help ease one of the nation's most shameful burdens. According to Second Harvest, more than 8 million children suffer daily from the effects of chronic hunger. Each day after her fifth-grade classes end at Weller Elementary School—and on some Saturday afternoons as well—Vann walks three blocks to the Kids Cafe, which has been in operation since 1997. There she helps cook and serve free dinners to 75 children a night (no minimum income is required, but most of the children come from disadvantaged families). "It's fun," says Vann, who must make sure that each child gets a square meal. "Sometimes the kids only want dessert," she explains. "But they have to eat most of their dinner before they get dessert. I'm sorry, but that's the rule."
And rules, as Vann's charges soon discover, are meant to be followed. "She knows how to take charge without being bossy," says Linda Dickinson, one of the two or three adult volunteers Vann supervises each shift. "But she also knows how to be bossy when she has to be." Just watch Vann dispensing food—and attitude—to indecisive diners. "Y'all gotta decide what you want," she scolds one group of kids. "Ham or turkey, potato salad or cole slaw. Fine, you don't want either? Okay, forget it!"
Yet Vann doesn't see herself as some pint-size Leona Helmsley. "I'm not mean, I'm tough," she says. "I say 'please' and 'thank you.' But I get mad sometimes, because if you're lazing around, I have to say, 'I need help! I don't need lazing around!' " Nor does she cut the adult volunteers she supervises any more slack than the two or three children she oversees each day. "But," Vann admits, "it's much harder with the adults. They always want to do things their own way."
Ditto Vann. "Everything in this house is set up the way Ashlee thinks it should be," says Cassandra Vann, 30, a single mother who is raising Ashlee as well as son John, 10, in a three-bedroom rented house in Springfield. "I'll get eggs and put them in a bowl in the refrigerator, then she puts them back in the container." The older Vann smiles and-rolls her eyes just thinking about the hard-nosed daughter she calls Miss Ashlee. "We bump heads now," says Cassandra. "Can you imagine what it'll be like when she's 15?"
Probably not much different from when Ashlee was 4. "Even then, she carried a pencil and pen with her everywhere she went," marvels her grandmother Ora Benson, 50, who lives nearby and instilled a love of cooking in her granddaughter. These days, Ashlee routinely fixes dinner for her brother and mother and also keeps the household up and running. "Ashlee's always been my helper," says her mother, who recently lost her job in the human resources department of a local hospital and must rely on help from friends and family to make ends meet. "I probably lean on Ashlee too much. She washes clothes, cooks food. I wake up on a Saturday morning and hear the washing machine going and the Nintendo going, and I know Ashlee's awake."
Remarkably, Vann, who in April received a Gift of Time award (given to outstanding volunteers in Springfield), maintains a straight A average at school even as she juggles her housework, her Kids Cafe duties and her membership in a local children's dance group, the Nubian Queens. "She's very smart and very responsible," says her fifth-grade teacher, Janell Osborn, 25. "She has high expectations of her peers and of herself."
Last year, Vann ran for mayor of the Boys & Girls Club—and lost. "I was so mad," she recalls. "So I said, 'Fine, I want to cook then.' " The next day she was named coordinator at the Kids Cafe. On a typical afternoon, after making sure all her volunteers have shown up, Ashlee slips into the kitchen to whip up meals like macaroni and cheese, spaghetti and beef stew. (Unit director Stafford plans the menus, but Vann often goes along on weekly shopping trips to Ozarks Food Harvest—a food bank that supplies donated goods to the Kids Cafe for about 14 cents a pound.) Vann also wipes tables clean and keeps track of the volunteer schedule. "My mom told me," says Vann, "if you help people, someday they might help you back."
Not that Ashlee is taking any chances—she has her future all planned out. "I'd like to be a chef," she declares. "I'd like to open a restaurant and make fancy foods." And to make sure customers don't forget who's in charge, Vann has a plan. "I'm going to name my restaurant something weird," she explains, "something that only I can pronounce."
Alex Tresniowski
Kate Klise in Springfield and Lauren Comander in Chicago
Contributors:
Kate Klise,
Lauren Comander.
Things are hectic in the Kids Cafe kitchen, and the boss is in one of those moods. "Who got my file messy?" demands Ashlee Vann, after picking up a chocolate-splattered folder. "Wash your hands!" she barks at an arriving volunteer, exasperation etched on her face. Soon, though, the kitchen is running smoothly, and Vann's drill sergeant dramatics give way to gentility. "She's manipulative, ornery and power hungry," whispers the washed-hands volunteer, Michael Meyer, 26. "But after she's done bossing me around, she'll come and give me a hug."
Advertisement
Today's Photos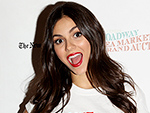 Treat Yourself! 4 Preview Issues
The most buzzed about stars this minute!