Archive Page - 12/1/12 39 years, 2,080 covers and 53,257 stories from PEOPLE magazine's history for you to enjoy
On Newsstands Now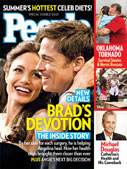 Brad's Devotion: The Inside Story

Oklahoma Tornado: Heroic Rescues

Michael Douglas on Catherine's Health
Pick up your copy on newsstands
Click here for instant access to the Digital Magazine
People Top 5
LAST UPDATE: Friday May 24, 2013 01:10PM EDT
PEOPLE Top 5 are the most-viewed stories on the site over the past three days, updated every 60 minutes
Today, as I sat playing a game with my daughter on a rainy Saturday afternoon, bored out of my mind, the mail slipped through the slot on my front door, and I found Harrison Ford on the cover. It was as if the rain and wind stopped and the sun came out! But really it was my heart that stopped! Thank you for brightening a dreary day. Now if only the real Harrison Ford would slip through my mail slot!
Marilyn Russell, Sacramento
After watching Air Force One, my son Andy turned to me and said, "Mom, I finally figured out why you think Harrison Ford is so sexy." Curious to hear a 16-year-old's interpretation of what his mother found sexy, I asked, "Oh yeah, why?" He said, "Because he's handsome without being pretty, he's masculine without being macho, he has a sense of humor without being a smart-ass, and he always loves his wife and family." An astute observation for a teenage male, don't you think?
Barbara Slaton, Menlo Park, Calif.
What's up with the wrinkleproof Harrison Ford? Harry's the No. 1 heartthrob of my baby boom generation precisely because he's sweaty, wrinkled and rumpled—as if he just snuggled under the covers. The guy on your cover? That's some kind of clone.
Allison Hock, South Pasadena, Calif.
Sexy? Sure...if you're 50.
Denise Clarke, Madison, Wis.
Harrison Ford? Jeez! Who picks these men? My grandmother?
D. Bralley, Leavenworth, Kans.
You must be kidding! Harrison Ford said it best himself: Absurd!
Linda Fox, Novi, Mich.
I have been reading PEOPLE for several years, and I have read many, many special issues, but none as special as this! The night before it was delivered, my family and I decided to guess who would be this year's Sexiest Man Alive. There was only one name I could think of: Harrison Ford. Not only is he sexy, he's modest, funny and he can actually act! I may just be 14, but I've grown out of the
Tom Cruise
s and the
Brad Pitt
s!
Tari Shear, Toronto
In order to pick the Sexiest Man Alive, you would have to see and judge every man alive. Considering you have never seen or judged me, can you be sure you picked the right man?
Gene Ratner, Carson City, Nev.
How do you know we haven't seen you?—ED.
How could you overlook my darling husband, Dave, as the Sexiest Couch Potato? To me, there's none better!
Lorianne Langley, Greenwood Village, Colo.
No need for a double issue! Everything a woman would want was on the cover.
Mitzi Rountree, San Antonio
Men @ Work
I enjoyed the celebrity parts of your Sexiest Man Alive issue, but I was drooling at seeing the ordinary guys in everyday jobs looking so good. The men of New York's Bravest (firefighters) make me want to move to New York!
Sharon Stocker, Wildwood Crest, N.J.
As much as I love to look at those sweaty blue-collar muscle men, I would love to see equal exposure for the white-collar man. There's something to be said for a well-tailored suit with a perfect Armani tie, lots of money and brainy talent. And while you're at it, can you throw in some ethnic diversity next time around? You showcased Caucasian and African-American men nicely, but there's a lot of variety out there.
Lynn Adrian-Hsing, San Francisco
Forget Harrison Ford. Tell us more about firefighter Tommy Caruso!
Christine Fischer, Roslyn, Pa.
Dear Santa,
You can find my Christmas wish list in the Nov. 16 issue of PEOPLE. I'd like to add Tampa Bay Buccaneer Mike Alstott, Val Kilmer, Blair Underwood, Montel Williams and Jon Bon Jovi. P.S. I've been very good this year!
Susan Leslie, Tarpon Springs, Fla.
Elvis Grbac
By naming Elvis Grbac the year's sexiest athlete, you robbed Mark McGwire of his rightful title. Not only did he break one of baseball's hallowed records, he did it with grace and class uncharacteristic of many athletes. Add that to his devotion to his son and his sheer love of baseball, and that's as good—and as sexy—as it gets.
Aimee K. Vercher, Lafayette, La.
Fathers and Sons
It was worth the price of the magazine just for the photo of Tony Danza and his son Marc. In this age of fatherless sons, that picture spoke volumes about the beauty of the father-son relationship.
Linda Phillips, New Port Richey, Fla.
Hair Matters
To your list of sexy men who are, shall we say, follically challenged, legions of female fans (including me) would add James Taylor and his beautiful, balding pate.
Nancy Lindeberg, New York City
Daniel Shay
We shouldn't be surprised that Daniel Shay thinks he is within his rights to draw as he drives, because driving isn't challenging enough for some people. We have an automotive industry that provides vans with VCRs; sound systems capable of moving earth, not to mention damaging the ears of anyone in proximity; and cell phones for drivers who concentrate on anything but the road. I only ask one favor of Shay and his compatriots—stay away from me on the road!
Marjorie Rubenstein, Sacramento
Mavis Leno
I was stunned by the horrific images of the Afghan women. Kudos to Mavis Leno and PEOPLE for bringing their plight to our attention. If all this suffering began only two years ago, how bad will it be, say, two years from now? How can people follow Leno's lead in ending an atrocious example of human cruelty?
Nikki Sprinkle, Knoxville, Tenn.
This is 1998, for God's sake! Please tell us more about these women and what we can do to help.
Roberta Baker, Grants Pass, Ore.
For information write to: Feminist Majority Foundation, 8105 West 3rd St., Los Angeles, Calif. 90036 or call 1-888-93 WOMEN.—ED.
Tim Russert
Tim Russert really makes politics interesting. He is fair and unbiased. Like his viewers, Tim is looking for the facts from his guests, and he certainly has the touch to get them!
Kiersten Vitale, Gloucester, Mass.
Scoop
I really feel sorry for New York Daily News photographer Richard Corkery for his lack of success in getting a picture of
Jennifer Aniston
and
Brad Pitt
together. He argues that his life would be easier if they would "simply smile for the cameras and move on." Tell it to Princess Diana, Mr. Corkery! Photographers such as yourself are never happy with just a smile.
Patricia Bridges, The Woodlands, Texas
Unbelievable! If
Brad Pitt
and
Jennifer Aniston
are dating and they want to keep it low-key so the paparazzi don't ruin it, leave 'em alone. They are not "playing immature mind games"! Who says that just because they are stars they signed away their right to a life?
Lisa Lake, Athens, Ga.
Star Tracks
Thanks for running a photo from The Exorcist's 20th-anniversary party. Unfortunately you forgot to mention the primary reason for the event—to launch my new PETA ad campaign, Animal Experiments Make My Head Spin, which is dedicated to my mother, whom I lost to cancer four years ago. In 40 years of experimenting on animals, we have yet to find a cure—because the answers lie in new technologies using human tissue.
Linda Blair, No. Hollywood, Calif.
Picks & Pans
I can't believe the bad review your critic Leah Rozen gave The Water-boy. I went to see it opening night; it was sold out, and the entire theater roared with laughter throughout the movie. Obviously, your critic is a Siskel and Ebert wannabe minus the talent!
Tina Hendrix, Orlando
Harrison Ford
Advertisement
Treat Yourself! 4 Preview Issues
The most buzzed about stars this minute!