Archive Page - 12/1/12 39 years, 2,079 covers and 53,260 stories from PEOPLE magazine's history for you to enjoy
On Newsstands Now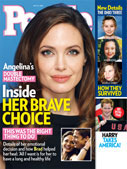 Angelina: Inside Her Brave Choice

New Details on the Ohio Three

Prince Harry Takes America!
Pick up your copy on newsstands
Click here for instant access to the Digital Magazine
People Top 5
LAST UPDATE: Sunday May 19, 2013 10:10AM EDT
PEOPLE Top 5 are the most-viewed stories on the site over the past three days, updated every 60 minutes
Ryan's Express
You've Got Mail's Meg Ryan Puts Her Own Stamp on Marriage, Motherhood and Super Soaker Wars
One day there there was a contest
to see who was the best
building pusher in New York City,
who was the best eagle-grabber in
Montana, who was the best
house-stomper in Los Angeles.
And it was Godzilla.
When he died they made movies
about him. Old movies. New
movies. City-destroying movies.
Oh yeah!
"It's the same every single time," says screenwriter pal Callie Khouri, who met Ryan and Quaid on the set of her 1995 comedy
Something to Talk About
(in which Quaid costarred). "The evening does not end until Jack has sung. Maybe it's the hint they drop when they want us all to go home."
As if America's Perky Princess needs to drop a hint to get her way—though, truth be told, she's not exactly thrilled with the "perky" thing. Since she first faked an orgasm in a restaurant in
When Harry Met Sally
a decade ago, Ryan has been pegged as too cute for words—an image that only gets burnished in her romantic comedy You've Got Mail (which opened Dec. 18), her third screen pairing with close friend Tom Hanks. In fact, Ryan, 37, has also played a heroin addict, alcoholic, Army pilot and—in the upcoming drama Hurlyburly, starring Sean Penn, Kevin Spacey and Chazz Palminteri—a drugged-out mother-from-hell. "The woman is a great actress," says Palminteri. "She wants to take risks. I applaud that."
One recent gamble was posing in black leather—hand cupped over a bare breast—for the cover of
Harper's Bazaar
. It was Ryan's way of saying that The Girl Next Door has moved out—and not just on film. In real life, Ryan, No. 59 on
Entertainment Weekly
's most powerful people in Hollywood list this year, has fought the tough fights of adulthood. She has worked to help her husband kick his cocaine habit (successfully—Quaid, 44, has been clean and sober since 1991). She has struggled to come to terms with her rocky relationship with her mother (the two haven't spoken in eight years). And she is still balancing her dual roles as ambitious actress and that rare celebrity mom who doesn't have a full-time nanny. "Being a working mother," Ryan recently told Nina Sadowsky, her partner in her Prufrock Pictures production company, "means that you are always disappointing somebody."
But not her fans. In You've Got Mail, an update of the 1940 classic The Shop Around the Corner, Ryan plays the spunky owner of a small bookshop, and Hanks the owner of a large competing bookstore chain whom she unwittingly falls for over the Internet. As the boyfriend, Greg Kinnear has the unhappy task of dumping Ryan to set the plot rolling. "I had friends go, 'What? You broke up with Meg Ryan?' " says Kinnear. "This is the last girl any guy wants to break up with. I fought with [director and coauthor] Nora Ephron," he adds. "I said, 'We should just get rid of the Hanks guy.' "
When Godzilla flies. Like it or not, Ryan (and the studio execs who paid her a reported $10.5 million for Mail) understands what moviegoers want from her: pleated skirts and sweater sets, a few petulant pouts and a happy ending—preferably involving Hanks. Says Ephron, who directed the pair in 1993's Sleepless in Seattle: "[Audiences] feel that if Meg and Tom had gone to the same high school, they would have been sweethearts." Even Ryan, addressing their much-touted screen magic, admits, "Every now and then, it just seems right."
There's no argument from the crew members of Mail, which filmed in Manhattan last summer. "There was this nice reunion feeling about it," says costume designer Albert Wolsky. "There's this understanding between them." Understanding, for instance, that when taking a break from shooting in a local Starbucks, Hanks will be the one to hop behind the counter to learn how to make the drinks, Ryan the one to stand back and quietly sip her skim-milk mochaccino. "Of the two," says Wolsky, "Meg is the more private one." Hanks respects her reserve. As he says in Harper's Bazaar, "She doesn't need validation. She has a very personal and quiet kind of confidence." And yet, there is a time for quiet confidence, and a time to get silly with a salami—as Hanks did during an all-night shoot (with 100 extras) at the gourmet food store Zabar's. "We have a loud PA system in the store," says general manager Scott Goldshine, "and he'd pick up the microphone and yell, 'Meg Ryan to cheese! Meg Ryan to coffee!' He'd have her in hysterics."
Still, as friends tell it, the little boy in Hanks can't compete with the little boy in her little boy. "I could tell when Jack was on the set," says Mail producer Lauren Shuler Donner. "Meg was instantly and infinitely more happy." "Basically, we plan our lives around our son," says Quaid (who stars as a soldier in Bosnia in the drama Savior) of their day-to-day existence in L.A. As often as possible, Ryan picks Jack up after school. Quaid coaches his soccer team. And they both call plays in front-lawn football games. "Only one of us works at a time, unless it's in town," says Quaid. "There's always going to be another movie, but Jack's never going to be 6 again."
And to Ryan especially, there is nothing more important than giving Jack a happy, stable childhood—one she never had. The second oldest of four children growing up in Bethel, Conn., Ryan was 15 in 1976 when her schoolteacher father, Harry Hyra, now 60 and living in Massachusetts, and her housewife mother, Susan, now 57 and living in Fort Lauderdale, decided to end their 17-year marriage. Ryan sobbed as her mother drove off in her old Ford Pinto, intent on finding a good job before collecting her children. By the time she found one in 1979 (teaching at Choate-Rosemary Hall prep school in Wallingford, Conn.), Ryan was a freshman at the University of Connecticut, doing TV commercials to help pay her way.
The pair's emotional distance lengthened sometime after Ryan fell in love with Quaid—they costarred in the thriller D.O.A. in 1988—and after her mother married freelance journalist Pat Jordan. In several national magazines, including a 1993 interview with PEOPLE, Susan attributed the rift to her concern about Quaid's drug use, which she expressed to her daughter in 1990. Though Ryan no longer speaks about it publicly, she has denied that the drug confrontation was a factor. "It's a very long story," she told Vanity Fair in 1995. "It's 32 years of stuff with this woman."
"Whatever the cause, there is no disputing the outcome: Ryan has refused all contact with her mother since 1990, and Jack has never met his maternal grandmother. "It is what it is," says Susan Jordan. "I hope my daughter is happy."
From all accounts, she is. While her problems with her mother led to a seemingly irreparable rupture, Ryan's initial problems with Quaid have brought them closer together. When he told her about his cocaine use in 1990, she insisted he go into rehab before she would marry him. He did—and began a period of soul-searching that ranged from counseling to a recent two-week trip to India with a Baptist minister friend. "Dennis is a very different person from the guy she fell in love with," says one friend. "He's sober and he's spiritual." As is she. "She's very into the yoganess of the world," says Shuler Donner. And not just the yoga classes both she and Quaid take at a local studio. Says her friend Khouri: "The thing about Meg that surprises people is she is a lot more serious than you would expect. She's just a person who really examines life and all that entails."
Included in that, of course, is her relationship with Quaid. "When Meg talks about Dennis there is a kind of wonderment in it," says her friend Nora Ephron, 57. "There are some people who when they are married don't understand that their spouse is a different person from them. Meg and Dennis are not those kind of people. They take unbelievable joy in the things that happen to the other person." Adds Griffin Dunne, who directed Ryan in 1997's semidark comedy Addicted to Love: "I have always been touched by the fact that whenever you ask her what she is doing, she automatically tells you about what Dennis is doing, as if they are both doing it. They have a very strong bond. I sense they've been through a lot together."
Not least of which are some wicked Super Soaker water gun fights at their 200-acre summer getaway in Paradise Valley, Mont. (They also own a three-bedroom penthouse apartment on Manhattan's Upper East Side.) As Khouri tells it, there is nothing Zen-like about the raucous sense of fun that pervades Ryan-Quaid get-togethers. "They can give each other a hard time in a really good-natured way," she says. "It's not surprising to hear them call each other things that, if you didn't know them, you'd be going, 'Uh-oh.' " Or see them running after each other in their notorious team water fights. Says Khouri: "Everyone claims to be Super Soaker champion."
Water warfare is not the only Paradise Valley pastime. Friends who stay in the guest cabins that dot the wood-and stream-filled property can hike, bike, hit the local antique stores—and watch Ryan read Very Serious Books. "I'm always getting something that she's reading—only I never have time to finish it," says Sadowsky of her partner's reading list—which recently has included anything by or about doomed poet Sylvia Plath, whom Ryan plans to play in a feature film she will also produce. "She's always open to new ideas." Such as, say, scoring the Godzilla Song for two-part harmony? "There's no scoop," says Quaid, "but we do want to have more kids." Perhaps, this time, a pint-size version of Mom: intelligent, complex, gutsy and—of course—perky. "She'd hate me for saying this," says Shuler Donner with a guilty grin, "but she is so damn cute!"
Karen S. Schneider
Danelle Morton, Karen Brailsford in Los Angeles and Natasha Stoynoff, Sue Miller and Tom Duffy in New York City
Contributors:
Danelle Morton,
Karen Brailsford,
Natasha Stoynoff,
Sue Miller,
Tom Duffy.
Advertisement
Treat Yourself! 4 Preview Issues
The most buzzed about stars this minute!