People Top 5
LAST UPDATE: Tuesday February 10, 2015 01:10PM EST
PEOPLE Top 5 are the most-viewed stories on the site over the past three days, updated every 60 minutes
Picks and Pans Main: Tube
Week at a Glance
Show of the week
There's comedy gold in the thought of a gangster getting in touch with his feelings. The concept has been used before (1997's The Don's Analyst, with Kevin Pollak as the therapist and Robert Loggia as the mafioso), and it will be used again (Analyze This, with shrink Billy Crystal counseling Mob boss Robert De Niro, is due in theaters in March). But this 13-week HBO series (premiering Jan. 10) offers more than laughs. It has intelligence and feeling and brutality. The Sopranos hits all the notes.
James Gandolfini (Get Shorty) plays Tony Soprano, who calls himself a waste-management consultant but in fact applies his managerial skills to the supervision of a New Jersey Mafia crew. Tony is under severe stress from several sources, with his widowed mother (Nancy Marchand, in a marked change from her patrician Lou Grant image) resisting a move to a nursing home, his teenage daughter (Jamie Lynn Sigler) growing increasingly alienated, his impetuous nephew (Michael Imperioli, GoodFellas) hijacking a truck without the organization's approval, and his aging uncle (Dominic Chianese) emerging as a rival for Mob power. A series of anxiety attacks brings Tony to the office of psychiatrist Jennifer Melfi (Lorraine Bracco, also from GoodFellas), where he alternately opens up, shuts down and storms out. Gradually the patient reveals himself as a not-wholly-atypical suburban breadwinner adrift in an America where the old values—honoring your elders, obeying your superiors, clamming up when subpoenaed—seem to have lost meaning. Gandolfini gives a superb performance, explosive yet nuanced. His Tony can bust heads with real savagery and still make you believe he's redeemable. A gangster's personal growth? It's not just a funny idea.
Bottom Line: Engrossing portrait of the mafioso as everyman
Syndicated (check local listings)
Give
Pamela Anderson
Lee credit for learning from a mistake. In 1996 the ex-Baywatch babe played a busty (well, of course), black-leather-clad bounty hunter-nightclub owner in a bad movie called Barb Wire. She seemed uncomfortable as an action figure, sneeringly stomping her foes. But Anderson Lee smartly shifted gears for this syndicated series, which premiered in the fall. Here she's more felicitously cast as Vallery, a smalltown innocent who comes to Southern California, gains fame for saving a movie star's life and winds up as front woman for a bodyguard agency catering to celebrities. Though the reluctant Vallery keeps getting dragged into dangerous situations, the rough stuff is mainly the responsibility of security experts Tasha (former model Molly Culver as the gorgeous-but-lethal type), Quick (Shaun Baker) and Nikki (Natalie Raitano). Each episode has its quota of gunfire and explosions, but the tone is agreeably tongue-in-cheek. Anderson Lee smiles occasionally and wears fetchingly snug, light-colored clothing. There's nothing important about V.I.P., but for the star it means progress.
Bottom Line: N.I.P.—Noticeably Improved Pamela
FOX (Thursdays, 9 p.m. ET)
"A mother who confronts her teenage stripper—next!" A Jerry Springer Show promo? No, that's the announcer touting a December segment of this weekly network newsmagazine, which could easily be confused with syndicated tabloid TV of the Hard Copy stripe. After an initial run from July to October, FOX files returned last month to a slot that had been filled by trashy November-sweeps specials. I figured any news program would be classier than When Good Pets Go Bad—until I watched FOX files' reports on teen strippers ("Teddy bears to topless," said correspondent Arthel Neville), shock rock (coanchor Jon Scott promised "the first network look" at Rob Zombie's "Living Dead Girl" video) and sex predators in cyberspace (correspondent Eric Shawn to suspect: "Did you want to have sex with a 13-year-old girl? This is serious stuff, pal").
Not that FOX files shuns unsexy subjects. But it tends to punch up a story even when the facts are strong enough to speak for themselves. Maudlin music nearly drowned out an elderly woman's reminiscence of the son she lost in a 1965 aircraft-carrier accident allegedly hushed up by the government. Coanchor Catherine Crier hurt a story on the 1993 deaths of U.S. servicemen in Somalia by pounding home political points ("What the Clinton administration doesn't want you to know about that battle—after this"). Correspondent Chris Cuomo (son of ex-New York Gov. Mario Cuomo) shows real concern for troubled youth, but he's not too earnest for hype. When a commercial break interrupted a look at a teen's drug overdose, Cuomo said, "Will Pyro live or die? Stay with us." The heartless can switch to Frasier.
Bottom Line: Hype is the headline story
>Sunday, Jan. 17 SELMA, LORD, SELMA ABC (7 p.m. ET) Two Alabama schoolgirls join the 1960s civil-rights struggle in a TV movie based on a true story.
Monday, Jan. 18 CHAMPIONS OF MAGIC III ABC (8 p.m. ET)
Poof—it's a princess! Stephanie of Monaco is cohost for an hour of expert illusions.
Tuesday, Jan. 19 INTIMATE PORTRAIT: MIA FARROW Lifetime (10 p.m. ET) An actress best known for the men in her life (Frank Sinatra, Woody Allen) gets the profile treatment.
Wednesday, Jan. 20 THE NANNY CBS (8 p.m. ET) Fran is swindled out of $1 million. Serves her right for marrying into money.
Thursday, Jan. 21 ER NBC (10 p.m. ET) Feeling more at home on terra firma, Dr. Greene (Anthony Edwards) leans against joining NASA.
Friday, Jan. 22 THE APOSTLE Cinemax (8 p.m. ET) If you're praying for a fine performance, watch Oscar-nominated Robert Duvall in this 1997 drama.
Saturday, Jan. 23 THE POSTMAN HBO (8 p.m. ET) Booed by the critics, Kevin Costner's 1997 bomb lands on cable.
HBO (Sundays, 9 p.m. ET)
Advertisement
Today's Photos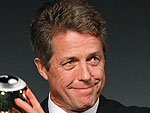 Treat Yourself! 4 Preview Issues
The most buzzed about stars this minute!