People Top 5
LAST UPDATE: Tuesday February 10, 2015 01:10PM EST
PEOPLE Top 5 are the most-viewed stories on the site over the past three days, updated every 60 minutes
Brave Hearts
Brits Rejoice at Prince Edward's Choice, a Commoner with Uncommon Good Sense. But Can She Handle the Royal Glare?
Then she reached the door of the offices of R-JH (for Rhys-Jones Harkin), the public relations company she cofounded in 1997, and discovered that, inexplicably, it wouldn't open. As reporters watched, Rhys-Jones fumbled with the lock before ringing the bell and, a hint of panic in her voice, implored through the intercom: "Will somebody let me in?" (Somebody did.)
You may have to get used to the cold shoulder, Sophie. Cracking the code to surviving in a family strewn with bitter marital baggage is not going to be easy. The Windsors' sink-or-swim approach toward outsiders (daughters-and sons-in-law, that is) was not something they picked up in charm school. "I do think the treatment that Diana and Fergie received from the royal household contributed to the breakup of their marriages," says royals expert Judy Wade. "You're not a person when you marry into the royal family. You're a chattel." So much for fairy-tale marriages.
If anyone has a sporting chance of getting it right, though, it just might be Sophie. In the five years she has dated the Queen's youngest son, this down-to-earth daughter of a tire salesman (Christopher) and a homemaker (Mary), who turns 34 on Jan. 20, has gone riding with the Queen at Sandringham, had regular sleepovers at Buckingham Palace and learned the difference between a full curtsy and a bob. Still, when the couple announced their engagement on Jan. 6 in the garden at St. James's Palace—following her demure "Yes, please" response to Edward's proposal—Rhys-Jones admitted to some trepidation over her new role. Then she added, "I think I am ready for it."
Time will tell. "There's so much intense media scrutiny, especially in the beginning," says British Press Association royals reporter Peter Archer. "It's a real test." Even more so since Edward, seventh in line to the throne, is the only one of the Queen's four children to not yet bungle a marriage (see box, page 89).
For Sophie, there's also the Princess Diana lookalike problem. Described as "Di-dentical!" by British tabs from the moment she appeared at Edward's side in 1993, Rhys-Jones is constantly likened to the late Princess (though at about 5'5" she couldn't possibly fill the void left by the 5'10" Di). Hoping to quash the comparisons, Sophie reportedly made a request to the Queen recently that, when she and Edward marry, she not be referred to as the Princess Edward, the graceless title she's slated for. (Her concern will be moot if, as most royal experts predict, the Queen makes Edward a duke and Sophie gets the title of duchess.)
Despite the downsides, Sophie seems delighted with her choice of life partner. "I've never seen her so happy," says Murray Harkin, her friend and business partner. Others say her prince is equally smitten and has been from the start. "If I ever could have chosen somebody who would be perfect for Edward," says Malcolm Cockren, chairman of Ardent Productions, Edward's TV production company, "it would be Sophie."
Those who knew Rhys-Jones back in Brenchley, Kent, the village 40 miles southeast of London where she grew up, would hardly have predicted it. A bright but unremarkable student, Sophie, along with her brother David (now 35 and an insurance agent), attended local private schools—thanks to extra money her mother earned taking on home typing jobs—before enrolling in a secretarial course at "West Kent College. Marion Vellino, now 50, taught Rhys-Jones shorthand and typing. "I was very fond of Sophie—she was a lively young lady," Vellino remembers. "But if you had told me she was going to marry a prince, I would have said, 'Pull the other one!' "
If former classmates don't recall her as a knockout—"All of us have said how surprised we are at how she has blossomed," says Louisa Feldhaus, now a Sussex homemaker—men always noticed her. "She was a very attractive girl," says retired farmer Michael Noakes, 56, who frequented the Halfway House, a Brenchley pub Sophie worked at when she was 18. "I wished I was 20 years younger myself. And she pulled a good pint."
At age 18, Rhys-Jones moved to London, where she landed a series of odd jobs—and beaus who didn't last—before leaving the city for stints in Switzerland and Australia. Returning to London in 1992, she entered the public relations field. She was helping put the likes of Thomas the Tank Engine and Mr. Blobby (Britain's answer to Barney) on the publicity map when she was hired to promote an August 1993 real-tennis (an old-fashioned form of the game) charity event supported by Edward. "Nobody knew that there was an attraction between them that day," recalls real-tennis champion Sally Jones. "But Edward always had an eye for a bright girl—and Sophie is bright, sparky and fun."
Shortly after, the prince and the PR girl began dating—riding at Windsor Castle, windsurfing, playing tennis or barbecuing together. Friends knew it was serious when the low-profile Edward, who uses "Edward Windsor" as his business name, complained to Britain's press commission when he and Sophie were snapped by photogs exchanging a chaste peck on the grounds of Balmoral in 1994. By 1995, Sophie was abandoning her flatmate in West Kensington several nights a week to bunk at Buckingham Palace, where—to the dismay of the Archdeacon of York, who denounced the Queen for setting an immoral example—she was given a room adjoining Edward's. "If they couldn't be together there, they wouldn't have had any privacy at all," notes Majesty magazine editor-in-chief Ingrid Seward, author of a 1995 biography of the prince.
The Queen's decision to sanction what amounted to cohabitation under her roof—license she gave to neither Diana or Fergie—no doubt stemmed from her determination that future wives of Windsor see what they were getting into. A girlfriend in the house also helped quell rumors that Edward, despite his own string of romantic attachments, was gay. (The rumors began circulating just before the prince took a production job with Andrew Lloyd Webber's Really Useful Theatre Company in 1988. Edward publicly denied them in 1990 as being "so unfair to me and my family. I am not gay.")
The cozy quarters at the palace also helped familiarize the new recruit with the royal fold. "She was terrified when she first met the Queen," Sophie's friend Judy Ledger recalls. "But the Queen has been wonderful to her. And she gets on well with Prince Philip because she likes his dry sense of humor." As for Edward, unlike his brother Charles, he has taken care to make sure the woman he loves doesn't feel overwhelmed. "Sophie said he would call to make sure she hadn't had problems after she went out in public," Ledger says. "That's one of the things I think will make the relationship succeed—they have a good friendship, and they talk."
That's not all that bodes well. Sophie and Edward are both devoted to their work. His six-year-old Ardent Productions, which specializes in historical documentaries, is expected to turn a profit this year, and R-JH, at which Sophie plans to continue working after her marriage, has amassed a roster of major clients, including posh jewelers Boodle & Dunthorne and Thomas Goode, purveyors of silver and glassware. "She's very media-aware, since that's what her job is," an observer points out. "And that's most of the battle [in the royal family] nowadays."
At the moment, everything about Prince Edward's future wife makes news: her evolving style (she has gone from Sloane Ranger skirts and scarves to smart, conservative suits by designer Tomasz Starzewski), her relatively low-key wedding plans (she and Edward hope to marry in early summer at St. George's Chapel at Windsor Castle) and, of course, her wedding dress. "If I was doing it, I would make it sleek, not fussy," says Jon Moore, chief designer at the Hardy Amies fashion firm. "I usually say to brides, if they can lay their hands on a tiara somewhere, it's a good opportunity to wear one. There might be someone in the family who could lend Sophie one!"
Once the newlyweds move into their home, Bagshot Park—Edward's 87-acre Surrey estate, now undergoing a $3 million renovation—the hoopla should die down. And while Sophie's ordinary roots have some pundits spelling doom ("Every time one of the royals marry a commoner, they get it wrong," sniffs James Whitaker, royals commentator for Britain's Mirror), veteran royals photographer Jayne Fincher, for one, predicts smooth sailing. "I've photographed Sophie on a number of occasions," she says, "and she is more levelheaded than Diana. She is a nice, unassuming, good fun, sensible girl. They will be fine."
Kim Hubbard
Simon Perry, Nina Biddle, Joanna Blonska and Ellen Lieberman in London
Contributors:
Simon Perry,
Nina Biddle,
Joanna Blonska,
Ellen Lieberman.
Just five days had passed since Sophie Rhys-Jones announced she had agreed to marry Britain's Prince Edward and leave behind her life as a commoner. Yet the 33-year-old ash-blonde stunner walking to work in London's Mayfair section on Jan. 11 already seemed as poised as any princess. Head tilted fetchingly to the side, she parried with reporters about her upcoming wedding to Edward, 34 ("You'll know when we set a date!"). Amid camera flashes she gamely declared that the media's sudden focus on her is "to be expected, isn't it?"
Advertisement
Today's Photos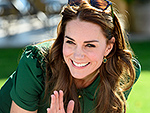 Treat Yourself! 4 Preview Issues
The most buzzed about stars this minute!