Archive Page - 12/1/12 39 years, 2,080 covers and 53,257 stories from PEOPLE magazine's history for you to enjoy
On Newsstands Now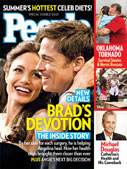 Brad's Devotion: The Inside Story

Oklahoma Tornado: Heroic Rescues

Michael Douglas on Catherine's Health
Pick up your copy on newsstands
Click here for instant access to the Digital Magazine
People Top 5
LAST UPDATE: Thursday May 23, 2013 03:10AM EDT
PEOPLE Top 5 are the most-viewed stories on the site over the past three days, updated every 60 minutes
The Ties That Bind
Separated by a Continent, United by a Lifelong Bond, Hillary and Chelsea Clinton Rely, in These Worst of Times, on Each Other
Two years later it isn't Chelsea Clinton's mother who has become the embarrassment. Instead it is her father, and for the most humiliatingly personal reasons. Over two turbulent decades in politics, Bill Clinton's immediate family—his ambitious, devoted wife and adoring daughter—have always formed a protective barrier around him. Throughout the Lewinsky-and-impeachment ordeal, they have done it again. But this time, because it was Clinton inflicting the wounds, his wife and daughter have reached out to each other more than ever before. In the process, they have strengthened a relationship that began with the birth of a desperately wanted child, grew in the shadow of a sometimes troubled marriage and was nurtured by a mother whose daughter is not only the focus of her emotional life but also her proudest legacy.
And so, at this past New Year's Renaissance Weekend, while a pensive President walked alone on the deserted beach in Hilton Head, S.C., Hillary and Chelsea stayed behind in their borrowed oceanfront house. Following an unspoken rule of their relationship, mother and daughter have always refused to let the world see their private pain. This past year, too, each has faced the world without flinching. "Chelsea has her mother's strength," says ABC's Dr. Nancy Snyderman, a longtime friend of Hillary's. "She's been bred for it." For her part, Hillary, 51, has emerged from behind dark glasses to savor the cheers of crowds in New York (where there has been speculation she may run for the U.S. Senate next year) and elsewhere to flaunt her newly glam image on the cover of Vogue and provide a conspicuous presence at her husband's Jan. 19 State of the Union address.
Chelsea, who will turn 19 on Feb. 27, also has kept her head high. Last summer, the day after her father admitted his relationship with Monica Lewinsky, it was his daughter who seemed to hold the family together, linking hands with both parents as they left Washington for Martha's Vineyard. Aboard Air Force One, Chelsea sat with her mother at some distance from the President. But when the plane landed, she stepped into the breach, bravely marching out to glad-hand well-wishers. "Chelsea took it upon herself to be the emissary, and she was terrific. She just made everyone feel great," says family friend Rose Styron, wife of author William Styron. Last fall another Clinton friend, diplomat Richard Holbrooke, was surprised to see her turn up at a reception following his speech on the Stanford campus. "She gave me a big hello and a hug," he says. "This was at the height of the storm, and she was poised and calm." Then in December, after surviving a busy semester—and a breakup with her boyfriend of six months, swimmer Matthew Pierce—a breathless Chelsea, at the White House on the night of her father's impeachment, appeared "so upbeat and teenage," says a friend of the family's. "She came running in and said, 'I've got to run. I'm so late for a party, my friends are going to kill me.' "
Be assured: Chelsea Clinton is not in denial. In August she listened as her 52-year-old father privately confessed his sexual indiscretions to her and her mother. "He outlined what happened in a very difficult discussion and then asked for forgiveness," says Carolyn Staley, a childhood friend of Bill's. Understandably, Chelsea was furious. "That was a painful, painful time," recalls one former White House aide. "There was a terrible sense of betrayal." And now, in the morning before her seven Stanford housemates are awake, she often sits alone in the kitchen and keeps up with impeachment developments in the newspaper—usually USA Today. (She's not a fan of The Washington Post, which broke the Lewinsky story, because, as she told former presidential adviser Dick Morris's niece, "they don't like my parents.") Beyond that, Chelsea "doesn't talk about the scandal, even to her closest friends," says one of the group that has formed a cordon around her. "It's something I would never bring up to her, and she doesn't let on at all."
Instead, the Stanford sophomore, who wants to become a pediatric cardiologist, turns to her mother for solace, as she always has. The two exchange letters and frequent late-night phone calls. And though no one believes that Chelsea is taking sides between her parents—"She loves them both," insists a friend—she "is very, very much an advocate of her mother's," the friend adds. And what advice is Mother dispensing? Says a longtime friend, who describes Hillary as being "as deeply wounded" as Chelsea: The First Lady is fond of the dictum " 'Just keep on keeping on,' and I'm sure she's told Chelsea that." Beyond that, the two reveal little, even to intimates. "Let's face it. This has just been so humiliating for the two of them," says one former aide close to Hillary and Chelsea. "They don't want to talk about it, and nobody asks."
The closeness between mother and daughter shows up in the smallest gestures. When Hillary began to shiver at a beach picnic on Martha's Vineyard with friends in 1997, it was Chelsea who took off her own jacket to drape over her mother's shoulders. The two also share a spiritual bond: Chelsea often prays with her mother, having chosen Hillary's Methodist faith over her Baptist father's. Now, in the wake of the current crisis, "both Hillary and Chelsea have this inner glow," says Rev. Don Jones, who was Hillary's childhood pastor from suburban Chicago. "It's as if they've both reached their higher selves."
By all accounts the mother-daughter relationship is not only deep but has also played a pivotal role in cementing the parents' relationship. "Chelsea is crucial to the family's balance," says Clinton biographer David Maraniss. "She is the one person her father could love unconditionally, and she is the center of Hillary's emotional life." According to Maraniss's 1995 bestseller First in His Class, when Chelsea was just a year old, a family friend stopped by the house and found Bill in the den, playing gently on the floor with his daughter. Smiling and laughing, he sang to her softly, as if from a lullaby: "I want a div-or-or-or-orce. I want a div-or-or-or-orce." As her parents' focal point, Chelsea has turned into a classic overachieving child. Hillary's brother Tony Rodham described Chelsea to PEOPLE last year as "responsible, trustworthy, just a darn good kid," while an acquaintance recalls "going to events with her where alcohol was being served. Almost every other kid her age would have a drink, but she doesn't touch a drop." And Hillary's French hairdresser, Isabelle Goetz, told Paris Match that Chelsea "knows everything. On a visit to a museum during a trip to Israel, the guide hardly had time to finish his explanation of something when Chelsea already had the answer."
In a sense, Chelsea is the living embodiment of her mother's ideas about child rearing and feminism. As a young mother often on the road, Hillary frequently left messages at Chelsea's elementary school in Little Rock ("Just tell Chelsea that Mommy loves her"). She also encouraged her daughter to write back to her—a practice that, as Hillary notes in her latest book, Dear Socks, Dear Buddy, not only helped keep the family close but also "helped Chelsea practice her language skills." And as half of the most-traveled mother-daughter team in the history of the Presidency, Hillary once wrote, "I am beyond grateful for the times we have circled the globe together. And if those travels have changed minds in countries where daughters are not as prized as sons—well, all the better."
Hillary's determination to shape her daughter's life manifested itself early on. "Hillary did everything she could to bring her into the world under the best circumstances," says Rose Crane of Little Rock, a longtime friend of Hillary's. While pregnant, "Hillary once told me that what she wanted more than anything was a great big [diet] Tab over crushed ice," but she abstained because she was afraid it might harm the baby. In the early years after Chelsea was born, following a difficult labor and C-section delivery, it was obvious that both parents adored her, even if they expressed it differently. Bill kept a child's desk in plain view for Chelsea in his office, while Hillary would quietly spread a quilt in the backyard of the Little Rock governor's mansion so she and her toddler could just stare up at the clouds. "Bill drove Chelsea to school, and you would see them holding hands," says Maraniss. "It was a more public demonstration than Hillary and Chelsea have, but that doesn't mean it's any deeper." Over time, says Chelsea's Little Rock friend Martha Brantley, Bill Clinton became a "figure of admiration" for his daughter, who viewed her mother as "more a comrade." At 7, told by her father that his career demands might force the cancellation of a planned family vacation, Chelsea shot back, "Well, then, Mom and I will go without you."
As a mother, says family friend Staley, Hillary was never "into makeup and pushing the little-girl beauty-queen thing." Instead, Hillary fostered her daughter's intellect and sense of achievement. ("Chelsea was precocious," recalls Staley. "As a toddler, instead of saying, 'I have to get a shot,' she'd say, '[I have to get] my immunizations.' ") Hillary was also determined to encourage her little girl's independence. Chelsea wasn't allowed to wear shoes with Velcro closures—a gift from her grandma Virginia Kelley—until she first learned to tie laces, Hillary later wrote, because "I loved the look of accomplishment on her face when she showed us all what she could do for herself." It was a look her mother would see many times. When Chelsea was in sixth grade, recalls Staley, "I was in the kitchen when the TV news came on. Chelsea was watching, and I heard this shriek of delight: 'Look, Mom, it's up!' Hillary had been trying to sock away some money for the family and had given Chelsea a lesson in how investing works. Chelsea was watching the stock report." Chelsea's step-grandfather Dick Kelley, who was married to Bill Clinton's mother, Virginia, until her death in 1994, recalls that on a trip to their lakeside home near Hot Springs, Ark., little Chelsea grew bored when the bass weren't biting. When he surreptitiously attached a live fish to her line, "Chelsea came tearing out of the house to the dock and reeled that fish in," says Kelley. "Then she carried it back up to the house to show her mother."
Like any working mom, Hillary, the main family breadwinner in the years when Bill was earning $35,000 a year as governor of Arkansas, had a hard time juggling motherhood with her partnership in Little Rock's Rose Law Firm. Elaine Weiss, an American Bar Association official who met Hillary in 1987, remembers overhearing one strained phone conversation. "Well, I don't know, Bill," Hillary snapped. "Did you feel her forehead? I don't know if she has a fever. I'm in Chicago." Even Hillary's mother, Dorothy Rodham, would call her daughter and say, " 'What hat do you have on now?' " Rodham told PEOPLE in 1992. " 'Are you a lawyer today or running to the Indian princess play with Chelsea?' "
But Hillary's true priority has always been Chelsea, as was evident whenever she wore—over conservative business attire—the gaudy, plastic-beaded necklace that her little girl had made. At Little Rock's Forest Park Elementary School, "right up front, Mrs. Clinton made it clear that Chelsea came first," recalls Sadie Mitchell, Chelsea's first-grade teacher. "She gave me all the family's private numbers and told me to call them anytime." Mitchell also recalls that Hillary helped perform science experiments with Chelsea's classmates, took them on outings to theaters and museums and read stories to the class with Chelsea curled up in her lap. Hillary's former press aide Mary Ellen Glynn remembers one harried moment during the 1992 presidential campaign. "Even though she had a million people sitting around her in this hotel room and her schedule was backed up to eternity, Hillary called Chelsea, who was home with a sore throat, and spent 45 minutes saying, 'How are you feeling? Are you drinking lots of juices?' Everything else just stopped."
Hillary's greatest worries were over the bruises Chelsea might suffer in public life. An already close mother-daughter bond also became a sanctuary from the glare of publicity and attacks from Bill Clinton's political opponents. "Back in 1986...we started talking with Chelsea at dinner, telling her that sometimes in political races people said mean, untrue things," Hillary told PEOPLE in 1992. "Her eyes just got so big. She asked me, 'Like what?' " Shortly after Clinton won the Presidency, Saturday Night Live mocked the gawky 12-year-old's appearance, and Hillary ordered aides not to answer any inquiries about Chelsea. Recalls the First Lady's former press secretary Neel Lattimore: "There was a line in cement that you didn't cross: We didn't discuss Chelsea." And most of the time, Hillary didn't either. "I am not going to answer any questions about her," she told Larry King firmly in 1996, when he asked if Chelsea was dating.
Even so, on a videotape called The Man from Hope shown at the 1992 Democratic National Convention, Bill reported to the world that 11-year-old Chelsea watched a 60 Minutes interview with her mother and father in the wake of the Gennifer Flowers episode and then pronounced herself glad they were her parents. Hillary also didn't hesitate to invoke Chelsea in her bestseller It Takes a Village and in speeches ("I'd cry every year" on the first day of school, she said, until Chelsea finally asked her not to come with her anymore) or in her syndicated newspaper column. And the famous picture of Chelsea-as-bridge-between-her-parents clearly came in handy after the President's August mea culpa. "There is a certain hypocrisy here," says David Maraniss. "For the most part they try to protect her. But when a political situation requires using Chelsea, they will."
Hillary did make a point, though, of protecting Chelsea from being spoiled in the White House. In 1993 in New York City she paid a social call on Jackie Kennedy Onassis, who "warned her not to let adults—no matter how well-intentioned—become [Chelsea's] handmaidens," says author Carl Sferrazza Anthony, who is working on a book about the history of First Families. "Jackie gave the example of telling the Secret Service not to get into it when John Jr. was in a fight in school, so that he could learn to defend himself." And Hillary took the advice to heart. "I can't tell you how many times she used to ask, 'Chelsea, is your homework done? Is your room clean? It doesn't look clean,' " says a former aide. The First Lady would insist that Chelsea sweep up the popcorn after a White House movie screening. She didn't let Chelsea off the hook when it came to her wardrobe either. " 'You're wearing that?' was frequently overheard," says one Sidwell mother. It was all part of an effort to create at least a semblance of normal domestic life. For Bill Clinton's first Inaugural, Hillary invited five of Chelsea's friends from Little Rock for a slumber party and put together a scavenger hunt. "They went all over the White House," remembers an aide. "They were looking for a yellow bird on a picture in the Red Room."
Chelsea soon found a balance between behaving with decorum at the White House and enjoying its perks. When an aide invited her into the East Room after finding her listening in on a performance by violinist Itzhak Perlman, Chelsea, in jeans, scurried away in embarrassment. But at another small dinner, as the Marine band was playing, "Chelsea came down to see what her parents were doing and peeked in," recalls a former staffer. "She was wearing khaki shorts and little tennis shoes and a top, and dancing on her toes."
In private time, Hillary once biked the three miles from the White House to the National Zoo (Secret Service in tow) to meet with Chelsea's class for a field trip and often went shopping with Chelsea, sometimes unrecognized, at Banana Republic. She also led her daughter by the hand in 1995, when the 15-year-old enjoyed a public coming-out of sorts on a 10-day trip to South Asia. On the tour, through slums and palaces, "one could see how close they were," says Pakistan's former Prime Minister Benazir Bhutto. "We went to a state banquet at the Lahore fort, and as we were walking up there were all these stalls where people were selling things. Mrs. Clinton made sure that Chelsea was right there with her, that she didn't get left behind in the crowd." Chelsea also found ways to show off her own interests on their trips abroad, sharing her knowledge of Koranic writings in a mosque in Pakistan and, as a practicing non-meateater, dragging her mother to a restaurant in India where she and Hillary sampled vegetarian dishes with their hands.
A more difficult trip for Hillary, say friends, was Chelsea's—to college. Though she would have liked Chelsea to have stayed closer to home, "the very idea of Hillary trying to drive her to do anything is preposterous," says a friend. Instead she simply murmured, "But it's so far away." Days before Chelsea's departure, Hillary rushed home after a 20-hour trip to Mother Teresa's funeral in Calcutta to help her pack, and when Chelsea finally moved out, on Sept. 18,1997, "it left an emptiness," says a friend, "that I don't think even Hillary expected."
Four months later came the Lewinsky tempest. The Clintons were furious at the President's brother Roger Clinton for telling Paris Match that the scandal had "profoundly affected" Chelsea. That transgression violated Hillary's own belief that public restraint represents a "commitment to her daughter," her mother told Vanity Fair recently. "[Chelsea is] somebody outside of her own problems that she was being strong and positive for." More privately, during a visit to Stanford last May, Hillary showered Chelsea with affection. At a restaurant brunch with Chelsea's dormmates and then-boyfriend Pierce, the First Lady "kissed and hugged Chelsea openly all the time," according to one waitress.
Today, friends have no doubt that Chelsea, grateful to be 3,000 miles from the Lewinsky earthquake's epicenter, will, like her mother, survive this latest crisis. "They are both forgiving people who don't feel alone. They don't feel sorry for themselves," says a longtime friend of Hillary's. So far, says a male pal of Chelsea's at Stanford, "I have never seen her visibly upset. Before Christmas she looked exhausted. She's under a lot of stress. That's pretty obvious, and it all adds up after a while." But tabloid reports that she had suffered a collapse and visited the university health center after the breakup with her boyfriend were "blown way out of proportion," the friend insists.
At present, Hillary and Chelsea are "still healing, but it's going to take time," says a friend. In her 1996 book, Hillary included an anecdote that may speak more about her sorrow and solace in this time of betrayal than anything that she has otherwise disclosed. It is the story of a then 4-year-old Chelsea, who was asked in church on Mother's Day what gift she would most like to give her own mother. "Life insurance," she announced.
Later, after questioning her, Hillary learned that the little girl believed such a thing could keep her mother from ever dying. "This tiny child wanted me to live forever," she wrote. "Isn't that what being alive is all about—being loved like that?" In a world where affection and allegiance are so often conditional, that simple realization seemed, to Hillary, like something of a miracle.
Reported by: Jane Sims Podesta in Washington, D.C., Jennifer Longley and Eric Francis in New York City, Ken Baker and John Hannah in Los Angeles, Steve Barnes and Bob Stewart in Little Rock, Jan McGirk in New Delhi and Kelly Williams in Chicago
Contributors:
Jane Sims Podesta,
Jennifer Longley,
Eric Francis,
Ken Baker,
John Hannah,
Steve Barnes,
Bob Stewart,
Jan McGirk,
Kelly Williams.
Advertisement
Treat Yourself! 4 Preview Issues
The most buzzed about stars this minute!