People Top 5
LAST UPDATE: Tuesday February 10, 2015 01:10PM EST
PEOPLE Top 5 are the most-viewed stories on the site over the past three days, updated every 60 minutes
Picks and Pans Main: Screen
Spotlight On...
Sandra Bullock
,
Ben Affleck
, Maura Tierney, Blythe Danner
Featured attraction
Early in this ingratiatingly off-kilter romantic comedy, the soon-to-be-wed Affleck asks his grandfather if the old man's longtime marriage was happy. "Did you ever take a good look at your grandmother?" snarls Grandpa. "She looked like Tolstoy." That punch line, which presumes that viewers possess a passing familiarity with the grizzled, hirsute mug of the revered Russian novelist, isn't the stuff of sustained belly laughs, but it will do. Forces of Nature, as written by Marc Lawrence (Life with Mikey) and directed by Bronwen Hughes (Harriet the Spy), is like that. The movie keeps surprising you by being sharper and more entertaining than you might expect.
Forces' setup is routine: Affleck, a buttoned-down guy, is on his way to be wed in Savannah when he is thrown together with fellow traveler Bullock, a free-spirited bohemian. Sparks fly. But Forces, in its own modest way, doesn't settle into familiar rote. These two characters are not necessarily meant for each other. Affleck has a fine, sexy fiancée (Tierney) waiting for him, and Bullock, rather than being just an adorable kook, has noisy skeletons rattling in her emotional closet. All of which adds up to a refreshing rethinking of the basic rules of romantic comedy. Forces isn't a picture for the ages, but it's an appealing one for right now. (PG-13)
Bottom Line: Affleck and Bullock click, naturally
Animated
It's not just that the characters are cartoons, in every sense of the word, that makes this animated King and I different from the earlier stage and 1956 screen versions of Rodgers and Hammerstein's beloved musical. Liberties—both big and small, and most of them dumb—have been taken with the plot and characters. Anna, the widowed British teacher, still experiences severe culture shock when she moves to Siam in the mid-1800s to teach the children of the country's monarch, but now the King stages a wholly new, ridiculous climactic rescue mission in a hot-air balloon. That will really excite kids raised on Power Rangers. What's next? A Sound of Music in which Maria dances the hoochiecoochie to distract the Nazis?
The show's songs, mercifully, remain, and a lovely bunch they are, including "Shall We Dance?" and "Getting to Know You." Unfortunately they are sung here (mostly by Broadway vet Christiane Noll) in severely shortened versions. (G)
Bottom Line: No cause for whistling a happy tune
Clint Eastwood, Isaiah Washington, James Woods, Diane Venora
Fans of Clint Eastwood—and who isn't one?—are going to get a kick out of True Crime, the latest movie that the leathery one stars in and directs. A crime drama based on a 1995 novel by Andrew Klavan, the film starts off well and keeps its momentum going "until nearly the final stretch, when it becomes too contrived. The rewards for Eastwood fans, however, go well beyond Crime's workaday plot about the last-minute efforts of a veteran newspaper reporter (Eastwood) to save a condemned but possibly innocent man (Washington).
Eastwood's reporter has a lousy personal life. He's barely staying off booze, smokes too much and, despite trying to patch up his marriage (to Venora), can't stop propositioning women far too young for him. Given the chance to flex more acting muscles here than in his usual rugged-loner roles, Eastwood practically purrs like a contented old tomcat.
But Crime isn't just Eastwood. As a director he generously showcases each of his talented main actors in a juicy scene or two (Washington, Woods and Venora are standouts) while keeping the story moving briskly. (R)
Bottom Line: No Unforgiven, but absorbing enough to make our day
>THE DEEP END OF THE OCEAN Michelle Pfeiffer, in a finely etched performance, is the primary reason to see this domestic drama about a mother who goes to pieces when her young son disappears. (PG-13)
LOCK, STOCK AND TWO SMOKING BARRELS A flip, fun and incredibly stylish (if shallow) British film about London's underworld proves there's honor among thieves, or at least among those who know each other. (R)
OCTOBER SKY
It's sentimental and obvious, but we can't help really liking this true-life drama about four high school boys in a dying coal town who, back in 1957, decide they are going to build a rocket—and do. (PG)
>Harold Ramis
For most people, therapy is a private experience. Not for Harold Ramis. "I've done therapy with both my wives, with my children and with my parents," says the director, 54. So when he had the chance to direct Analyze This, a comedy about a mafioso (Robert De Niro) seeing a psychiatrist (Billy Crystal), it was an offer he couldn't refuse.
At least, not twice. When first approached in 1996, he and his family—second wife Erica, 44, and their sons Julian, 8, and Daniel, 4—had just moved from L.A. to Chicago, and he didn't want to leave them alone so soon. But nine months later the film's first director was fired, and Ramis—who directed Groundhog Day ('93) and costarred in '84's Ghostbusters—said okay.
Still, he could have used some therapy to calm his nerves before meeting De Niro. "He's done so many impressive movies," Ramis says. "Comedy is usually considered inferior." But they got along fine—as did De Niro and Crystal. "Their rapport was great," he says. "I enjoyed this process as a spectator." Of course, it doesn't take much to amuse him: Once, he says with glee, "I sat down with Billy and Bob—and got to call them Billy Bob. That was fun."
Contributors:
Lauren Comander.
Advertisement
Today's Photos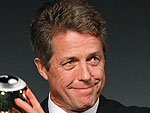 Treat Yourself! 4 Preview Issues
The most buzzed about stars this minute!