People Top 5
LAST UPDATE: Tuesday February 10, 2015 01:10PM EST
PEOPLE Top 5 are the most-viewed stories on the site over the past three days, updated every 60 minutes
Picks and Pans Main: Song
Talking With...
The finest hours of Sinatra, Martin and Davis did not include those moments when they slobbered around onstage, smoking, drinking and cracking coarse jokes. This 1962 concert album, recorded during a performance at the Villa Venice nightclub outside Chicago, includes way too many of those moments and too little serious singing. The best songs are Sinatra's, not surprisingly (including a stunning version of "When Your Lover Has Gone" and a vigorous "Goody Goody"). This album is the first from Artanis ("Sinatra" backward) Entertainment, a Sinatra family label that promises to issue remastered and unreleased Sinatra material. There must be a lot more worthwhile than this.
Bottom Line: Wait for the next show
B*Witched (Epic)
Here's a button-cute quartet of teen singers from across the North Atlantic whose debut album will never be judged on its own merits. Of course, these four have only themselves to blame for being typed as Spice Girl clones. It's hard to listen to the peppy, dance-inducing arrangements and party-girl harmonies on this very compact (39-minute) disc without thinking that these tunes, especially the group's U.S. debut single, "C'est La Vie," and its forthcoming follow-up, "Roller Coaster," rolled right off the Spice rack. Even so, with three No. 1 hits in England already, the B*Witched crew just might succeed in establishing their own identity. Instead of meeting at Spice-like auditions, the founders of this Dublin group joined forces before birth—Edele and Keavy Lynch are 19-year-old twins. They and their nonsibling partners—Sinead O'Caroll, 20, and Lindsay Armaou, 18—not only have stronger voices than their famous doppelgirls, they actually play their own instruments.
Bottom Line: Giddy confection for the preteen at heart
Steve Burns and Friends (Kid Rhino)
Thanks to an adorable cast of cartoon characters—including the titular "girl puppy," Blue, and her appealing human sidekick Steve Burns—Nickelodeon's Blue's Clues is the most-watched TV show in the U.S. among preschoolers. In each half-hour episode kiddie fans are encouraged to dance, draw and sing along with the multitalented 25-year-old Burns and his crayon-cute supporting characters. (Among the latter: Tickety Tock, an alarm clock who helps Burns and viewers solve daily mysteries, and Slippery Soap, who is known for his bubbly personality.) As comfortable on disc as he is on-camera, Burns and a lively group of musicians present a 30-minute, 12-track audio version of the show that introduces young listeners to a broad range of musical styles from blues to bluegrass. Kids will find it hard to resist a CD that includes tunes like "You Sure Are Smart."
Bottom Line: Bouncy music that will charm kids silly
The Charlie Daniels Band (Blue Hat)
Daniels is about as full of surprises as a box of saltines, but he's as satisfying and consistent too. You might think of the Daniels band as the country-blues-rock equivalent of comfort food. This album includes yet another version of Daniels's 1979 hit "The Devil Went Down to Georgia" for those who haven't yet committed it to memory. There is also a mixed bag of country-rock hits originally recorded by others.
Daniels's limitations as a lead vocalist, however, make him a less-than-ideal singer for Lynyrd Skynyrd's "Freebird." And none of his band's guitarists have the chops to deal with Stevie Ray Vaughan's "Pride and Joy." As for Daniels's original tunes, such as the bloodless bullfighting opus "El Toreador" and the overplotted "The Legend of Wooley Swamp," none suggest themselves as future classics. After all, tailgate parties are more about convenience than art.
Bottom Line: Nothing to feast on
>BLUES BLUES BLUES The Jimmy Rogers All-Stars (Atlantic) Just before he died in 1997 at age 73, Rogers and fans Eric Clapton, Keith Richards and Stephen Stills jammed on tunes like Rogers's own "Sweet Home Chicago."
THIS WORLD IS NOT MY HOME Lone Justice (Geffen) Honky-tonk waif goddess Maria McKee's duet with U2's Bono is one highlight of this compilation disc featuring the music of Lone Justice, the sadly short-lived 1980s Los Angeles cow-punk band.
SAM PREKOP Sam Prekop (Thrill Jockey) With his seductively whispered vocals, Chicago art-rocker Sam Prekop mixes romantic, melancholy lyrics with bossa nova and samba rhythms, soft guitars and even a cornet in his winning solo debut.
>XTC's Andy Partridge
XTC, the famously quirky British new wave band, stopped touring in 1982 when singer-songwriter Andy Partridge began suffering panic attacks onstage, and they seemed to disappear for good after their last studio album seven years ago. Even so, "the world didn't forget us," says Partridge, "and in all that time we stored up about four albums' worth of material."
This month, XTC returns with Apple Venus Volume 1, a richly orchestral acoustic disc that may surprise some of their old fans. "This album is rather easy on the ear," says Partridge, "and some people are going to say, 'Oh, my God, they've turned into their parents,' or whatever. But that kind of excites me. I do like to get up people's noses." But Partridge, 45, and bassist Colin Moulding, 43 (guitarist Dave Gregory quit the band), still won't tour. "Why would you want to see my fat [posterior] on the stage," asks Partridge, "when you can buy a slice of my soul and take it home?"
Contributors:
Ralph Novak,
Steve Dougherty,
Marisa Sandora.
Frank Sinatra, Dean Martin, Sammy Davis Jr. (Artanis)
Advertisement
Today's Photos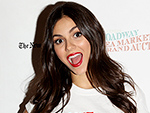 Treat Yourself! 4 Preview Issues
The most buzzed about stars this minute!