People Top 5
LAST UPDATE: Tuesday February 10, 2015 01:10PM EST
PEOPLE Top 5 are the most-viewed stories on the site over the past three days, updated every 60 minutes
Tough Love
Feisty Leah Remini Punches Up the King of Queens
Remini, 28, knows something about packing a sting. A tough-talking Brooklyn-born survivor of at least four failed sitcoms in eight years (anybody remember Living Dolls or First Time Out•), she finally hit it big last fall as Carrie Heffernan, a sardonic Queens, N.Y., housewife married to a pudgy parcel deliveryman named Doug (played by costar Kevin James). Feel free to compare her to The Honeymooners' Alice Kramden ("That girl had balls," says Remini). But while King has been renewed for next season, success has hardly softened Remini's demeanor. "You know what I really hate to hear?" she says. "I hate to hear, 'We have such a great set, everyone gets along.' That's bull. When you really care about someone, you fight, feelings get hurt, because you have something invested in that person."
Remini must care a great deal about James: The two bicker constantly. "Like, I wanted a nicer dressing room," she says. "Not bigger, just better. Kevin's like, 'What's this crap, you got leopard carpeting?' His dressing room," she adds, "is horrendous, just a bulletin board and pictures taped to the wall."
"We're like a married couple without the sex," jokes James, a former stand-up comic. "Sometimes I'm grumpy, or she is, and we snap at each other."
Remini and her boyfriend of two years, Angelo Pagán, a thirtysomething actor and salsa singer with whom she shares a five-level house in Studio City, Calif., have their own ups and downs. But, says Pagán, "we can tell each other anything. Even," he adds wryly, "if it hurts sometimes." For example, says Remini, "I used to think I was romantic. But I always have these moments where I laugh, which kind of sucks for Angelo. He's like, 'You don't always have to be funny, honey.' "
The girl can't help herself. "She always used to make me laugh," recalls her mother, Vicki Marshall, a Hollywood private school teacher, who divorced Remini's father, George, owner of an asbestos removal company, when Leah was 7. "My memories are of her being the troublemaker," says her mom. Sister Nicole, now 29 and a Minneapolis homemaker, usually took the blame.
In 1984, after a failed second marriage that produced a third daughter, Shannon, now 14, Marshall moved her brood to a cramped, one-bedroom Los Angeles apartment. On Leah's first day at Hollywood's King Junior High School, she was cornered by a group of girls with attitude. "They said, 'We heard you're from New York and you were gonna conquer the school.' I go, 'Yeah, I'm Christopher Columbus.' I mean, how stupid was that? My mouth always got me into trouble."
She walked away unscathed. But one week later, Remini dropped out. "I just said, 'Screw this. If I want an education, I'm going to learn from my mother.' " Her mother did tutor her at home but insisted that Leah, then 14, also get a job. She went to work as a restaurant hostess. And her bosses let her take time off to pursue her real dream: acting. Urged by casting directors to lose her thick New York accent, "I really took offense," she says. "I honestly thought, 'Screw it, you lose your accent.' " But in 1989, after studying at the Beverly Hills Playhouse, she landed her first role—as a teen model on ABC's Living Dolls. That led to parts on Cheers (as Carla's daughter), Saved by the Bell and on flops like The WB's First Time Out. Remini had high hopes for Fired Up, a 1997 sitcom that teamed her with NYPD Blue's Sharon Lawrence. "Her laugh was totally infectious," says Lawrence. But when NBC axed Fired Up after one season, "I cried hysterically," Remini says. Last year, King of Queens executive producer Michael Weithorn, remembering Remini from Living Dolls, asked her to read with James. "Kevin and I immediately got on each other's nerves," she recalls, "and I thought, 'This is going to work.' "
Remini, who credits Scientology with keeping her "grounded," saves her sharpest jabs for herself. With a personal trainer she has melted 20 pounds off her 5'3" frame. But she adds with typical sass, "Until I can go to the pool at the Luxor in Las Vegas and walk from my lounge chair to the bathroom without wrapping a towel around my butt, I'm still not in shape."
Michael A. Lipton
Julie Jordan in Los Angeles
Contributors:
Julie Jordan.
Leah Remini is peacefully sipping a cappuccino on the patio of a gourmet coffee emporium across the street from the L.A. studio where her CBS sitcom, The King of Queens, is taped. Suddenly, a bee buzzes by her head. The terrified actress leaps out of her chair and flees to an adjacent parking lot. "Hey, how ya doin'?" she says to the coffee patrons now staring at her. "Killer bee," she explains. "Evil, killer intent."
Advertisement
Today's Photos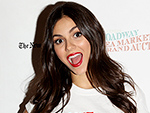 Treat Yourself! 4 Preview Issues
The most buzzed about stars this minute!