People Top 5
LAST UPDATE: Tuesday February 10, 2015 01:10PM EST
PEOPLE Top 5 are the most-viewed stories on the site over the past three days, updated every 60 minutes
Picks and Pans Main: Song
Worth a Listen
It's probably not sheer coincidence that Church sounds so much like the early Rosanne Cash. Church is, after all, Mrs. Rodney Crowell, having acceded to that title after Cash relinquished it, and Crowell produced this debut album, as well as wrote or cowrote half of its 10 songs. Church, like Cash, can shift effectively from emotional, cerebral tunes to peppy, rhythm-driven material, and Crowell takes full advantage of her versatility. Church is from Lenoir, N.C., and one highlight of this album is what should become an ex officio state song, "Home in My Heart (North Carolina)," a lively if nostalgia-heavy tribute written by Church and Crowell. Another bright moment is Church's version of the Carole King-Gerry Goffin pop standard "Will You Still Love Me Tomorrow." That kind of range overshadows even an unusual lapse by Crowell: He includes his own dreadful "This Man I Love," whose doggerel lyrics include "He lets me spend his money/ He even thinks it's funny." Church is too talented to be derailed by one misstep, though, even if it is her own husband's. She's the real goods.
Bottom Line: A Church who'll build a big following
Wilco (Reprise)
Album of the week
In the heyday of grunge, nouveau-country rock bands tipped their cowboy hats to predecessors like the Byrds and the Flying Burrito Brothers and provided a tuneful alternative to the alt-rock blasting from Seattle. Among the apostles of the new breed, mischievously labeled y'alternative, was Jeff Tweedy, a 31-year-old Belleville, Ill., native who, as a founding member of the now-defunct cult group Uncle Tupelo, helped create a hybrid sound that blends country's ambling gait with rock's guitar-packed punch. Now Tweedy, who founded Wilco in 1994 and collaborated with Brit folk-rocker Billy Bragg on last year's acclaimed Woody Guthrie collection
Mermaid Avenue
, has pulled a surprise about-face, fashioning an ambitious, beautifully crafted and almost twang-free 15-song cycle. Lyrically ambiguous and impressionistic, full of imagery that both disturbs and beguiles,
Summer Teeth
is a concept album about sin and redemption. With his knack for sing-along melodies, rocking arrangements and decidedly noncountry studio effects, Tweedy has strayed far from the fold, to winning effect.
Bottom Line: A country rocker paints his pop masterpiece
Joey McIntyre (C2/Columbia)
Gone are the dewy eyes and baby-fat cheeks, but that chiseled chin and smoldering, grown-up image belong to none other than former bubble-gum sensation and New Kids on the Block teen throb Joey McIntyre. Now 26, McIntyre gives the lie to old rumors of lip-synching with a voice that's stronger, deeper and far less likely to break. With this debut solo collection of love ballads and Stevie Wonder-influenced dance tunes, Joey just may give the Backstreet Boys, 'N Sync and the rest of this year's New Kids a run for the teenybopper bucks. A Needham, Mass.-born lad of 12 when he was recruited to become the newest New Kid in 1985, McIntyre weathered the hysteria that swept the land three years later and the inevitable letdown that followed the quintet's amicable 1994 breakup. Fans will note a mini Kids reunion here: Several of these 13 tracks were cowritten by former Kids Donnie Wahlberg and Danny Wood, both pushing (gulp) 30.
Bottom Line: Pretty fly for a New Kid
Various Artists (Walt Disney)
Thanks to playlists that include recent hits by the likes of Hanson and the Backstreet Boys, as well as tracks from popular film scores (
The Lion King, Mulan, Ghostbusters
) and goofy between-song chatter by house-of-Mouse toon stars, Radio Disney has built an audience of 1 million mostly preteens a week for its network of 35 U.S. affiliate radio stations. This hour-long CD of Radio Disney's most-requested songs features classic rockers like James Brown's "I Got You (I Feel Good)," as well as novelty tunes including "Weird Al" Yankovic's "Yoda," a spoof on
Star Wars
performed to the tune of the Kinks' 1970 hit "Lola." Another fun plus: A wacky pair of deejays who call themselves Just Plain Mark & Zippy offer sound advice on how to handle name-callers in the track "I Am Rubber."
Bottom Line: A compilation of hits old and new that will rock the Goosebumps set
Beth Orton (Deconstruction/Arista)
Some pop albums elevate your mood with their upbeat outlook. This second full-length effort by a gifted 28-year-old singer-songwriter from Norfolk, England, coaxes smiles by focusing on life's more painful moments. No wonder: Years before she was rescued from obscurity by the Chemical Brothers—ultrahip techno artists who in 1995 brought her in to sing on their
Exit Planet Dust
album—Orton suffered through the early deaths of both her parents.
With a smoky alto reminiscent of the late, lamented Dusty Springfield, Orton pinpoints feelings of loss ("Pass in Time"), regret ("Stolen Car") and spiritual bankruptcy ("Stars All Seem to Weep") with remarkable precision and wit. Her midtempo music is also filled with catchy dance beats, gorgeous folk guitars and haunting string sections. The effect is both jubilant and timeless, like attending a transcendent after-hours party held in a crumbling medieval cathedral.
Bottom Line: Sad but splendid British singer—no reservations
Gigolo Aunts (E Pluribus Unum)
Bristling with bright, instantly appealing pop hooks, the first album in five years from Boston's unabashedly melodious Aunts,
Minor Chords
hearkens back to that distant epoch when songs were tailored to keep listeners from surfing the AM radio dial. Half these uptempo tunes would have been at home in the Top 10 circa'65. The mop-topped quartet is adept too at ballads like "You'd Better Get Yourself Together, Baby," a wispy-not- wimpy song featured in an episode of
Felicity
, a tube offering favored by kids who don't know from Amplitude Modulation radio. Formed in 1989 by guitarist and vocalist Dave Gibbs, 30, and bassist Steve Hurley, 34 (drummer Fred Eltringham, 27, and guitarist Jon Skibic, 30, joined later), the Aunts suffered in label limbo after being dropped by RCA in 1994. Encouraged by pals like Adam Schlesinger, the Fountains of Wayne singer who wrote the title song for Tom Hanks's 1996 film
That Thing You Do
!, the Aunts caught a break when one of their tunes appeared, fittingly, in that homage to '60s pop.
Bottom Line: Major delights from favorite Aunts
>
BURNING LONDON (THE CLASH TRIBUTE) Various Artists (Epic)
A sop to fans fervently wishing for a reunion of the greatest of '70s Brit punk bands: covers of Clash classics by apostles as diverse as No Doubt, Ice Cube, Indigo Girls, Silverchair and Third Eye Blind.
WHO ELSE! Jeff Beck (Epic)
Unlike that other '60s guitar god, Eric Clapton, Beck (no relation to his young Yank namesake) can't sing. But he sure can play. Here the old Yardbird showcases his virtuoso talents on 11 instrumental tracks.
A GOOD DAY FOR THE BLUES Ruth Brown (Rounder)
She's 71 now, but the 1950s R&B pioneer, whose comeback decades later was capped with a 1997 Grammy nomination, still belts tunes ("Can't Stand a Broke Man") with bawdy gusto.
Contributors:
Ralph Novak,
Steve Dougherty,
Alec Foege.
Claudia Church (Reprise)
Advertisement
Today's Photos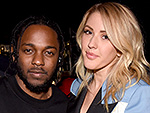 Treat Yourself! 4 Preview Issues
The most buzzed about stars this minute!