People Top 5
LAST UPDATE: Tuesday February 10, 2015 01:10PM EST
PEOPLE Top 5 are the most-viewed stories on the site over the past three days, updated every 60 minutes
Son King
After Fretting About Fatherhood at 65, Larry King Can Finally Relax—and Rejoice Over His New Baby, Chance
Wrong, Larry. On March 9, Shawn Southwick King, 39, a thrice-wed country singer, delivered a healthy, 7-lb. 6-oz. boy named Chance Armstrong. The next day, as Shawn cuddled with Chance (named for his parents' impromptu meeting at Tiffany in Manhattan two years ago), King leaned over his wife's UCLA Medical Center hospital bed, grinned and heaved a sigh of relief. "This is a handsome little boy!" he exclaimed. "He takes after his mother, thank God!"
Amen to that. It was in this same hospital that King, admitted for chest pains, and Southwick were wed Sept. 5, 1997, following a nine-month courtship. Soon after their vows were taken, King underwent an angioplasty to unblock a clogged heart artery. Quickly recovering, he and his bride began planning a baby.
The following year, Shawn discovered she was pregnant. "The first couple of months were torture," she says. "It was a surprise to me that I was so sick, because with Danny"—her 18-year-old son by her first husband, Dan Southwick, with whom Danny lives—"I had about 20 minutes of nausea the whole pregnancy. With Chance, I wasn't able to keep anything down. It was not fun."
Nor was the pregnancy any picnic for the anxious father-to-be. At the Kings' six-bedroom Beverly Hills home, he would grill his wife as if she were a guest on
Larry King Live
: "You gonna breast-feed for how long? What, two months?" ("I'd like to try at least six," she said.) "I think he'll sleep with us," he told Shawn. Otherwise, he worried, his son-to-be could "be starving to death and we might not hear him." ("We do have crib monitors, Larry," she said. "You can hear his every move.") Disposable diapers were another mystery. "They told me you don't need safety pins. I used to love those huge safety pins," he says wistfully.
Chance arrived on schedule at 6:31 p.m. PT, 12½ hours after Shawn entered the hospital. Like more and more dads these days, King cut the umbilical cord. Soon congratulations were pouring in from such friends as Al Pacino, Nancy Reagan and Katie Couric. (Among the more lavish birthday gifts: a pony from Ross Perot.) As for King, "he's totally wired," sighs Shawn. "I'll have to peel him from the ceiling." The couple had already agreed that Chance will be raised a Mormon, his mother's faith. "I've been devout, all my life," says Shawn. "Larry is Jewish. More by culture and tradition than faith." But, she emphasizes, Chance will be taught "about the Jewish faith, respect it and love it."
In secular matters King will reign. "I'd like to see him go to college." He pauses. "I hope I live a long time, but I'm being logical. So we keep a journal for Chance. I've written about three entries. Shawn writes once a week." King's father died when he was 10, he says, "and I was very close to him. I'm in the television museum. Chance will have tapes of his father."
Shawn's concerns are more immediate. "I'm very apprehensive about spoiling [Chance]," she says. "Larry spoils everybody." King agrees: "I'm not a disciplinarian. So that'll be hard for me." Meanwhile, he counts his blessings. "My career is swell, I'm in love with my wife, I appreciate family more. And I pinch myself more," he says. "I can't believe I'm 65. God, 65!" Then, to Shawn: "What're you looking at me for?"
"Sixty-five," she says, smiling, "going on 12."
Michael A. LiptonChamp Clark
in Los Angeles
Contributors:
Champ Clark.
Three weeks before his wife, Shawn, was due to give birth, Larry King got the heebie-jeebies. At Washington, D.C.'s Dulles International Airport, the CNN talkmeister had just arrived from L.A. (where he and Shawn live and King now conducts half of each week's shows). Suddenly he spotted a thirtysomething father dragging his 2-year-old son through the terminal. "And this kid," says King, "didn't want to be in the airport. 'Please!' the father's saying. And the more he said 'please,' the more the kid disobeyed." King, 65, the seven-times-married father of four grown children and grandfather of two, stared after them. "I said to myself, 'This can't be me. This can't be me.' I'm in a panic. I'm too old [to have a kid]."
Advertisement
Today's Photos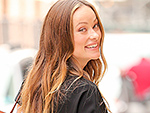 Treat Yourself! 4 Preview Issues
The most buzzed about stars this minute!