People Top 5
LAST UPDATE: Tuesday February 10, 2015 01:10PM EST
PEOPLE Top 5 are the most-viewed stories on the site over the past three days, updated every 60 minutes
Picks and Pans Main: Tube
Talking With...
Some things I've never quite understood about the Joan of Arc story: Why did God back the teenager on the battlefield only some of the time? Was it fair to cut out on her just because she got a bit big for her britches? Anyway, why would He take sides in the fight for control of France in the 1400s? It seems like a case of picking one scoundrel over another. But over the course of four hours, this lavish miniseries largely persuaded me to set aside skepticism. Leelee Sobieski (Never Been Kissed), the 16-year-old star, makes a steely yet vulnerable Joan. Neil Patrick Harris (Doogie Howser, M.D.) acquits himself well as Charles VII, the duplicitous young monarch whose interests she rather naively advances. And Peter O'Toole gives a fascinating, if occasionally hammy, performance as a bishop who accuses Joan of heresy but can't help wondering whether she really does have a pipeline to heaven. If you're looking for an actor to thunder, "You ask for eternal damnation!", O'Toole has to be near the top of your list.
Bottom Line: Not divinely inspired perhaps, but a worthy epic
ABC (Sun., May 16, 9 p.m. ET)
"Material is the key," the pop idol advises the up-and-comer in this TV movie. "You can be the greatest singer in the world, but if you don't have the right song, [it] can't happen." By the same token, even the audience-grabbing combination of Diana Ross and Brandy as dueling mother-and-daughter divas can be sabotaged by a hack script. And it's not as if they're the greatest actresses in the world.
Eighteen years ago, Olivia (Ross) abandoned unsupportive husband Adam (Brian Stokes Mitchell) and darling baby Kayla to set off in pursuit of stardom. Now world-famous Olivia wants back into her daughter's life, but aspiring vocalist Kayla (Brandy) bitterly rejects her. So Olivia offers to open music-industry doors for Kayla, hoping to gain her affection in the bargain. Quicker than you can say A Star Is Born, Kayla is red-hot and Olivia is turning a little green. The stars get all the emotional scenes they could ask for. Take a good look at Brandy's face and you can't miss the tracks of her phony tears. But the whole drama is done by the numbers, including the obligatory closing duet.
Bottom Line: Everything's off-key but the songs
NBC (Sun.-Mon., May 16-17, 9 p.m. ET)
A runaway train carrying nuclear waste and a nuclear bomb is hurtling downhill toward Denver. Only one man can put the brakes on disaster. Is it Sylvester Stallone? Arnold Schwarzenegger? Even Steven Seagal? No, it's Rob Lowe. Think Denver stands a chance?
The smoothly handsome star gets slightly nicked up as a National Transportation Safety Board official who jumps onto the train and tries to stop it by any stunt necessary. But despite the efforts of this unlikely action hero, the choo-choo barrels on and the second part of the four-hour miniseries goes into standard nuclear-nightmare mode. While "the world holds its breath, hoping for a miracle," as a TV anchorman puts it, Lowe, his wife (Kristin Davis) and their loved ones scramble for survival. There are so many clifmangers before commercial breaks that the manipulation becomes comical. Let Lowe dangle—see if we care.
Bottom Line: Don't ride these rails
HBO (Sat, May 22, 8 p.m. ET)
Show of the week
Like the Ernest J. Gaines novel on which it's based, this film is simple yet eloquent. Don Cheadle, superb as Sammy Davis Jr. in last year's The Rat Pack, is equally impressive here as Grant, the teacher in a one-room school for black children in late-'40s Louisiana. Pressed by his Aunt Lou (Cicely Tyson) and her friend Emma (Irma P. Hall), Grant reluctantly consents to visit Emma's imprisoned godson, Jefferson (Mekhi Phifer), a seeming dullard morosely awaiting execution for a murder he didn't commit. It's Grant's duty to imbue Jefferson with a measure of pride and dignity before his electrocution. Why? "You the teacher," his aunt explains inarguably.
Director Joseph Sargent (Miss Evers' Boys) adopts a slow pace in keeping with the time and place. But viewers who resist restlessness will come away with an invaluable lesson: Every moment of life is an opportunity to give and receive love.
Bottom Line: Wise and moving drama
>Sunday, May 16 DATELINE NBC (8 p.m. ET) Look both ways before you board: The newsmagazine reports on cruise-ship safety.
Monday, May 17 HALF A DOZEN BABIES ABC (8 p.m. ET) The crib's overcrowded in this TV movie about America's first surviving sextuplets.
Tuesday, May 18 THUMB WARS UPN (9:30 p.m. ET) Here's a Star Wars spoof in which human thumbs play all the roles. You might call this the digital version.
Wednesday, May 19 TWO GUYS, A GIRL AND A PIZZA PLACE ABC (8:30 p.m. ET) Pete (he's one of the two guys) needs career counseling, so Barenaked Ladies sing him some.
Thursday, May 20 FRIENDS NBC (8 p.m. ET) It's one big crapshoot as the gang does Las Vegas in an hour-long season finale.
Friday, May 21 DAYTIME EMMY AWARDS CBS (9 p.m. ET) With luck, Susan Lucci could be a 19-time loser.
Saturday, May 22 DR. QUINN, MEDICINE WOMAN: THE MOVIE CBS (8 p.m. ET) They canceled her series last year; now they have her back for two hours. TV is a strange business.
>Teri Garr
In a career spanning three decades, Teri Garr has played wives (1977's Close Encounters of the Third Kind), girlfriends (19'82's Tootsie) and divorcees (1984's Firstborn). But a grandmother? "We couldn't believe it," says Garr, 54, of herself and costar Judith Ivey, 47, who are both cast as the grannies of the real-life Dilley sex-tuplets in Haifa Dozen Babies, an ABC TV-movie airing May 17. "I remember being offended when I had to play a mother," says Garr. "But you have to get over it fast, or get out." Garr is in it for the long haul, but she can afford to be choosy about her roles these days, thanks to a long-running gig as the bubbly spokeswoman for Lite FM radio stations. "They're funny," says Garr of the TV spots. "And God knows, they pay the rent."
Handling the 14 babies who played the sextuplets, Garr thought of daughter Molly, whom she and then-husband John O'Neill, a California contractor, adopted as an infant. "Now my Molly is 5 and hell on wheels," says Garr, who plays the mom of a teen (Dawson's Creek's Michelle Williams) in the summer movie comedy Dick. "At least," she says, "I'm not her grandmother."
Contributors:
Irene Zutell.
CBS (Sun., May 16, and Tues., May 18, 9 p.m. ET)
Advertisement
Today's Photos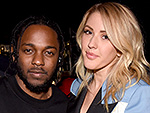 Treat Yourself! 4 Preview Issues
The most buzzed about stars this minute!