People Top 5
LAST UPDATE: Tuesday February 10, 2015 01:10PM EST
PEOPLE Top 5 are the most-viewed stories on the site over the past three days, updated every 60 minutes
Picks and Pans Main: Song
Spotlight On...
Robbie Williams's ticket to stardom seemed to have expired when he was unceremoniously booted out of the British boy-band Take That in 1995. His rough-edged image and substance-abuse problems seemed destined to erase whatever fan goodwill he had accumulated during his years with the group, which dissolved in 1996. But as if to prove that good music can overcome a bad image, Williams is now being hailed in the U.K. as the Great Pop Hope, and on this new album, Americans can finally hear what the fuss is all about. Technically this U.S. debut is a best-of compilation culled from his two British solo albums, and one listen proves that the hype is justified. With a voice that recalls Elton John, plus his own smart-alecky way with a lyric, Robbie Williams seems to be part vaudeville, part lounge singer, part soccer hooligan and all pop star. Critics may go on declaring rock and roll dead and buried, but Williams obviously intends to prove otherwise.
Bottom Line: British import that Yanks should love
Bijou Phillips (Almo)
Don't expect to hear any of her father's sunny California sounds on Phillips's CD. She would rather eat Papa John's old vinyl discs from his days with the Mamas and the Papas. Bijou—she's presumably named after the bauble, not the local movie house—opts for a much harsher sound on this, her debut. With assists from Bernie Worrell (keyboards), Luscious Jackson's Jill Cunniff (backing vocals) and Howard Jones (cowriter), Phillips gets to display her skewed, adolescent lyric poetry ("The silence of the evening/Sweet as suicide") in a hard-rock setting. The daughter of actress Genevieve Waite and half sister of actress MacKenzie and singer Chynna, Phillips sings with an annoying mix of anger and self-pity but not nearly enough pathos.
Bottom Line: Poor little celeb's teenage blues
Lorrie Morgan (BNA)
Album of the week
It's easy to understand why Lorrie Morgan has remained a perennial Nashville favorite. Her sultry, honey-smoked voice is tailor-made for those good old country tunes of heartache and regret, and she infuses those songs with a weathered and womanly (but never worn down) edge. On tracks like the finely crafted "Here I Go" or the delicately mournful "On This Bed," written by her husband, Jon Randall, Morgan gives a majesty to the music, wrapping that voice around each line as if it were the very first time life had done her so wrong. Yet for the most part on this solid but not spectacular effort, Morgan must work with less than great material. From the weary housewife lamentations of the title track to the just plain who-cares cover of Bryan Adams's sub-par 1996 rocker "The Only Thing That Looks Good on Me Is You," Morgan wrings drama and emotion out of merely average songs. Of course, she is such a great vocalist that she can, as the cliché goes, sing the phone book. Why she would want to is anyone's guess.
Bottom Line: One of country's queens makes magic out of mediocrity
Rick Springfield (Platinum)
Well, Dan Quayle is running for the White House again, Hollywood's bringing back The Mummy, so why not resurrect the career of '80s soap star and post-teen idol Springfield, now 49? "Resurrect" seems an appropriate word, since Springfield's first studio album in 11 years is so heavily freighted with religious overtones. The songs, all at least cowritten by Springfield, include "Religion of the Heart," "Prayer," "Act of Faith" and "His Last Words," in which Springfield, his brother and his two sons talk, all but inaudibly, about the death of his father. Even the less explicitly reverential tracks are on the heavy side. "The White Room" tells of a woman who knows "all the bottles and pills won't heal her heart." As a singer, Springfield always sounded like a road-company John Mellencamp, and he hasn't improved with age. Although his acting career has gotten a boost from some guest spots on TV's Suddenly Susan, with this album he may be pushing his luck.
Bottom Line: Tepid comeback
>ZERO ZERO ZERO Sam Phillips (Virgin) Wide recognition has eluded this gifted pop singer-songwriter; here she presents her own "director's cut" of affecting songs from her past four albums.
THE DUKE ELLINGTON CENTENNIAL EDITION: THE COMPLETE RCA VICTOR RECORDINGS 1927-1973 Duke Ellington (RCA Victor) Exhaustive but never tiring; the composer's genius shines on 24 CDs.
DIONNE WARWICK: THE DEFINITIVE COLLECTION Dionne Warwick (Arista) Twenty luminous vocals, including her Burt Bacharach-penned hits. Whatever you do, do not "Walk On By."
>Baz Luhrmann
If you've turned on the radio lately, you may have heard "Everybody's Free (To Wear Sunscreen)," a series of spoken aphorisms ("Be kind to your knees. You'll miss them when they're gone." "Do not read beauty magazines. They will only make you feel ugly") set to a funky techno beat. The man behind the recording is Australian film director Baz Luhrmann, who says he considers the words a "profoundly useful guide for getting through life."
"Sunscreen" was originally written in 1997 as a mock commencement speech by Chicago Tribune columnist Mary Schmich. Impressed after seeing it on the Internet, Luhrmann produced a spoken-track recording of it featuring Aussie voice-over vet Lee Perry. Even now, Luhrmann claims, "having heard the song while driving recently, I found myself experiencing the calming effect that I'm sure others have felt from Mary's profoundly sensible point of view." Schmich, too, is keeping pretty calm. "One of the great things about [being] a newspaper columnist," she says, "is that I don't have the pressure to come up with a followup single."
Contributors:
Amy Linden,
Steve Dougherty,
Ralph Novak,
Craig Tomashoff.
Robbie Williams (Capitol)
Advertisement
Today's Photos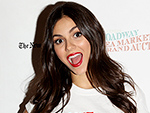 Treat Yourself! 4 Preview Issues
The most buzzed about stars this minute!