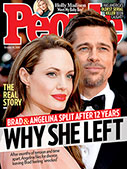 This Week's Issue!
People Top 5
LAST UPDATE: Tuesday February 10, 2015 01:10PM EST
PEOPLE Top 5 are the most-viewed stories on the site over the past three days, updated every 60 minutes
Picks and Pans: Pages
Prayers for Rain
This coffee-table book—albeit one for smallish coffee tables—is a charming diversion. Darling, a children's-book collector, has amassed 250 examples ranging from the blank cover for Rev. George Crabbe's book Poems in 1809, when covers existed mostly to hold pages together, to Polly Bolian's melodramatic drawings for the Nancy Drew mysteries in 1959. Darling's text is enlightening, too. He notes, for instance, that Theodor Geisel (Dr. Seuss) drew his cover characters so that they made eye contact with readers, giving us "the sense that they know us and that we are part of the experience." Partisans of such modern illustrators as Gyo Fujikawa (Babies) may question Darling's emphasis on older works even in a chapter that covers various versions of a book (such as Alice in Wonderland), but any parent who has ever picked out a volume for a child should take much delight in this colorful publication. (Chronicle, $22.95)
Bottom Line: Pleasing collection for children's-book lovers
by Bill Murray with George Peper
Bill Murray is a master of comic insincerity (remember his unctuous lounge-lizard act on Saturday Night Live?), so a reader may be understandably perplexed when the Caddyshack and Groundhog Day star rhapsodizes here about dawn breaking over the fogbound Pebble Beach golf course or holds forth on links etiquette. "Good golf breeds good behavior," he writes. Good grief! Has this man been shanking golf balls off his noggin? No, in this genial if wispy memoir, Murray (with Golf Digest editor-in-chief Peper) tells how his love of the game began as a boy in Wilmette, Ill., where he and his brothers honed their skills on the "fairway" of the convent across the street ("If you hit the [telephone] pole, you were in the hole") and by caddying at a local club. Nowadays, the 16-handicapper tees off with the likes of Michael Jordan, baseball pitcher Orel Hershiser and Tom Smothers. Murray's rounds with them come off as a bit too clubby and self-congratulatory. And sometimes he'll wander into the rough, as in an endless anecdote about his attempts to watch the NBA finals on TV while shooting a movie for Tim Robbins. But Murray redeems himself on the 18th hole with a riotous account of playing on a storm-drenched course in Ireland. "The rain really did come sideways," he writes. "God, it was fun." So is the book. (Doubleday, $19.95)
Bottom Line: Despite a few bogeys, Murray's wit is par for the course
What Every Skinny Woman Knows about Dieting (and Won't Tell You!)
by Patricia Marx and Susan Sistrom
Grapefruit diet? Goodbye. Cabbage soup? Can it. The Zone? Get out! Here are the hottest secrets, tips and extreme measures—mostly tongue-in-cheek—from a pair of New York City freelance writers and their elitist girlfriends who regularly lunch bigtime yet still squeeze into a size 4. When bad foods happen to these good girls, they don't weep after they hop on their scales. They tackle foods low in calories consumed per minute (artichokes, 2.3; unshelled lobster, 3.8). During weekends in the country, forget writing that novel (typing burns a mere 90 calories an hour) and chop some wood instead (1,050 calories). It's okay to lick a postage stamp (one-tenth of a calorie) but if you're stuffed up, skip the NyQuil (92 calories an ounce). And bear in mind that breaking up with a boyfriend usually means losing seven pounds (a custody battle, more than twice that). What do the authors advise if you still have cottage-cheese thighs? Keep your pants on. (Dell, $9.95)
Bottom Line: Sometimes witty (sometimes condescending) lowdown on staying slim
A Twentieth-Century Odyssey
by Michael Dobbs
So dramatic is Madeleine Albright's story that the major plotline—escaping the Nazis and coming to America, marrying into extreme wealth and then becoming one of history's most powerful women—makes our first female Secretary of State sound like a Sidney Sheldon heroine. Author Michael Dobbs was the Washington Post reporter who in 1997 broke the news that Albright, although raised a Catholic, came from a Jewish family—a point he belabors in the book. But he does succeed in offering an intimate, behind-the-headlines look at his subject's journey from poor refugee to the Cabinet. Though Dobbs writes with zero flash, his revealing narrative depicts a woman who is charming, kind and exceptionally hard-working, but also ruthless, abrupt and insecure. "In short, she is not a saint," writes Dobbs. "She is a human being." With plenty of real-life problems, it turns out. As soon as Albright starts to get the hang of juggling her career and family, for instance, her husband dumps her for a younger (and slimmer) woman. Weight battles, D.C.'s old-boy male chauvinism, a search for the perfect hat—such encounters are what make this skillful portrait come alive and help us to understand the woman now guiding U.S. policy in the Kosovo conflict. (Holt, $27.50)
Bottom Line: Inspiring biography
by Barbara Gowdy
Elephants may be big and smelly, but in this engrossing novel—told from the point of view of three pachyderms struggling to survive in drought-stricken, hunter-ridden Africa—they're also touching. Canadian novelist Gowdy's elephants have complex relationships and petty squabbles just like people. And her tale of these animals' search for a Holy Grail-like white bone that will lead them to "the Safe Place" is based on extensive research and reflects Gowdy's warm-blooded empathy for our fellow mammals. The result is a captivating fictional venture into territory usually traveled by public television documentaries and children's books. (Metropolitan, $23)
Bottom Line: Babar for grownups
by Dennis Lehane
Beach book of the week
Boston private investigator Patrick Kenzie has lost the taste for his business. He is tired of skip-tracing and shutterbugging insurance frauds, of watching "men playing house with bony trophy mistresses." Then he reads in the newspaper that former client Karen Nichols has jumped to her death from an apartment tower. Kenzie is instantly reengaged. "Okay, Karen," he says, certain the girl was pushed, one way or another. "I'll see what I can turn up. I'll see what I can do."
In his fifth mystery in a celebrated series, author Dennis Lehane (Gone, Baby, Gone) shows a gift for stringing out scenes and creating tension—sexual, homicidal, you name it—that makes a reader eager to find out what comes next as Kenzie puzzles his way toward a sadistic killer. But don't race ahead and cheat yourself out of the local pleasures.
Lehane has an inventive grip on the language (a bail-jumper is so stupid he "couldn't outwit a can of soup") and a winning way with minor characters. And in pairing Kenzie with sometimes amorous sidekick Angie Gennaro, he creates one of the more memorable P.I. partnerships since Nick and Nora Charles. (Morrow, $25)
Bottom Line: Answered prayer for a summer mystery reader
Contributors:
Ralph Novak,
Mike Lipton,
Paula Chin,
Jennifer Wulff,
Debby Waldman,
William Plummer.
by Harold Darling
Advertisement
Treat Yourself! 4 Preview Issues
The most buzzed about stars this minute!