On Newsstands Now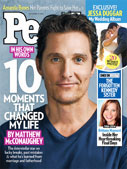 Matthew McConaughey: In His Own Words

Jessa Duggar's Wedding Album

Brittany Maynard's Final Days
Pick up your copy on newsstands
Click here for instant access to the Digital Magazine
People Top 5
LAST UPDATE: Tuesday February 10, 2015 01:10PM EST
PEOPLE Top 5 are the most-viewed stories on the site over the past three days, updated every 60 minutes
Picks and Pans Main: Tube
Week at a Glance
Terry Kelleher
Strange thing about these showgirl stories: The more skin they reveal, the less interesting they are.
Narrated by Anjelica Huston, the documentary shifts back and forth in time, introducing us to elderly Ziegfeld Follies alumnae, a 1950s burlesque queen known for mimicking Marilyn Monroe, exotic dancers from the flesh-and-feathers revues of Paris and Las Vegas, and nubile London strippers who flaunt their natural talent in front of big-tipping businessmen. The old Ziegfeld girls are charmers—upbeat, spirited and funny—and the aging Monroe imitator is quite a character. (She runs a burlesque museum in the Mojave Desert.) But the dancers from the glamorous cabarets tend to be dull and/or dreary, and the young lap-dancer types are downright boring—as conversationalists, anyway. One of them complains about working in an atmosphere that's all money and sex, yet blithely admits she's "being completely hypocritical" by cashing in on her physical assets. The film as a whole is similarly ambivalent, leaving the viewer to decide whether showgirls are exploited, empowered or just trying to make a living.
Bottom Line: So-so study of girls, girls, girls
PBS (check local listings)
What was there about Judy Garland that made her an idol to so many in the gay community? "She was like a raw nerve; she gave you the whole cake," says one metaphor-mixing Garland expert on the latest program in this bimonthly series. In the Life, a 7-year-old newsmagazine that's about gays and lesbians and for everyone, may not entirely succeed in explaining the singer's mystique. But it offers an enlightening look back at the New York City summer of 1969, when grief over Garland's death helped fuel the Stonewall riots that gave rise to the gay-liberation movement. The hour also contains a perceptive report on a Miami organization dedicated to protecting and nurturing gay youth, plus sympathetic profiles of activist minister Irene Monroe, playwright Paula Vogel (How I Learned to Drive) and animal-rights crusaders Jim Brewer and Dale Riffle. After all this substance, footage of the 1994 Stonewall anniversary rally feels like filler.
Bottom Line: Valuable show that's both over the rainbow and down-to-earth
ABC (Thurs., June 17, 8 p.m. ET)
If you liked the 1997 special The Story of Mothers & Daughters (which ABC will rerun June 17 at 9 p.m.), you'll appreciate this affecting pre-Father's Day hour from the same producers. Weaving together interviews with some 40 men and boys, the program explores what it means to be a son, a father and a grandfather. There are a few celebrities in the mix, including actor Edward James Olmos and basketball star Shaquille O'Neal, but the most penetrating and poignant observations come from guys you don't know. There's the sad-eyed dad who admits his dreams were shattered when his son turned out to be severely retarded but speaks movingly of his soul-to-soul relationship with the boy; the middle-aged man engaged in ongoing "psychological combat" with his exasperating 89-year-old father; the young man who saw his father dying and suddenly understood the cycle of life. The special could have used more humor, but it's worthwhile for the whole family.
Bottom Line: Strong male bonding
Lifetime (Mon., June 14, 9 p.m. ET)
Show of the week
Tune in a Lifetime movie and you expect a romance or a drama about a woman with a Very Serious Problem. Well, Robert Townsend is here to shout, "Surprise!" Except for one late (and false) touch of sentiment, Townsend (The Parent 'Hood, Hollywood Shuffle) directed this lively mock-documentary with just one thing in mind: laughs.
Jenifer Lewis (The Preacher's Wife) stars as Jackie Washington, a faded pop diva stumbling along the comeback trail. As a condescending British documentarian (Tim Curry) records her preparations for a career-reviving concert, Jackie relives past glories (including her reign as a disco "love goddess") and endures present embarrassments (singing "Look for the Union Label" to appease stagehands she can't afford to pay). The comedy is uneven, and the celebrity cameos (from Bette Midler to Eva Marie Saint) are overdone. But the hilarious clip from Jackie's 1975 blaxploitation movie makes up for most of the lapses.
Bottom Line: This is one daffy—and funny—diva
TBS (Sun., June 13, 8 p.m. ET)
Don't worry. This isn't going to be a venomous review. There's no serious harm in blowing two hours on a routine snake-attack thriller. If we assume that at least some of its silliness is intentional, Silent Predators may even qualify as a moderately amusing genre spoof—sort of like Jaws cheaply remade as Fangs.
Harry Hamlin stars as the lone-wolf fire chief trying to save a small California town from thousands of rampaging mutant reptiles. Hamlin gets no help from a ruthless real estate developer (Jack Scalia) or the weak mayor (David Spielberg), but the developer's assistant (Shannon Sturges) finds our hero cute as well as courageous. How do we know she's smitten? When Hamlin says, "I'm going to go on a little snake hunt—hey, you want to come along?" Sturges does not hold out for dinner and a movie. She manages to get trapped in a snake den at the climax, giving him a romantic incentive to vanquish the hissing horde. But the key scene comes earlier, when Hamlin asks the mayor, "How many more are going to have to die before you take this seriously?" Seriously? He's kidding, right?
Bottom Line: Preposterous but not poisonous
>Sunday, June 13 THE PRACTICE ABC (10 p.m. ET) Tony Danza's acting has been getting respect lately, and his guest shot on this rerun is one reason why.
Monday, June 14 PEOPLE'S CENTURY PBS (9 p.m. ET) The sweeping historical project resumes with looks at the post-World War II boom and '60s youth.
Tuesday, June 15 AFI'S 100 YEARS...100 STARS CBS (8 p.m. ET) Fifty contemporary stars pay tribute to 50 screen legends. No wonder this special takes three hours.
Wednesday, June 16 THE NANNY CBS (8 p.m. ET) She had twins in May's series finale. Now see her pregnant in two never-aired episodes.
Thursday, June 17 REAL SPORTS HBO (8:30 p.m. ET) Strrrike! Bryant Gumbel's magazine show looks at baseball's feisty umpires.
Friday, June 18 WALT DISNEY WORLD'S SUMMER JAM CONCERT ABC (8 p.m. ET)
Britney Spears
, 'N Sync and 98° get hot, hot, hot.
Saturday, June 19 FLED ABC (9 p.m. ET) Laurence Fishburne and Stephen Baldwin play escaped cons on the move in this 1996 action outing.
The Learning Channel (Sun., June 13, 9 p.m. ET)
Advertisement
Today's Photos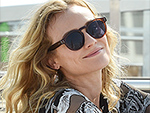 Treat Yourself! 4 Preview Issues
The most buzzed about stars this minute!